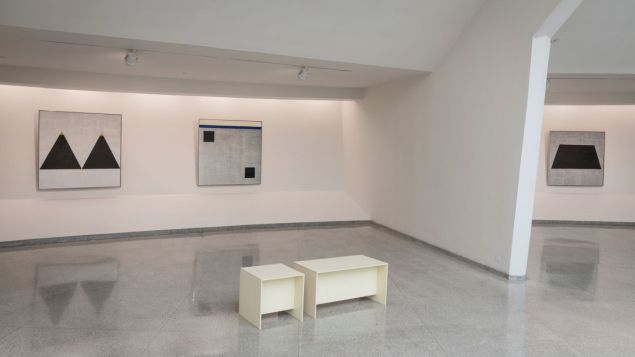 Seeing Agnes Martin's work at the Solomon R. Guggenheim Museum risks putting those images to a challenge. Martin (1912-2004) placed much of what she drew or painted inside a rectilinear grid. For her, the axial grid was the picture.
Much of that work was in ink and faintly painted colors, and Martin also experimented. In the weathered brown Little Sister (1962), reproduced on the cover of the show's catalog, that grid was in oil, ink and brass nails. Martin, who lived alone most of her life, was nothing if not hard-headed.
At the Guggenheim, where more than 115 works are on view, Martin the grid-painter is in formally foreign territory. Frank Lloyd Wright's spiral is the anti-grid—circular in its path, slanted upward from the ground. You're forced to follow what's on view in the order mandated by the show's organizers. And let's not forget that, on Wright's ramps, Martin's pictures are difficult to light, which can make their crucial precision a struggle to see.
The good news is that Agnes Martin isn't diminished or overshadowed by the Guggenheim's imposing architecture. With a minimal adjustment, you are drawn into her own exploration of intersecting lines and the spaces (and mysteries) between them—at once intimate and telescopic. Martin wanted the people who looked at her pictures to leave their minds behind, as she said she sought to do when making them.
The Guggenheim doesn't get in the way of that process.  The faint tones in the horizontal bars of  Untitled, from 1977 (watercolor and graphite on paper), are as uplifting in New York as anywhere else.
In fact, the spiral helps. We ascend the ramp as Martin moves from painting forms that are almost recognizable, transforming them into squares and rectangles in a sandy desert palette, and then into her defining lines of pencil on canvas. Shapes emerge within those grids as they did in the black-on-black abstractions of her friend Ad Reinhardt from the 1960's. When Martin adds a hint of color, she can make her paintings radiate.
And the Guggenheim curators have done something shrewd in their installation. In a gallery at the landing at the beginning of the museum's first ramp, they placed The Islands, an ensemble of 12 squares of acrylic and graphite on linen from 1979, each measuring 6 feet by 6 feet, which draw your eye by inflection into the subtle differences and colorations among them. It takes sitting there a while to acclimate. Martin is not for viewing at drive-by art fair speed.
Up the ramp, past a 1955 abstraction, Untitled, which  seems like an homage to Arshile Gorky, we move into the geometry that would shape Martin's work in the late 1950s. Already we confront what's become a problem for critics: defining her. Was Martin an Abstract Expressionist arriving a little late to the game, or a Minimalist pioneering a future field?
Assuming that the question matters these days, she was a bit of both. In Beach, from 1957, we see a serenity and warmth in two rectangles, one above the other, all in dusty hues, closer to Rothko in its composition and tone than to the more explosive Ab Ex painters. It was a year after Pollock had died. Martin was a world away from him.
In two drawings, Untitled (Study for Egg) from 1960 and The Egg from 1963, Martin draws an egg on a sheet dense with a seemingly infinite number of lines up and down, and three years later she places an egg on a white background bisected by the same lines. There are laughs here in the axial underpinnings of the egg shape—a response to the cartoons of Pop Art?—as there many laughs in Minimalism. Yet we can't help but conclude that neither school of modern art could accommodate her. The woman who divided her canvases into tiny spaces extended beyond those categories.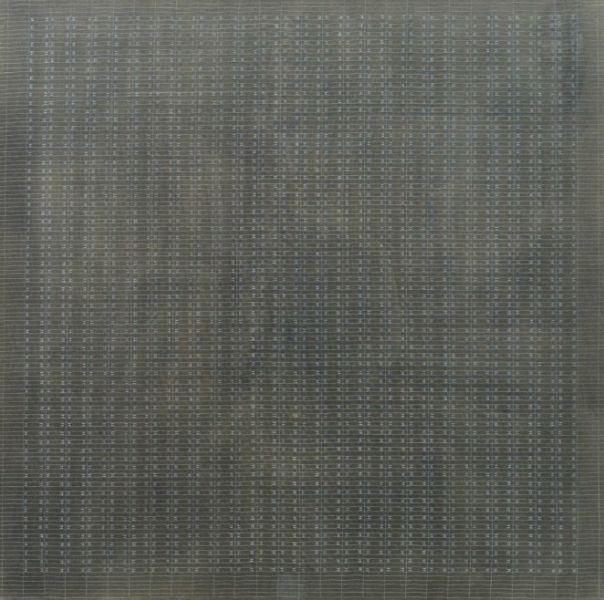 It's inevitable when looking at non-narrative images, as Martin's are, that you search for a back story. Martin's is filled with the kind of drama that her restrained work shuns. Born on the austere prairies of Saskatchewan in Canada, she lost her father at the age of two and was raised by a stern Calvinist mother. She competed to qualify as a swimmer for the Canadian Olympic team, but moved in her late teen years to the United States to help out her pregnant sister. She received an athletic scholarship to the University of Southern California, but left to return to the state of Washington, where she taught school. She decided to become an artist at the age of 30. She burned most of her early work, and anything else that didn't meet her standards. (That's a rarity, an artist who could and did edit herself.)
Martin moved to New York in the 1940's, enrolling at Teachers College at Columbia University. In the late 1950's, she gravitated to the community of artists around Coenties Slip in lower Manhattan. She would make friends among artists, conduct love affairs with several women (according to a biography published last year by Nancy Princenthal), and exhibit her abstract works. Yet in 1967 she left New York to live alone on the road in the West, finally settling in New Mexico, off the grid, as it were, and building her own adobe house. The departure from New York came after treatment for schizophrenia. Martin would resume making art in New Mexico in the 1970's. There's a chronology in the exhibition catalog, and much more can be found in Nancy Princenthal's thoughtful tome Agnes Martin: Her Life and Art, published last year.
Martin was drawn to the plain-spoken truths of Zen, but there's no roadmap in Buddhism that explains her work. Nor does her mental illness give us clues, nor does the grid's affinities with the musical staff (Martin loved Beethoven), nor does woven fabric that her works resemble sometimes, nor does the flat demarcated landscape of her prairie birthplace seen from an airplane.
Martin discouraged biographical or representational interpretations of her work, which hasn't deterred the critics. And what could be more discouraging than her deadpan pronouncement that "the ability to recognize failure is the most important talent of an artist"? We're still left with plenty to consider.
The show is up at the Guggenheim until January 11, 2017.