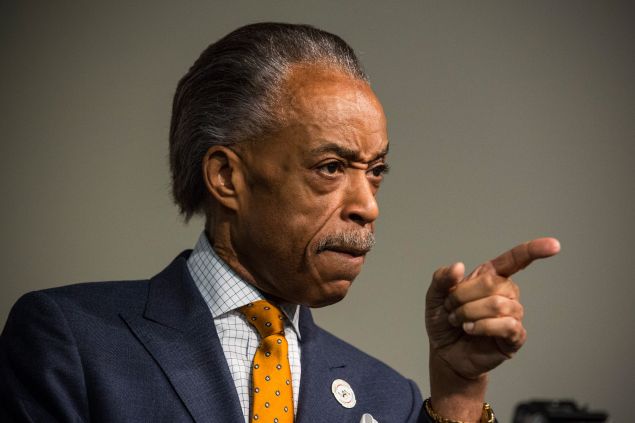 Rev. Al Sharpton used a weekly gathering at the Harlem headquarters of his National Action Network to lash out at Donald Trump, and accused the sagging GOP nominee of racism and of conspiracy to suppress African-American turnout.
The controversial civil rights leader assembled an array of New York City politicians and activists at his 145th Street base this morning for the ostensible purpose of protesting NYPD Sergeant Hugh Barry's shooting of Deborah Danner on Tuesday night. But he began his address, broadcast via radio and his website, by attacking Trump's claims that widespread impropriety at the polls could deliver the presidency to Hillary Clinton next month—and by asserting the Queens-born businessman's calls for his followers to monitor voting sites are in fact aimed at preventing blacks from casting a ballot.
The Republican candidate even indicated in the final presidential debate this week that he might not concede the election if the results prove unfavorable to him.
"I'm going to deal with the focus on 'voter fraud,' that—and 'rigged election'—that Donald Trump has been trying to use, and the danger of voter intimidation," Sharpton said. "They have actually said they want to have people go to the polls and become poll watchers who when you hear the description—I want you all to deal with this in the morning—they are really there to intimidate voters. And we are, that is a voting rights issue, and a civil rights issue, and I want us to deal with that."
The African-American leader, who himself sought the Democratic nomination for president in 2004, recalled the full-page ads Trump took out in New York's four major daily papers in 1989 demanding the five black and Latino youth accused of raping a jogger in Central Park receive the death penalty. Even after DNA evidence exonerated the men after years in prison, and the city settled with them for $40 million, the developer-turned-TV star-turned-politician has continued to insist on their guilt.
"I will not let this go! The only reference that Donald Trump has ever taken a position in his hometown of New York on a race-related matter was when he called for the execution of those five young men," said Sharpton, noting that one of them was in his audience, as was the parent of another. "And even worse when DNA proved, after they had done more than a decade in jail, that they were innocent, he still says that they were wrong and the city shouldn't have settled with them. That is the facts that they won't bring out."
Later, Sharpton recollected Trump's years of trafficking in false allegations that President Barack Obama is not a native-born American citizen and thus is ineligible to serve as chief executive. Despite Obama's decision to publicize his birth certificate in 2011, Trump did not disavow these claims after capturing the Republican nomination this year, when he began to reach out to the black community for votes.
The National Action Network head described the indignity that Obama would endure having to usher Trump into the Oval Office next year.
"I want you all to get this to the barbershop: Donald Trump, who was just an entertainer on TV, built political capital promoting what was an outright lie on the president of the United States," he said. "For you and I to sit in January and watch this president have to hand the Bible to the man who denied his birth, would be a scene that I don't know any of use would have understood what we're looking at."
The Trump campaign did not immediately respond to requests for comment. The candidate has in the past pointed to allegations that Sidney Blumenthal, a close advisor to Clinton, was among the first to suggest the possibility to journalists in 2008 that Obama was actually born in his father's native Kenya.
Claims of pervasive voter fraud and questionable election day activity—particularly in nonwhite enclaves—are common, and have proliferated lately as Trump's campaign has faltered amid accusations of sexual misconduct. However, evidence for such chicanery tends to be sparse and sporadic.
Sharpton has fulminated about alleged efforts to obstruct blacks from voting in the past, most recently during the Democratic primary for retiring Congressman Charles Rangel's seat, which saw Dominican-American State Senator Adriano Espaillat defeat African-American Assemblyman Keith Wright.
In 2015, the conservative and fiercely anti-Trump National Review noted Sharpton and Trump have a relationship dating back decades, to their time promoting boxing matches in Atlantic City.
Disclosure: Donald Trump is the father-in-law of Jared Kushner, the publisher of Observer Media.