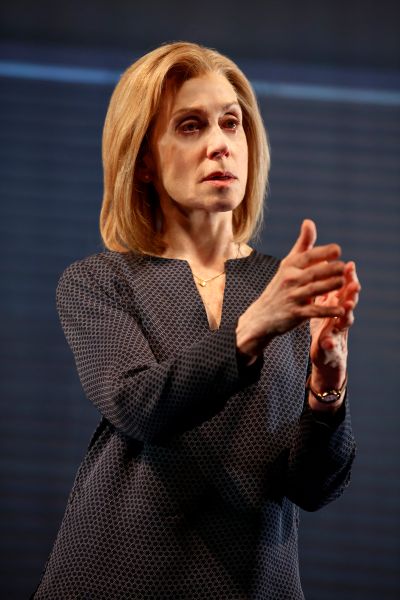 It's always thrilling to watch veteran actress Judith Light wear one of the many masks of comedy and tragedy in the trunk of theatrical disguises she uses to enchant, mesmerize and grip her growing audience of admirers on screens and stages large and small. In Neil LaBute's new play All the Ways to Say I Love You, at the Lucille Lortel Theatre in Greenwich Village, she wears them all. The result is powerful and luminous.
"How much does a lie weigh?" asks Mrs. Johnson, a schoolteacher of high school English and drama for 30 years who has been living a whopper of a secret so heavy she has finally collapsed under the emotional burden. In what amounts to a one-hour monologue requiring a surfeit of strength, energy and imagination, this extraordinary actress balances Mrs. Johnson's life and lies in ways you will find suspenseful and unforgettable. Her performance has been called a tour de force so many times already that as rare as the description is to achieve, it's almost become a cliché. All I can do is throw another rose on her laurels and urge you to join the bandwagon.
So just what has Mrs. Johnson got to say? As only LaBute, a prolific misogynist who seems to turn out movies and plays about people in crisis mode in his sleep, might say, the answer is "plenty." In her thinking out loud, the teacher reminisces about her troubled interracial marriage to a lawyer who has lost interest in their sex life and her struggle to have children, and a student from a dysfunctional home who turned to her services as a guidance counselor. So successful was she in changing him from a teenage "handful" into a loving and responsible adult that somewhere in the wrenching combat between them, teacher and pupil fell into a passionate sexual affair that turned to love. It was all a big mistake, she confesses in her agonizing confessional, but oh such a self-fulfilling prophecy! Which gives Light, of course, a chance to devour the play like a hungry cat attacking a dying tuna. It's some time before we get to the hot skinny—the gentle touching of legs, the need of teacher and student to fill the missing gaps in their lives with unexplored tenderness and thumping, thrashing lust. Suddenly, without preparation or warning, the boy filled the voids in the woman's sad, empty life and she experienced a sexual passion that was "breathtaking." Of all the ways to say I love you, love with a boy, a kid, a child growing into manhood was the most rewarding.
And then, the consequences. The excitement of the challenge, the danger of discovery and the joy of real sex turned to terror when Mrs. Johnson discovered she was pregnant. Illuminating every dark corner in the affair, she articulates the need to break it off and help the boy move on, the realization that it would never go anywhere and the fear of explaining his forthcoming child to the husband who couldn't possibly be the father. Justifying, all along, why she doesn't think what she did was illegal, unnatural or wrong, eschewing guilt, shame and remorse, yet suffering all three. "Am I crazy to think that?" she shrieks to the audience, as though begging for condemnation and salvation at the same time. Don't answer that. LaBute's rationale is that the woman pushed the boy to go on to college and improve his life while ruining her own. In the end, she becomes a victim of her own web of tangled deceit. 
Skillfully directed without a single pause to catch her breath by Leigh Silverman, Light invests the story of a teacher-student seduction torn from the 6 p.m. news with a gamut of emotions: proud, tearful, vulnerable, tough or tortured, she is never less than human. The years she spent in live television soaps have paid off with so much analytical intelligence and deep-rooted intuition that she elevates what is essentially just another soap opera to surprising heights of maturity and reason.