If even the tiniest part of you is considering not voting in the Presidential election on November 8th (that's a little over two weeks away) then you need to talk to America Ferrera. Her passion and rhetoric on the importance and power of having the right to vote would make even the most apathetic voter reconsider, at the very least. Ferrera, who has been hard at work on the campaign trail for Hillary Clinton and spoke at the Democratic National Convention this summer with Lena Dunham, is so determined for young people, and especially women, to vote that she collaborated with designer Rebecca Minkoff on a t-shirt with the slogan 'Make America Ferrera Again.' The t-shirts are available at www.rebeccaminkoff.com and in the brand's New York, Los Angeles, Chicago and San Francisco stores. These special, limited edition t-shirts retail for $48 and a portion of all proceeds go to Rock the Vote.
The collaboration came about when people began Tweeting at Ferrera to "Make America Ferrera Again" after her speech at the DNC when she said "Donald [Trump] is not making America great again," she said. "He's making America hate again." Ferrera told the Observer that a t-shirt to remind young people to vote and be engaged seemed like a natural fit; the design came together in about 48 hours. "We just thought Rebecca was a perfect partner because she's hip and she cares about these issues," she explained. Minkoff started her successful handbag and clothing line with t-shirts with fun slogans and cheeky tees are still a fixture of her collection today. "Our customer loves to be engaged through verbiage. Our Monday morning inspirational quotes are huge on Instagram," Minkoff said.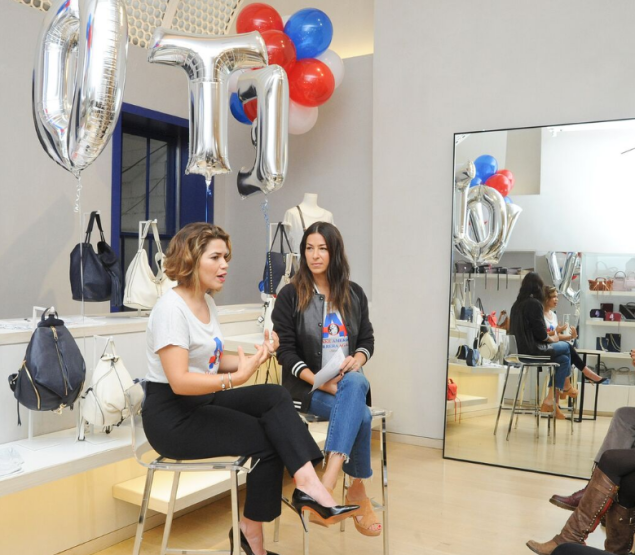 Being outspoken about politics has been a long journey for both women, but their voices have been especially loud because of this particular election. Ferrera, the children of Honduran immigrants, said, "For me I've been finding my voice for a while. Through campaigning in 2008 I started to realize how much work we have to do as a country in engaging and franchising voters. The fact that we don't have full or near to full participation in our elections is…there's no reason for all of it. There's a lack of resource and a lack of education and a lack of will to engage. Obviously certain communities are less engaged: Young communities, Latino communities, poor communities and it is because they don't have access and education. They are disillusioned and believe the system doesn't work for them. What we've been reminded of in the last 18 months is that every generation's job is to be the custodian of what they want the country to be and live in. The stakes of engaging and staying engaged are higher than they have ever been in my lifetime."
Minkoff says she has always been more on the human rights side, but with this election in particular she decided to get involved in a bigger way. "Things like the nature of what it means to be a woman are at stake. Anyway I can use my voice, I will," she said.
According to a recent Rock the Vote/USA Today poll, millennials back Hillary Clinton over Donald Trump by more than three to one, although enthusiasm for voting is seeing a significant drop. This age group is typically the least likely to vote and among those who are undecided or don't plan to vote, two-thirds say the reason isn't because voting doesn't matter or they have no interest in politics. Voter turnout in 2012 was 45 percent for people between the ages of 18-29, down from 51 percent in 2008. When asked what they would say to this group Ferrera says there is no choice. "Not engaging is the easy way out. It's relinquishing your power. There are people who put a lot of money and energy [into] keeping you from the polls. Just imagine what it would be like to wake up and watch our country moving in a direction you don't agree with because you didn't show up and do the one thing you could do."
https://www.instagram.com/p/BL1s2zBAWra/?hl=en
"If you're considering not voting, Google Syria. See what they are living in. To sit back and take it for granted is not right at all," added Minkoff.
Ferrera, whose passion is so inspiring and invigorating that people at an event for the collaboration at Minkoff's Soho store were suggesting she go into politics, says you should make voting day a celebration. "I love voting! It's so exciting to wake up and play my part." And don't forget to wear a cute t-shirt. They've got one waiting for you.