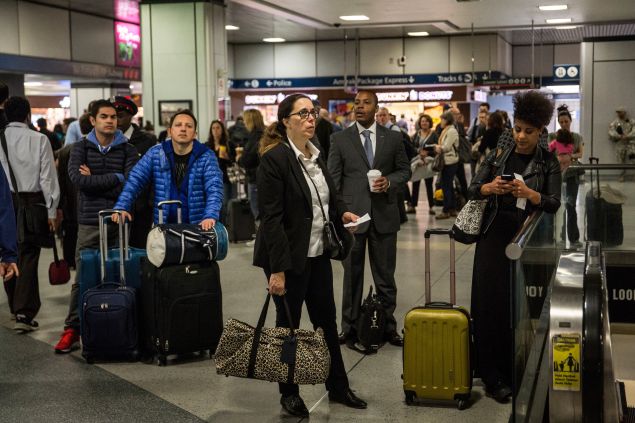 In a city of 8 million souls, finding widespread agreement about anything is difficult. In New York, perhaps the only subject that elicits virtually unanimous agreement is the complete inadequacy of Penn Station.
The rat-maze excuse for a train station under Madison Square Garden was built in the mid-1960s after the inexcusable demolition of the grand McKim, Mead & White building. Today, Penn Station is not only completely inadequate as a transportation hub—it handles more than 650,000 passengers daily, more than three times the number it was designed for—it is an embarrassment.
Several weeks ago, Gov. Cuomo announced significant progress in a plan to refurbish the eastern portion of the old Farley Post Office on Eighth Avenue and transform it into an impressive train terminal for Amtrak and the Long Island Railroad. To be named after the late Sen. Daniel Patrick Moynihan who originally championed the idea nearly 20 years ago, it is a good start.
But it doesn't go far enough.
Chakrabarti's vision is bold, ingenious and affordable.
Of Penn Station's 650,000 daily users, Amtrak passengers account for just 30,000 and Long Island Railroad commuters another 230,000. The remainder—nearly 400,000—are New Jersey Transit riders, and they would still be relegated to a barely refurbished or redesigned warren under Madison Square Garden. Moreover, it is expected that New Jersey traffic into Penn station will continue to grow considerably with the completion of the Gateway program. That is a plan to add another tunnel under the Hudson and rebuild the existing two tubes, which were damaged by Hurricane Sandy.
The governor's plan—an important improvement—still ignores two fundamental problems: First, at least two-thirds of the arriving and departing passengers would still be crammed into the meager space beneath Madison Square Garden. Second, the Gateway project includes plans to add tracks just south of the current space. That would put additional strain on an already insufficient facility.
There is an alternative design, and we urge the governor to consider it.
Vishaan Chakrabarti is the founder of PAU—Practice for Architecture and Urbanism, a New York architecture firm. Chakrabarti ran the Manhattan office of the Department of City Planning under Mayor Michael R. Bloomberg, and was recently invited by the Editorial Board of The New York Times to develop an alternative plan. Chakrabarti's vision is bold, ingenious and affordable.
It would still incorporate the east end of the Farley Post Office as a new Moynihan rail terminal. But it would also utilize the current Madison Square Garden site and transform the skeleton into a European-style open-track station.
A new Madison Square Garden would have to be relocated—perhaps to the western half of the Farley site—and built anew. (The current Garden facility has long been recognized as deficient.) But the Chakrabarti plan calls for utilizing the current Garden skeleton—remade in glass and open to the sky. It is a bold, exciting and surprisingly practical design.
Madison Square Garden is owned by the Dolan family, which knows it needs a new arena, and has been open to relocation discussions in the past. The proper mix of incentives and sense of civic duty should make the Garden's relocation possible.
The combination of a Moynihan station and a repurposed Garden-cum-Penn Station gateway is a big idea. It is now up to the governor to see its potential and consider its possibilities. New York deserves such grand architecture, and we urge Cuomo to adopt it.