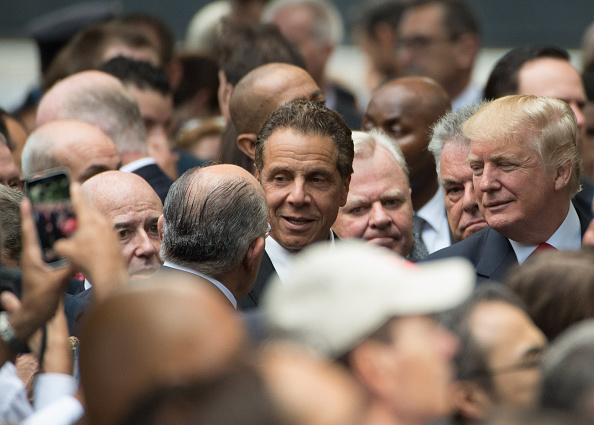 Gov. Andrew Cuomo urged GOP officials across the Empire State to abandon their party's nominee—and their state's native son—after a 2005 video surfaced last night in which Queens-born businessman described how his supposed stardom enabled him to sexually assault women with impunity.
The Democrat's remarks came less than 24 hours after the Washington Post published 11-year-old, obscenity-laced footage in which Donald Trump bragged to Access Hollywood host Billy Bush that women allowed him to kiss them and even "grab them by the pussy" without his seeking consent. The governor, an early supporter of Hillary Clinton, rang in to NY1 to bash the Republican candidate's commentary and demand Republicans renounce their own candidate for the White House.
"This is just disgusting. There's no better word for it, and to stand with this man because you happen to wear an elephant on your lapel really says that you're putting your party loyalty in front of your values," he said. "The Republican politicians might be putting their party loyalty before the people, but it is a mistake and it is an opportunity. New York should stand together."
The governor praised those top Republican officials across the nation who have disavowed Trump, and argued New York's Republicans who failed to follow their example would face sanctions at the ballot box next month. He dismissed both Trump's statement dismissing the comments as "locker room banter," and his later video apology in which the thrice-married playboy pledged to become "a better man."
"Any Republican politician in this state who continues to stand with Trump is going to be unseated very soon in the political arena because no New Yorker will tolerate this," claimed Cuomo. "Silence is acceptance and it's not going to be tolerated by the people of this state."
New York's GOP delegation to the House has been somewhat ambivalent about the candidate thus far.
Retiring upstate Congressman Richard Hanna has endorsed Clinton, and Syracuse-area Congressman John Katko has refused to pledge his vote to the GOP nominee. GOP Congressman Chris Gibson, who is also stepping down this year, has expressed reservations about the businessman's fitness to serve as commander-in-chief, though his aspiring Republican successor John Faso has pledged to vote for the mogul. State Senator Jack Martins, running to replace Democratic Congressman Steve Israel, has said he will vote for Trump but not endorse him.
On the other hand, Buffalo-area Representative Chris Collins was among Trump's earliest supporters in the House, and the candidate enjoys the endorsement of Long Island Congressmen Peter King and Lee Zeldin, Southern Tier Congressman Thomas Reed and even far-northern New York Congresswoman Elise Stefanik. Staten Island Congressman Daniel Donovan—the only Republican representing part of the five boroughs on the Hill—has also told the Observer he will campaign for Trump in New York City even though he personally supported Ohio Gov. John Kasich in the GOP primary.
Donovan informed the Observer today he was sticking with Trump even in the aftermath of the video's release.
But nearly all of the above officials have at one point or another criticized Trump for his comments about immigrants, Muslims, military personnel or former President George W. Bush.
Cuomo himself has a long and unusual relationship with Trump, who grew up only a short distance away from his own family home in Queens. Trump and his relatives have donated more than $64,000 to Cuomo's various campaigns, making the governor the single largest recipient of the developer's political largesse.
Cuomo has pointedly refused to refund the money, even as he has repeatedly assailed the Republican candidate's calls for a wall on the Mexican border. The Democrat also enraged members of his own party by publicly meeting with Trump at Ground Zero during this year's 9/11 memorial service.
The governor's chief rival in the Democratic Party, Mayor Bill de Blasio, released a joint statement with his wife attacking Trump this afternoon.
"In public, Donald Trump's a racist, misogynist and xenophobe. Now we know that in private he brags about sexually assaulting women," the mayor and First Lady Chirlane McCray said in the emailed remarks. "He has proven himself a danger to our country and a stain on our democratic process. We must never forget the hate and misogyny he's brought us—nor those who have refused to condemn it."
Updated to include comment from de Blasio.
Disclosure: Donald Trump is the father-in-law of Jared Kushner, the publisher of Observer Media.