Google reads Gmail email, but it's for users' own good—don't worry. It just wants to serve better ads.
Google changed its terms of service this summer to break down the wall between tracked data and personally identifiable information, as Julia Angwin reported on Propublica Friday (she also explains how to turn the linkage off).
"This business model has ramifications," Aral Balkan said in a talk released on Thursday by DOKU:TECH, an annual conference similar to TED. Balkan, of the Ind.ie project, explains the real world costs that tracking of online behavior has on society. Whether or not you believe that your privacy matters, he convincingly argues that tracking imposes real costs in money and time on regular people.
'We planted a bullshit seed, and we got a bullshit tree'—Aral Balkan
His company's first project is called Better, its a paid ad blocker for Apple products, designed to also beat blocker-blockers.
Balkan wrote a script to scan the top one million Alexa-ranked sites for trackers. He identified what he calls the worst site on the internet: Lifebuzz. For those that haven't visited, it's just a wall of clickbait. Balkan found 172 web trackers on this one site. "If you block this, you save about 2.5 megabytes every time you load this site," he said.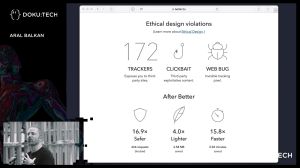 Balkan calculated the real world cost of these trackers from Lifebuzz's own reported statistics, some of which you can see in its its media kit (though its numbers could be exaggerated). "So using this, we were able to calculate that Lifebuzz, this one site, costs American mobile phone users $4 million a month, in data charges," he says. "Just to load the trackers."
Then he turns to Forbes. Any visitor to its website gets delayed by this weird "Quote of the Day" interstitial screen before it loads a story. He says that pre-content page has 40 trackers on it and stops people for about 5 seconds before loading the content they came for.
With an estimated 46 million visitors per month, Balkan estimates that it costs humanity 7.2 years of human life each month in people waiting for the interstitial page to go away and let them see the content they came for. That's time humanity is never getting back.
But the current business model of journalism doesn't work without advertising backed by tracking software, a point that lawyers for publisher Axel Springer made quite frankly in arguments before European courts. "Journalistic content is just a vehicle to get readers to view the ads," its counsel wrote. That's why this reporter has argued that media entrepreneurs should experiment with cryptocurrency-powered means for web users to pay for content. Then publishers might be able to rely on dumb advertising (ads that know no more about readers than the ones in magazines do).
Even without directly connecting tracked data with personally identifiable information, third party trackers with a decent visibility on the web can probably identify most users who don't go to extra lengths to protect themselves, because it only takes a few data points to identify people with relative certainty.
SEE ALSO: An alternative to tracking blockers—lying.
Balkan's blocking software costs $4.99, which aligns its interests with its users. The service completely blocks sites that go too far to counter tracking blockers.
To create a world in which people's data isn't farmed and our privacy isn't perpetually violated, he argues that the law needs to recognize that our selves extend into digital space. He's not alone. Supreme Court Justice Sonia Sotomayor has also said that American law should revisit the principle that commercial interests can do whatever they want with data voluntarily shared with third parties.
Further, Balkan argues that governments should subsidize entrepreneurs building decentralized services, using free and open technology, with zero knowledge of their users, so that these entrepreneurs won't be beholden to venture capital investors to pay the rent while they build services.
"We planted a bullshit seed, and we got a bullshit tree," he says. "Now we're wondering, 'Why does the fruit taste like bullshit?'"