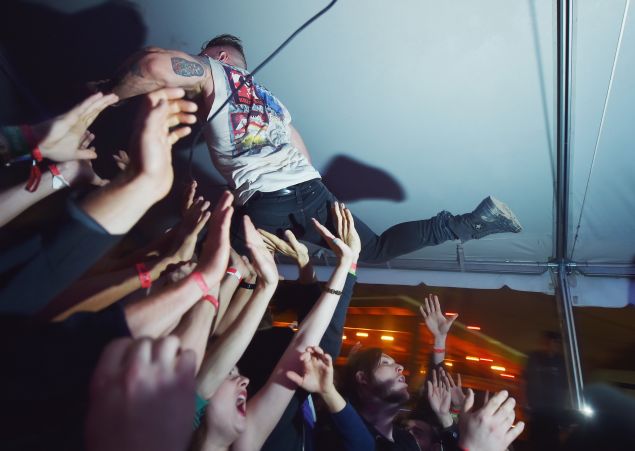 Over the weekend, New Jersey metal-core legends Dillinger Escape Plan performed their last-ever concert in New York City at Webster Hall. The band is currently winding down their last tour in support of their excellent and wildly diverse final album Dissociation, released last Friday on founding member and guitarist Ben Weinman's Party Smasher imprint.
For those lucky enough to be in the audience, many hailed the concert as one of the best hardcore shows they'd ever seen.
A recent correspondent report on metal news site Loudwire revealed that during a performance of DEP fave "Prancer" off the group's 2013 LP One of Us Is the Killer, vocalist Greg Puciato pulled an Eddie Vedder and dove from the second-story balcony onto the awaiting crowd, stating "If I'm gonna die, let it be tonight" before taking the plunge. Later, during an intense rip through "43% Burnt" off their classic 1999 debut Calculating Infinity a crush of people from the crowd rushed the stage for one last hardcore hootenanny.
Those of us who missed the show clearly missed one for the ages, especially if you have been following the trajectory of Dillinger and the ways they've pushed the boundaries of heavy music over the last 20 years. But fear not: they will be making one last stop in the area at the Paramount Theatre in Huntington, N.Y., on November 18 before playing their final gig at The Webster in Hartford, Conn., on November 19. So if you have yet to experience this magnificent group on the concert stage, time is running out.
If this is truly the final bow for Dillinger Escape Plan, they're going out in style. Dissociation takes the group's love for progressive rock and jazz-fusion to incomparable new depths with detours into Santana-esque spirituals, Mahavishnu-inspired orchestrations and even an abstract hip-hop beat to boot.
The Observer recently caught up with Weinman to discuss the origins of the group's jazz-minded consciousness and the adventurous terrain the band has traveled thanks to its unwavering devotion to experimentation. Over the course of the group's challenging discography, DEP has always surged ahead, trying to alter the course of loud music as we know it with every release. Mission accomplished.
[youtube https://www.youtube.com/watch?v=6p4tQUBtsBw&w=560&h=315]
As a fan, the jazz element of Dillinger was always what drew me to your records in a way not unlike how I got into Candiria as well.
We've been friends with those dudes for a long time. Some of our first shows back in the day were with Candiria. It's great that they're back together and have a new record out. Unfortunately, the drummer Kenny Schalk, is not with this current lineup, and he was the serious jazz guy in the band. He played trumpet just as well as he played drums. He brought a whole new vibe to the scene when he was in Candiria.
And in regards to Dillinger, you are the gentleman who fills that role in terms of the jazz element of the band, correct?
Well, I mean I'm the only original member of the band so I've always been doing the core songwriting. But the other guys didn't really have all that much jazz or fusion influence—remember they are younger than me—until they either joined Dillinger or got into us as fans. But it has always been something I personally have always dived into for inspiration.
What came first for you, jazz or metal?
I guess the way it started was I was a young guy growing up in the mid-'80s and early '90s and I watched a lot of MTV. I was mesmerized and hypnotized by all the stuff I was watching, and obviously at the time I was into whatever they were playing, Bon Jovi and Dial MTV, which helped get me into a little more metal. But then I started watching Headbanger's Ball and so I got into the musicianship and the extremity of metal fairly quickly.
But it also desensitized me to what I was listening to previously, so I just kept going more and more extreme as I could possibly take it, getting into the deepest, darkest, fastest, craziest stuff I could find. It took a lot of work back then. There really was no internet for public use and you had to find some catalogs or search weird record stores and stuff like that. But it wasn't long before I even got desensitized to that. [Laughs]
Really, there were just so many tricks, you know? After hearing double bass played insanely fast on multiple albums over a couple of years, it becomes kind of old. It's impressive physically, but I've heard it. And after you hear the deepest growls and the fastest guitar playing, you're just like, "Alright. I've heard it." That's around the time we had reformed Dillinger and I wasn't really listening to much metal at all. But what I did get into was less complex stuff that was heavy like punk rock, hardcore and things like that which were based in emotion and had a message to the lyrics and felt like a true subculture, but also fusion and complex electronic music.
The fusion side inspired me to continue to investigate and dive into different types of interesting song structures and guitar playing, and then the electronic music drew me in because of its rhythms and crazy ideas totally appealed to me. They were so random and hard to decipher, but they weren't when you go in deeper and figure out the sound designs and the directions being taken by Aphex Twin and Squarepusher.
But then to go all the way back to the '60s and '70s, I was listening to the guitar-bass-keyboards-and-drums version of this extreme music like Mahavishnu Orchestra and King Crimson. So it was me just looking for something more to add to the heavier side of Dillinger, which was essentially coming from more of the punk/hardcore side of things by the time we put out our first album.
[youtube https://www.youtube.com/watch?v=yztG35U5Hrw&w=560&h=315]
Speaking of Crimson, "Wanting Not so Much to as To" off the new album Dissociation, has a heavy Robert Fripp vibe to it. Was that intentional?
I wasn't going for it, but I wouldn't be surprised if it somehow funneled into there, for sure. I listen to a lot of Fripp. Crimson definitely had interesting tones and sounds and he did some really cool things with the guitars. They never limited themselves to the traditional idea of what a rock band should sound like, and that is definitely a big influence on the whole Dillinger catalog.
I'd also love to hear more about "Low Feels Blvd". The guitar playing on that song reminds me a lot of Inner Secrets-era Santana. However, I'd love to hear what really inspired that one part in the song for you.
I honestly don't know where that came from in my head. The chord changes were kind of jammed out between my drummer Billy and me, and then solidified once we found some cool ideas. The solo was completely improvised in the studio. I did, however, want to make sure I kept soul and feeling in the playing, despite the odd time signatures. Maybe that's where the Santana vibes come from.
How big of an influence is Frank Zappa on Dillinger?
I think he's definitely an influence, but not as much as Mahavishnu Orchestra and Miles Davis. I got way into Zappa while on the road with Dillinger, actually. Later on I got to collaborate with Dweezil on some stuff, and the bass player in my other band Giraffe Tongue Orchestra played in Zappa Plays Zappa for many years. There's definitely a connection there, for sure.
The strings on the last two songs off Dissociation, "Nothing to Forget" and the title cut, are indeed a lovely touch as well.
The violin player in Mahavishnu and who also played with Zappa, Jean-Luc Ponty, is amazing, and the strings on those albums were actually the inspiration for the violins on Dissociation. You got a lot of violin following guitar lines, especially on an album like Apocalypse, which was produced by George Martin with the London Symphony Orchestra.
Did Faith No More and Mr. Bungle—particularly their association with John Zorn—get you deeper into jazz?
Certainly. Faith No More was a band that was happening simultaneously as a lot of hair metal, and they just kept pushing things to so many different styles of music. They gave me the confidence to realize you can mix a bunch of different influences and make it work. And then going deeper I got into Mr. Bungle.
In fact, Dillinger did our first big tour with Mr. Bungle in 1999. It was even before Calculating Infinity had come out. We had just gotten out of the studio recording the album, and we just got in a van and hit the road with those guys. And through Patton, I learned a lot about Zorn and Naked City and things like that.
Speaking of Bungle, it's amazing to think Trevor Dunn is now one of the most renowned bassists in modern jazz.
Trevor, man…I would sit and watch him study sheet music, and learn all kinds of jazz measures with him for upright bass. All throughout that tour he was preparing himself for a life after Bungle to be this all-around bass wizard, and it was really inspiring to witness.
Heavy music has indeed been instrumental to so many people in getting into prog or jazz, for sure.
Our guitar player now, Kevin Antreassian, he's actually a friend of mine who many, many years ago I gave guitar lessons to. He pretty much approached me in a mall, and said, "Hey, I'm a local guy and I really want to learn how to play." At the time he was really only exposed to heavier music and shit like Korn, whatever the heavy music was that was accessible to people who didn't have access to more underground or less mainstream stuff.
But the truth is the majority of our lessons was me just playing him music. Actually, in talking about King Crimson, it soon became his favorite band in the world. And now, many years later, he's in my band and he's an amazing guitar player. He definitely got into that through me and Dillinger, and it makes me very, very excited to have him to be in the band with me.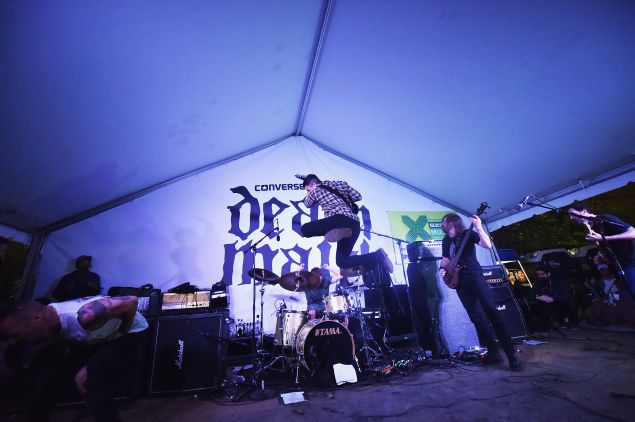 You released Dissociation on your own label, Party Smasher. Did having the kind of freedom of owning your own label bear any significance on how the album turned out?
Freedom? I mean, sure, it does give you more freedom. But it's more of accepting that feeling in our own way and having complete control over all that as opposed to having a massive fanbase audience of a label. At this point, we're not really concerned with getting bigger or topping anybody. We're just doing our thing here, so it made more sense to start doing it ourselves.
And given the news that Dillinger is going to be winding down after this tour, it will be interesting to see where the journey takes you all next from here.
Yeah, and I'm sure some of us will work together in some capacity. It's not like we're never going to speak to each other again.
But it definitely makes the directions you take on Dissociation all the more interesting with the concept of this endpoint of Dillinger as a band in mind. Especially when you listen to a song like "Fugue", which goes back to what you were saying about the heavy influence of electronic music on the creative scope of the band.
That was actually something I was working on many years ago on the tour bus, just to pass time in a way honestly. On that track, I just built up on it with all this synthesizer software and guitar effects. I even tracked real drums for that one.
[youtube https://www.youtube.com/watch?v=HCegZQcP5Ps&w=560&h=315]
What was the story behind naming the album Dissociation? In what context of the term were you thinking?
Our singer, Greg, named the album. I don't like to speak much on his lyrics or song titles because they are very personal to him and often symbolize something very different than what people would typically take from them. I will say that a lot of this album directly deals with codependency and accepting our individuality.
I've read some of the comments from the Internet Metal Trolls and some of them are a little salty about all the different directions Dillinger is going in on Dissociation. While some fans like myself tune in specifically for that level of unpredictability, does that kind of pragmatic negativity bother you at all, especially in the context of your own vision of what this band is supposed to be?
It never bothers me when someone isn't into our band. This music is supposed to be polarizing and most of our fans don't actually fully embrace what we do until many listens and a lot of time spent with the tunes.
It does bother me when people speak without actually knowing the history of our catalog. The first song Dillinger ever wrote and released was an instrumental fusion song. Very melodic. It was called "Proceed With Caution". We made a very conscious decision, very early on, to never be backed into a creative corner.