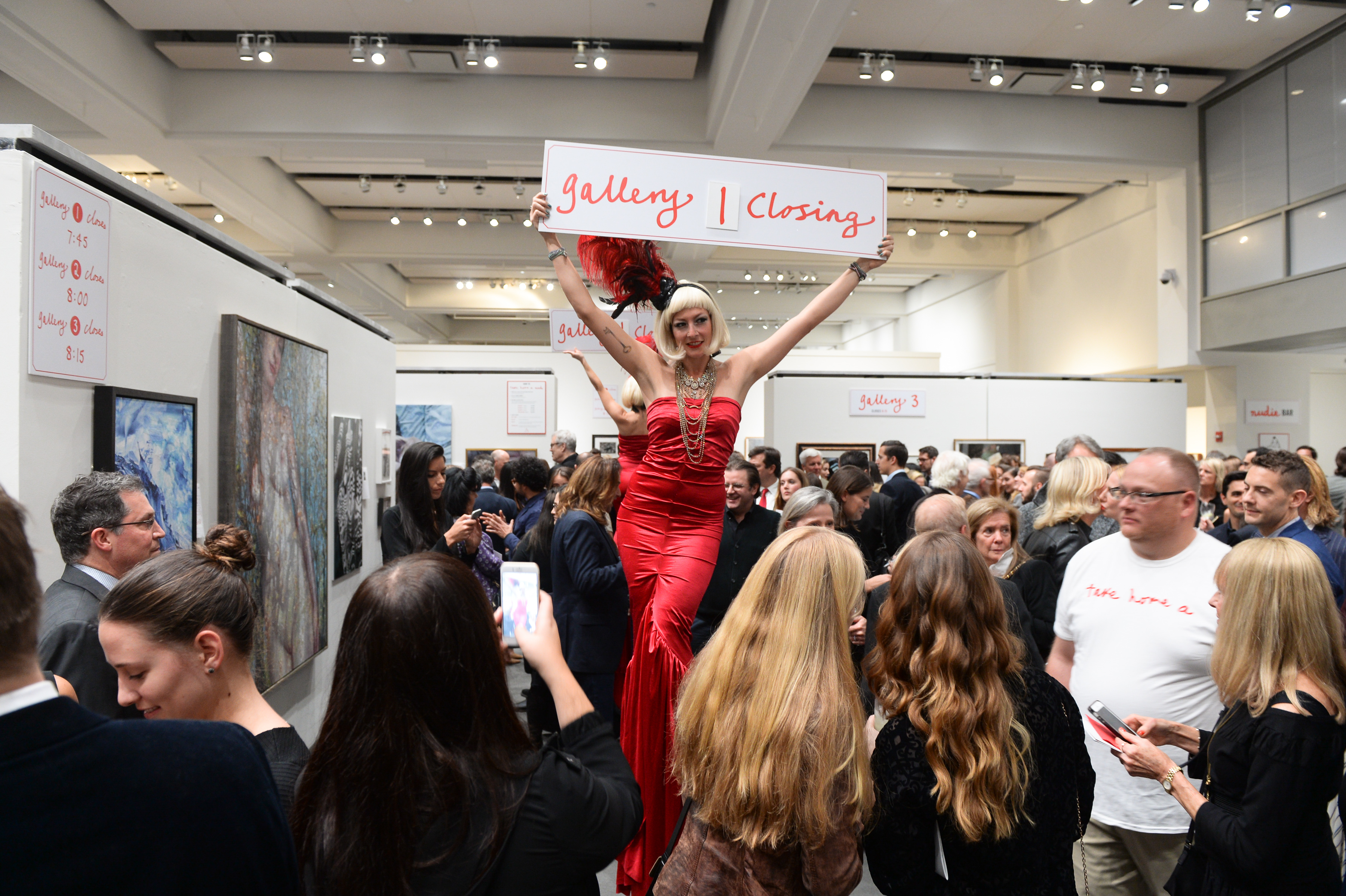 In the crush to enter the Take Home a Nude art auction and party at Sotheby's last night, not even Brooke Shields was safe. As I spoke to her outside the stanchions leading into the galleries, a guest elbowed her and she lost her balance. "I didn't even have a drink!" she said. Indeed, she was sipping VOSS water—probably for the best, considering the amount of schmoozing and art hunting the evening required from her: she's a member of the Board of Trustees at the New York Academy of Art, the event's beneficiary.
Shields first got involved with the Academy through her friend, artist Will Cotton, who invited her to sit for a drawing session. This past summer, Shields co-curated her first show with Academy president David Kratz, an exhibition titled "Call of the Wild" in Bridgehampton, New York. Shields also collects nudes, so getting involved with the party was a natural fit for her. "One of the first presents my husband ever gave me was this beautiful etching, the back of a woman from the early 1900s," she said. In a white halter-style blouse that revealed her shoulders and arms, she bared a bit of her own skin.
Kratz himself began his own collection at the Take Home a Nude Event, which is now in its 25th year. The Academy president went to the school, and the first nude he bought was a six-foot portrait of a man lying down. "It looked like an Old Master drawing," he said, "but it was all done in ballpoint pen." His collection has grown so expansively that he said he no longer has enough wall space—some of his pieces now rest on his floor. On the evening's packed house, Kratz said, "It starts at six. By five after six, it's already full because once somebody comes once, they want to get here so they don't miss anything." We also wondered which of the Academy's major star-studded benefits he preferred more, this party or the Tribeca Ball? "That's like saying, 'which child do you like better?'" he waffled and declined to choose.
Shields wasn't the only celebrity attendee who recently upped her involvement in the art world. Chef Bobby Flay, who arrived later in the evening in a maroon suit, told me he became interested in art about a year ago. "I know nothing about it," he admitted. "It's sort of like food and wine where, even as a chef, it takes a lifetime to learn everything." Last year at Sotheby's, he bought a work by Anselm Kiefer. "It was all about the texture of the painting," he said. "Which is an important part of what I do as a cook, because when you cook, the two most important things are flavor and texture."
Despite the swarm of patrons, stars and members of the media, the evening's honoree and former Andy Warhol film star Jane Holzer had some trouble shaking off photographers. "My involvement is because of Andy," she told me just outside the stanchions. She said she owns a few nudes by Warhol, who was one of the school's original founders in 1982. Upon a photographer's request to take her picture, Holzer quickly flitted away into the galleries, requesting to be left alone. Her attire for the evening privileged anonymity over nudity—yet even in black pants, top, and a heavy jacket, she couldn't totally blend into the evening's crowd. The photographers continued to pursue her.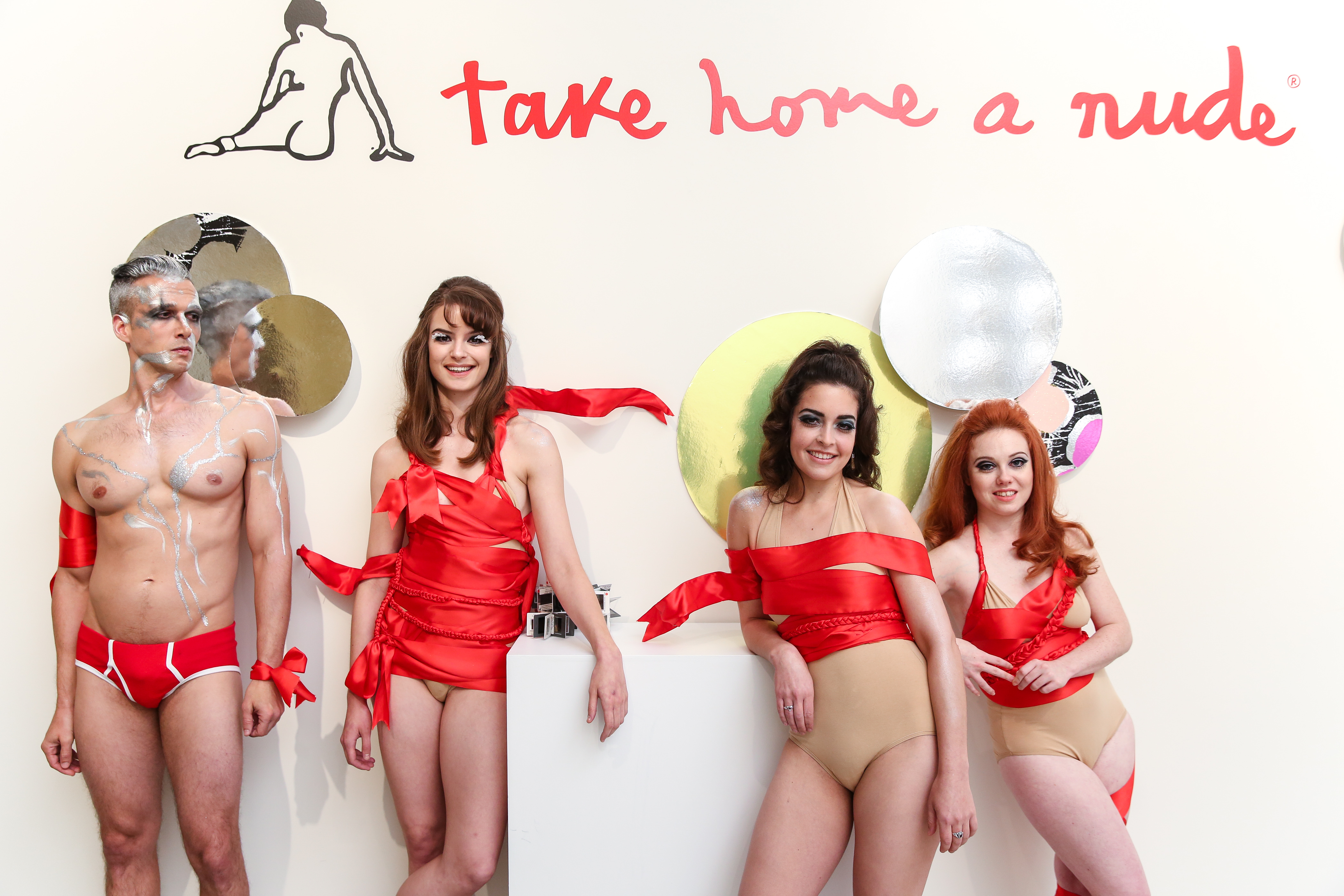 Thankfully, well-placed bars kept attendees happy throughout the silent auction. They milled, drinks in hand, towards the works that lined the walls and sculptures that sat in the galleries, marking their bids on taped-up sheets of paper. Stilt walkers directed patrons' attention to "Hot-Lot Bid-Offs," which determined the winners for contested lots with multiple bids. At 8:30, a live auction in the back of the room began. Glenn O'Brien, former editor of Interview magazine (founded by Warhol in 1969) was still looking at works in the silent auction. He praised the evening's elusive honoree. "There were certain people that made me want to be a part of the Factory, and Jane was one of them," he said. "She wasn't just pretty, but she was lively and creative." As for his own collection, he owns several nudes by artist and critic Walter Robinson, skateboarder-cum-artist Mark Gonzales, and painter Jane Dickson.
Though actress Naomi Watts sat in the front row during the live auction, where works by artists such as Jimmy DeSana and Nicole Eisenman were on offer, she wasn't interested in involving herself in a bidding war. "I did the 'buy it now,'" she said. "I don't like wars." She took home four paintings. The evening raised record funds of over $1.1 million from the sale's 180 total auction lots. Top live auction lots included portrait commissions by Nan Goldin ($60,000) and Will Cotton ($80,000). Whether the winners opt to pose nude is, certainly at that price, up to them.