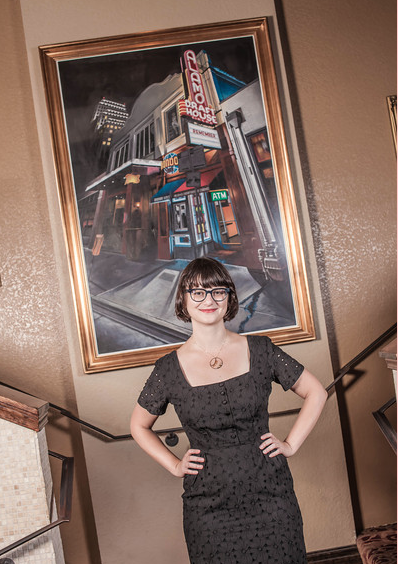 Welcome to "Behind the Screens" a new feature where we interview the people who make the decisions about what the most influential arthouse and indie theaters in New York and beyond put on their screens. Along the way, we'll uncover some of the challenges, thrills, and secrets of the trade and, hopefully, get a sense of what gives the American cinematic landscape its unique identity. First up is the Downtown Brooklyn Alamo Drafthouse.
There are two kinds of New York moviegoers: the kind who have been praying for years for the Alamo Drafthouse to finally open and the kind who don't yet realize what the Drafthouse is. For years, the success of the Austin-based chain's mix of restaurant-quality food, drinks, and cinephilia has sparked rumors of an NYC location (in fact, plans for an Upper West Side location were nixed soon after Hurricane Sandy), but it is only this Friday, October 28, that New Yorkers will get their first chance to sip a Black & White Cookie White Russian, munch on Ropa Vieja Beef Tacos, and watch movies ranging from Park Chan-Wook's newest, The Handmaiden, to the '80s comedy classic, Coming to America. To get a sense of what to expect in the coming weeks and months from the Downtown Brooklyn location, we spoke with programmer Cristina Cacioppo.
Observer: With Alamo Drafthouse coming to town, it's a very exciting time for you and for film fans in general. Can you talk a little bit about your history with the Drafthouse?
Cristina Cacioppo: Yeah, I got hired about three years ago. It was when they were planning the Manhattan theater and they had brought me down to Austin and kind of in that time, they had realized the Manhattan theater wasn't going to work out. So they knew that Brooklyn was on the horizon, and they had just opened the Yonkers theater. So they said, "Oh, you take care of the Yonkers theater for now and then Brooklyn will eventually open." So I did programming for Yonkers, which was definitely different from what I was used to, but it was still fun. And then I just kinda, you know, was ready to get Brooklyn going.
Observer: In terms of coming into New York, compared to some of the other towns that the Drafthouse has been in, like Yonkers, the Drafthouse is very much not the only game in town. There are already established places like BAM, Film Society, places like that, as well as places like the Nitehawk that also offer food and unique movie experiences. Can you talk a little bit about how Drafthouse is planning on making its mark and carving out a territory for itself in this pretty busy film landscape? 
CC: Sure. I think that there is a lot going on with movies in New York City, and I feel happy to be a part of it. I'm somebody who loves to go to the movies, so I love that the landscape has all sorts of things. I know that there'll definitely be movies they show at other theaters that I might think, "Oh, that might not work at Drafthouse, but I'm certainly glad I get to go see that at Metrograph or Film Society." I think that there is still a lot to explore in the world of film programming. There's definitely always a lot of indie filmmakers who don't have places for their films to show, so we'll have a place for movies like that that we like. There's also a lot of genre movies that kind of get less of a shot at repertory screens. I'm a big fan of action movies and I feel like for some reason, nobody really shows old action movies and, for me, those are the most fun things to watch with an audience. So that's why we have a whole series called "Fist City", which is all about action movies from the 70s to the 80s to the 90s. And though there are other films and series out there, I feel like this is a different kind of platform. Like, we have this one series called "Girlie Night" which is more about celebrating what we call "slumber party classics," so that would be something like Sixteen Candles or Mean Girls, movies along those lines. And we have another series called "Cherry Bomb," which is more about bad girls in film and that's more of a cult film series, which I feel like, for whatever reason, in this landscape of cult, underground movies, a lot of times movies that are good and positive and for women cinephiles kind of get lost. So that's maybe, like, Heavenly Creatures and Times Square. Things like that that feature women in untraditional roles or behaving badly.
Observer: You mentioned certain films not fitting into the mold of the Drafthouse. What, in your mind, is the quintessential Drafthouse movie? What are the qualities that you look for when you're looking to program movies for the Drafthouse?
CC: The thing that I always say I look for in movies, which I think really fits in with the Alamo culture, is I like to be surprised by movies. So that can be a movie that was a Hollywood movie. For example, I really liked Magic Mike XXL. That was a movie that came out last year that there's no reason for anyone, especially cinephiles, to think that it would be a good movie to go to, but it ended up being one of the most fun movies and a movie that everyone I know who loves movies wound up being really into. So we can go from movies like that to something that's more of a deeper cut. For instance, there's this movie, The Dragon Lives Again, which is in this very deep cut genre called Brucesploitation, which is basically, after Bruce Lee died, there was still this need to have Bruce Lee movies, so they dressed a bunch of guys up like Bruce Lee and made these crazy martial arts movies. You know, I feel like those sorts of movies, there are surprises on both of those sides and that's what I really look for in terms of movies I want to show. I want to get people excited and give them something different than they've ever seen before.
Observer: I haven't yet had the experience of seeing a movie at the Drafthouse, but one thing that is very interesting to me is the idea of ordering food and drink during the movie, which is obviously a very exciting thing on many levels, but there's sort of a distraction factor, as well. For certain movies, where you have to watch the screen every moment, is there ever a thought process of "Would this movie not blend in with the kind of experience we're providing as opposed to a quiet, more straightforward theater like Film Forum?" Is that ever a consideration?
CC: I mean, it's something I definitely think about. Sometimes I'll have that thought where, "Oh, is this the movie I want to watch while someone's next to me eating a burger?" I think that's kind of a fair consideration. I think that there are other movie theaters you go to where there are other kind of distractions. Like, everyone knows there's a theater where you might hear the subway rumbling under you and you hear, like, police sirens.
Observer: IFC. 
CC: (laughing) I didn't name any names. I think part of your experience is choosing the theater and if you're thinking this movie is kind of gory and you don't want to eat something during the movie, you don't have to do that. But I think that eating is part of the experience. And other places have popcorn or candy or whatever, like, that's fine. And the thing, also, for me is, I do work for the Alamo, but I've definitely been spoiled by the Alamo, because if I go to another theater, if I can't have a drink, it actually feels like it's less of an experience. It's so great to have somebody bring you an Old Fashioned while you're watching a movie.
 Observer: I honestly can't wait for that. And speaking of the experience, both the major corporations and indie theaters have had to deal with the new ability to have a kajillion movies at your fingertips that you can watch on your iPhone while you're on the subway. What will make someone want to go to your theater rather than stream it on Netflix or Hulu?
CC: We know that people like to go out. So as much as everyone says that this is threatening our business, people want to go out, you know? When I watch a movie at home, I usually think of Instant Watch and then forget. Because there's no anticipation. It's like, what's on Netflix? Okay, let it play. And then the next day I forgot I even watched anything. It just, like, played and then left my brain. Also, when you're watching stuff at home or on your phone, there's still a distraction element, like, "Oh, I got a text, so I have to pause the movie." So I think being immersed in the theater is an important part of engaging with the movie. And people still want to be social. And as much as people might act like going to the movies could be a hassle if someone's acting like an asshole or whatever, that's another thing. We try to make that experience better by throwing people out for talking during the movie. So, as someone who likes to go out to movies, I don't feel threatened. Sure, there are times when I'm feeling lazy and I just want to plop on the couch and put something on, but for the most part, I want to go somewhere, especially if there's an alcoholic milkshake involved.
Observer: Oh, definitely. And you know, one thing, as well, as I'm looking at what you have coming up, there's kind of a distinction between your offering both new movies and the experience of old movies that you've seen before that you're now seeing in a new way. How do you find the balance between getting people to have an experience with stuff they already love and providing new stuff that you want them to pay attention to and have a great first experience with? 
CC: I think there are these movies where there's some kind of nostalgic factor where you've seen it a million times, but never on the big screen. I feel like that applies to so many things. I grew up loving ET and I don't think I watched it on film until five or six years ago and that makes a difference, you know? And even if you're not bringing props or quoting along, I think sometimes it's just the excitement of going to a movie and getting a new experience of it or bringing your best friend who's never seen it and sharing that for the first time. I think there's also a balance. I think there gets to be a point where something is getting shown all the time, maybe we should leave that feature alone for now, since everyone's watched it and it's been onscreen a million times.
Observer: It's been on TNT for the past ten years straight. 
CC: Yeah, but I think also certain movies, like Roadhouse is another movie that plays on TV a lot, but it plays in an edited version and there's some key weird things in the movie that you don't get to see on TV, so watching that in a theater, you might be like, "Oh no, I've seen that a million times." But do you actually know what Patrick Swayze does to that guy before he rips his throat out? (laughs) Because I know. And then the discovery thing. That's something that takes more to get people to come around to it. When you can sort of convey the enthusiasm that I feel when programming a movie like Babe: Pig in the City, people might think it's a joke, but then I explain, "Hey, did you know it was directed by George Miller, director of all the Mad Max movies?" So people might not realize that and then they might think, "Oh, okay, maybe I should actually pay attention to what this movie is because I've learned all sorts of stuff about it I didn't know." And that's one thing that's always impressed me about how the Alamo in Austin works, that they have their weekly series, Terror Tuesday and Weird Wednesday. They have such a loyal audience that people don't know what the movie's about, they just know that it's going to be something crazy that they'll never see any other way. And if we can achieve that here, I would be so thrilled because it shows such trust from your audience.
Observer: And establishing your brand. You have a series called "Drafthouse Recommends," so you're saying, "We know what you like. Trust us. You're going to like this one." 
CC: Totally, yeah.
Observer: In addition to the retro and indie stuff, you also have a lot of titles that are at the multiplex, like The Girl on the Train and Dr. Strange. Can you talk about the process of mixing those in? Are those things you program, as well? Or do you leave open a couple of slots for what the big box office movies are going to be? How does that mix with the stuff you're more known for? 
CC: I think the thing is, on our side, at Alamo theaters around the country, we're always anticipating those movies with as much excitement as we are with diving into repertory or planning quote-alongs. I can tell you that we spend all year talking about Star Wars. And for us, since we have things like Mondo, which creates original merchandise, that's where we start to get excited. Other movie theaters might open a movie, but are they bringing in like special hosts who are in costume to introduce it? Are they bringing photo ops for people to do? Because that's something we do. For all these movies, even if they're huge Marvel movies, we're thinking about how to make it more exciting here. We're doing food specials. We're doing all different kinds of things. We have our Birth. Movies. Death. film magazine, which is themed around what movies are being released. So it's never like we're just fitting those movies in. We're putting love and care into them.
Observer: I think that's great because one thing that can be off-putting about certain nameless institutions around town is the notion of, "Anything that would be at a 'normal' movie theater is inferior to what we're doing" and I think that's a very refreshing point of view on your side that is so unpretentious and even if the film is trashy, and I don't necessarily mean that with a bad connotation, that you can still have your ethos be flexible enough to incorporate and make it the best possible Girl on the Train presentation or Kevin Hart movie or whatever. As a programmer, what are some of the more successful things you've been a part of and how do you define that? 
CC: I think there's a few different ways. I've definitely done screenings in the past that maybe weren't sell-outs, but then I've had people who were in the audience go up to me years later will still tell me, "It was so great when you shared that movie." So even if it wasn't a sell-out or a financial success, if there are people who are still thinking about it and it's the only time they get to see a movie and they're psyched that it stuck with them, that feels very successful to me. On the other hand, having sellout shows is the easiest measure because, like, "Oh! People came!"
Observer: You mentioned guest hosts before or having guests who were connected with the movie introduce it. Is that something where you just cast a wide net, whenever you're programming movies, and look around to see if anyone wants to be a part of it or do people approach you? Or do you only do that for special movies? What is that process?
CC: I decided that doing these long-spanning series that have been going on at Alamo as long as they've been in Austin, Terror Tuesday and Weird Wednesday. In Austin, they've been tied to one programmer. I mean, they've changed every few years, but it's very much the same person week after week introducing the films. And I think that's great for Austin. It works well there, but in New York, we have so many different kinds of people. We have lots of film writers, we have filmmakers, we have avid, almost professional cinephiles. So I'm friends with a lot of these people, so when thinking about doing these series here, rather than doing just one person, I want to mix it up a bit so you get all different kinds of tastes and all different kinds of films. So for me, it's been mostly me approaching people and asking them to do it and then saying, "Give me your picks for 10 different movies and I'll see what I can get screened." It's also, like, if people approach me, if someone sends me something and I'm like, "Yeah, that's an amazing idea," I'm going to do it. It's a balance because a lot of people are, like, "I like movies! I can do that!" But they may not get that it's like, "Oh, that movie shows all the time. Or that movie doesn't really fit in with what I'm looking for." But for now, I've got such a huge list of people I want to choose stuff that it's just working that way.
Observer: It also goes to the point of not programming just for yourself. Would you say that the taste that you show in programming the movies is identical to the taste you have in the things that you watch for pleasure? Do you ever program things that you yourself are not so into but know that plenty of people are? 
CC: I do think that's an important thing to keep in mind about programming: it's not all about you and your favorite movies. There are definitely movies that, in my mind, there's no reason for me to show that to anybody, like they're utterly worthless in my mind, and other movies where I didn't love it, but I can see why we should show it and why there's an audience for it. So with my own viewing habits, I like to watch all different kinds of things. And there are plenty of times when I'm watching a movie and be like, "I loved that! I would never show that to anybody." Or, "I liked that movie. I don't think now's the time to show it, but I'll keep it in the back of my head and one day it might have a context that makes sense."
Observer: One thing that the Austin Alamo Drafthouse is known for is Fantastic Fest. Is there a plan down the line to do some sort of film festival tied to the Brooklyn Drafthouse or do you just want to get established first before even thinking about any of that? 
CC: Yeah, we've definitely talked about doing Fantastic Fest-type things here. I think the thing is, a film festival is a lot of manpower. So, at first, we really do need to get ourselves set here with what we're doing and then kind of devise how that would work. And even doing something like replicating something like Fantastic Fest, like making a mini-Fantastic Fest or even just bringing some of the highlights from down there and bringing them up there, that could totally work. So we'll somehow figure out how to tie into Fantastic Fest.
Observer: Last question. What's going to make the Brooklyn Drafthouse different from any other Drafthouse? 
CC: We definitely want to make it feel local. That's one thing that's so great about the company is they put such trust in us to know our location. I think we're at a huge advantage in New York where there's such a pool of talented people, filmmakers and writers and actors and stuff. So we'll be doing all sorts of thing involving Q&A's and other things that maybe they don't have access to in another market. And I think, New York being a place that has so many movie theaters, the reason we have so many movie theaters here is that there are a lot of moviegoers, and people are really adventurous with their taste, so I feel like I can step out on a limb in a way that other markets can't with the Alamo. So I think, over time, that this identity, I do have a major idea of what it is right now, but there's going to be a lot of things that are going to be an experiment. Like, "Oh, that thing didn't work. Let's move on that." But I think it's going to definitely have a distinct identity within the Alamo. But I think it could definitely have an influence on how other Alamos work because what if people in other cities see what we're doing here and and say to the Alamo in their city, "Hey, they're doing this series in New York. You guys should bring that here." And as long as people start showing up to these things in Kansas City, why not?