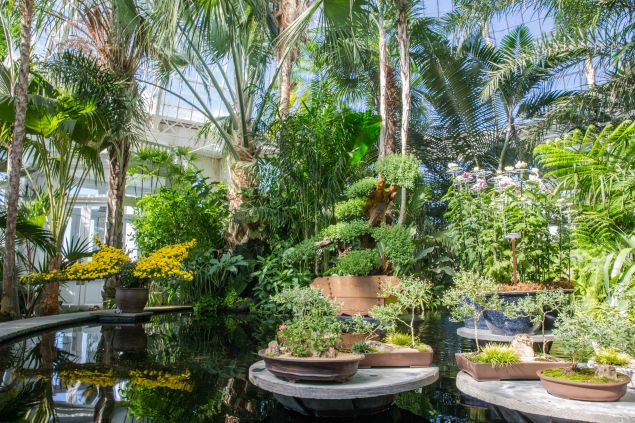 If you haven't been to the New York Botanical Garden recently, now is really the time.
"This is the most challenging, time-consuming thing we do all year," Todd Forrest, VP for horticulture and living collections at the garden, told me yesterday. He was talking about the garden's annual Kiku (Japanese for chrysanthemum) show, in the Enid A. Haupt Conservatory. Stop by the garden before it's too cold to enjoy the outdoor portions and peep these carefully groomed flowers.
The Japanese art of training chrysanthemums dates only to the 19th century, but the Japanese reverence for the flowers is nearly ancient. The chrysanthemum symbolizes longevity in Japan and was long associated with the emperor. For this reason, gardeners in Tokyo began training chrysanthemums as a tribute to their ruler in the 1800s, said Forrest.
Now, following a 12-year partnership with the Shinjuku Gyoen National Garden in Tokyo, NYBG has developed its own tradition of Kiku. Each fall (chrysanthemums, unlike most flowers, bloom in fall), the garden opens an exhibit of trained plants to the public in tandem with other Japanese programming.
New to the programming this year is four walks led by monks—"forest bathing," it's called—and, as in past years, there will be drumming, writing workshops and a samurai sword demonstration, said Gayle Schmidt, the head of public programs at NYBG.
The flowers on display "have been trained, coddled and carefully cared for for every moment of their waking life," Forrest said. At the exhibit's center is the Ozukuri, or the thousand bloom—a single stem that is split into hundreds of flowers. The plant is created by choosing the strongest outgrowth stems and then guiding them into a pattern with wires.
The flowers range from almost terrifyingly large to quite small and have been engineered to grow and flower in certain ways so as to create a sculpted, architecturally impressive garden within the conservatory. The exhibit combines modern gardening techniques and ideas and the 19th century practice, Forrest said.
But don't angry New Yorkers ever ravage these delicate plants? Or at least absent-mindedly step on them? "It's not as bad as you'd think," Forrest said. "People are actually very respectful. But now maybe I've jinxed myself and this is the year someone will do a header into the Ozukuri."
And while work on the Kiku exhibit begins 11 months before it opens, the affair comes to an abrupt conclusion right before Halloween.
After the exhibit "they go in the compost," said Forrest. "It's very zen."
"Kiku: The Art of the Japanese Garden" opens Saturday and runs until October 30.