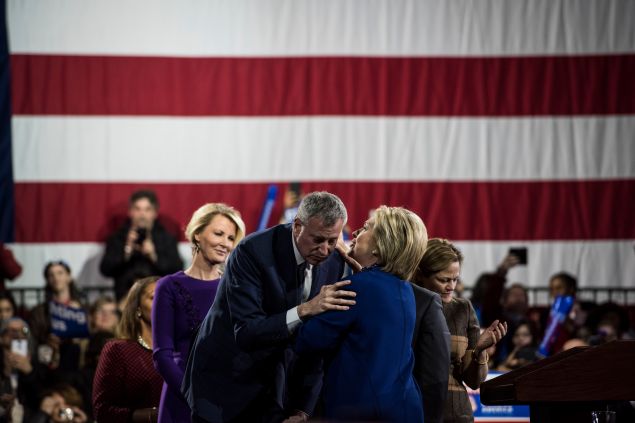 Mayor Bill de Blasio is confident he's the reason his former boss Hillary Clinton is running on the most left-leaning Democratic Party platform in decades.
The comments came amid Wikileaks' week-long deluge of pilfered emails from Clinton campaign chairman John Podesta's hacked personal account, which revealed de Blasio desperately sought direction from the campaign even as top officials mocked him as "a terrorist." The exchanges between de Blasio, Podesta, Clinton campaign strategist Robby Mook and communications director Jennifer Palmieri occurred weeks and even months before the mayor formally endorsed the Democratic front-runner last October—which de Blasio claimed today was evidence of his canny strategy to entice Clinton into adopting more liberal positions on core issues.
"I'm very comfortable with the fact that I pushed the Clinton campaign to take a more progressive stance and even if that meant holding out for a while, I think that's part of the political process and that's how I'm gonna comport myself," de Blasio said in his weekly "Ask the Mayor" segment on WNYC today.
De Blasio admitted that he had been in an unusual position given that he was Clinton's campaign manager for her 2000 bid for the U.S. Senate, but said it was unclear what her campaign, vision, message and platform were during conversations from late 2014 into the first quarter of 2015. Indeed, he was "ready to energetically and intensively work for her election if that vision was in place," he said.
"I was also trying to say very clearly that if the vision wasn't in place, I thought a lot of progressives were going to wait until we saw a vision we could believe in," de Blasio continued. "Even if we have the greatest respect for her, it's just a classic, necessary part of the political process to tell a candidate that you wanna support, that you have to see a vision that conforms to the values and the issues of the day."
The mayor denied that he had different endorsement positions publicly and privately, even though the email exchanges indicated an allegiance to Clinton well before he officially backed her. Among the hacked messages was an email in which de Blasio notified Mook and Podesta that Vermont Sen. Bernie Sanders had requested a meeting with him, and in which the mayor told the Clinton advisers that he would inform the underdog democratic socialist that he would not endorse him.
"It's perfectly consistent to say, 'Hey, you know, I have a great respect for the other candidate but it's not my intention to support him. I'd like to support you but I need to see some things that I think are crucial to changing this country,'" de Blasio said. "A lot of progressive Democrats did the same thing."
Ultimately, he said, his actions helped to yield what he described as the party's most progressive agenda yet—though he conceded that Sanders' campaign was fundamental to that shift, too. Sanders endorsed Clinton in July after she adopted some of his progressive proposals, including allowing people over 55 to buy into Medicare and more robust regulation of financial institutions.
"I don't know what pieces affected the outcome but I think the outcome was—obviously Bernie's campaign was particularly crucial here—the outcome was a much more progressive platform than this party has had in decades and I think therefore we all did the kinds of things we were supposed to do," de Blasio continued.