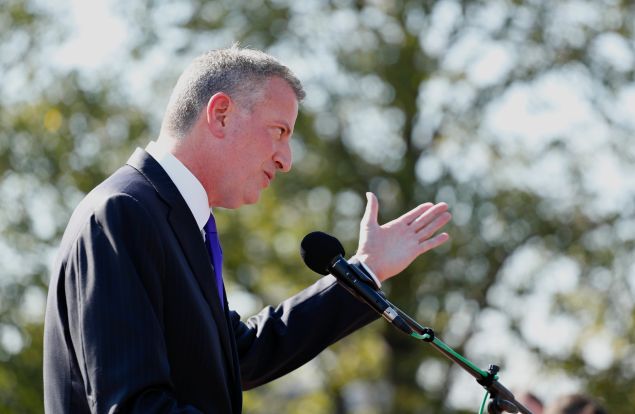 You know something has gone seriously off the rails (besides our region's two big train crashes last week) when even The New York Times criticizes Mayor Bill de Blasio for his behavior toward the media. The Gray Lady recently ran an editorial lavishly praising the "generally good mayor with good programs and a good administrative team." But it also reminded him of his accountability to the people—and the press.
The mayor's latest exhibition of thin skin—dare we call it a hissy fit—was directed at the City Hall bureau chief of The New York Post and a reporter from Newsday. Shockingly, they had the temerity to question the mayor about policy and cronyism. In response, de Blasio ranted against the Post, calling it a "right-wing rag" and refused to answer the questions.
The Post had an old-fashioned scoop: it uncovered that the mayor had 264 "special assistants" on his payroll, a 140 percent increase over Mayor Bloomberg. Then the Post asked a legitimate question: Does the mayor's office really need a staff of 656 people?
De Blasio is just as accountable to the Post's readers as he is to the people who voted for him.
Then the Newsday reporter wanted to follow-up on the investigation of the death of a 6-year-old boy that raised serious questions about the oversight of the Administration for Children's Services. The mayor's response? "Come on—try and ask a real question."
Not only was that a real question—it was an important one. The death of a child under the supposedly watchful supervision of the ACS raises the most fundamental questions about the mayor's stewardship.
De Blasio has a right to dislike the Post or any other media outlet. He can disagree with the editorial positions a newspaper takes or even believe that its readers are a basket of deplorables. But all residents of New York are the mayor's constituents and their questions—voiced directly or by a representative from a media outlet—deserve to be answered. De Blasio is just as accountable to the Post's readers—presuming many of them voted against de Blasio—as he is to the 282,344 people who voted for him in the Democratic Party.
Perhaps de Blasio has forgotten a truism—so aptly phrased by another newspaperman, Finley Peter Dunne, through his fictional Dooley—of his chosen profession: that "politics ain't beanbag."
It is important to remember that de Blasio has never worked anywhere but in politics and government. After spending so many years lusting after the mayoralty, he has shown little interest in actually doing many of its mundane but important tasks. So perhaps it is time for de Blasio to begin contemplating a profession where he wouldn't be accountable to people who question him or disagree with him. Perhaps he should take seriously the advice of a more accomplished politician, President Harry Truman, who reminded us, "If you can't stand the heat, get out of the kitchen."