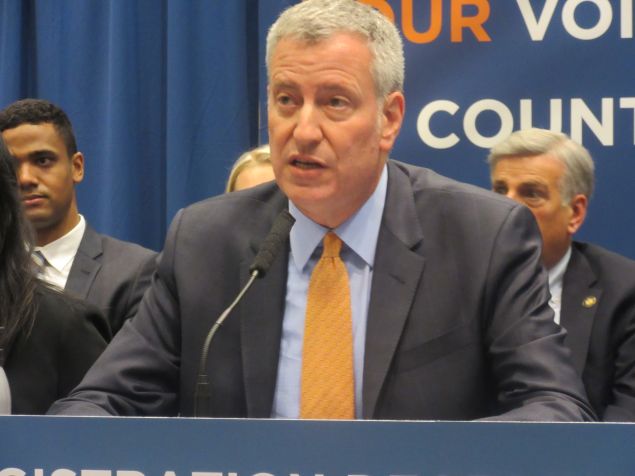 After internal emails surfaced today in which Hillary Clinton's top strategist Robby Mook called Mayor Bill de Blasio a "terrorist," the mayor called the comments normal in the "heat of the battle"  and said he reassured Mook that he's a "loyal American."
Amid the latest tranche of hacked correspondence released by Wikileaks was a message in which Mook and campaign spokeswoman Jennifer Palmieri reacted to a reporter's tweets regarding de Blasio's decision not to attend Clinton's kickoff on Roosevelt Island and another tweet of the mayor saying that he "always liked what I heard from Bernie Sanders." In response, Mook wrote, "Wow. What a terrorist" and Palmieri replied, "Told you!"
"Robby Mook called me this morning," de Blasio told the Observer at an unrelated press conference encouraging New Yorkers to vote before the Oct. 14 voter registration deadline. "I informed him I was a loyal American."
The mayor said he hass known Mook for nearly a decade and thinks "very, very highly of him," noting that he understands why people react a certain way when they are in "the heat of battle."
"I understand the heat of battle," de Blasio continued. "People are upset 'cause they want what they want and we just weren't in agreement at that point. But Robby and Jen are two people I know and like a lot."
He scoffed at the suggestion that Mook and Palmieri should face consequences for their comments.
"No, of course not, of course not," de Blasio said, seeming to chuckle at the notion.
This comes after yesterday"s round of hacked emails from John Podesta, Clinton's campaign chairman, which included messages from de Blasio that showed him as flattering and deferential to Clinton and her directions. Those emails indicated that even though de Blasio declined to endorse Clinton for months, he was still asking the campaign to instruct him on how to interact with her rivals and with reporters.
He blasted Wikileaks the document dump, saying that the organization is violating private discussions and that public access to private emails creates a "very, very troubling dynamic." He insisted that the internal conversations "are classic of any campaign."
"I know a lot of those people very, very well and I was quite clear that I was not satisfied with what I was seeing from their platform and I wanted to see more and I thought it was important for them," de Blasio said. "I thought it was important for the party. I thought it was important for the country and of course it was gonna be the cause of friction. That's not surprising."
He maintained that his decision to hold off on endorsing Clinton was ultimately the right thing to do.
"I have no illusion it was going to cause friction, but I think it was the right thing to do," he added.
Podesta and the Clinton campaign have blamed the government of Russian President Vladimir Putin, whom Donald Trump has lavishly praised, for the host of email invasions.
Disclosure: Donald Trump is the father-in-law of Jared Kushner, the publisher of Observer Media.