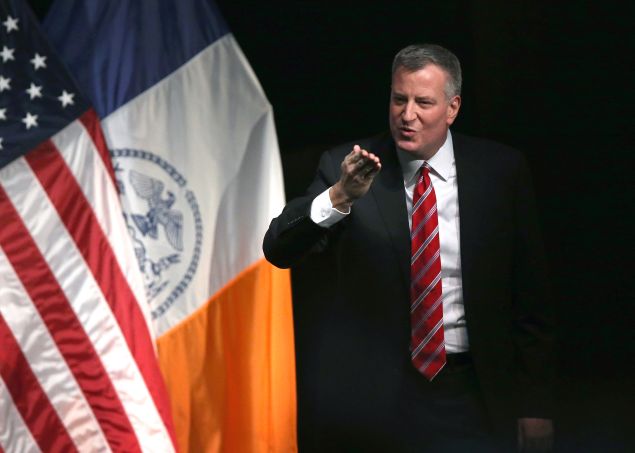 Mayor Bill de Blasio called upon the Port Authority—the sprawling, controversial entity run jointly by Gov. Andrew Cuomo and New Jersey Gov. Chris Christie—to increase the minimum wage for Newark Liberty Airport workers to $15 an hour immediately.
Speaking at the authority's meeting of commissioners and board committee today, de Blasio pointed out that workers at P.A.-controlled LaGuardia and John F. Kennedy in New York airports are already scheduled to earn a $15 per hour minimum wage in 2018 thanks to a New York State law Cuomo spearheaded last year. The mayor asserted that laborers working for airport contractors in New Jersey, where the Republican Christie has vetoed $15 law, deserve better than the $10.10 rate the entity set in 2015.
"I'm here to make a simple statement: the workers at Newark Liberty Airport deserve $15 an hour as their wage," de Blasio said. "And workers at all three airports need affordable health insurance, additional paid days off and the opportunity to continue training in their jobs."
De Blasio noted that the laborers working for companies operating out of the P.A.'s airports are primarily people of color. He also noted that wages for the workers—including cleaners, customer service representatives, baggage handlers, food service workers and security personnel—have plummeted, benefits have been slashed and labor unions have been curtailed, and airport contracts granted to the lowest bidder.
In the five boroughs, companies with 11 or more employees have until Dec. 31, 2018 to phase in the $15 minimum wage. Smaller companies in New York City will have until the end 2019, while business owners in the suburbs have until the beginning of 2022. For the rest of the state, the pay floor will only rise to $12.50 an hour, and is scheduled to get there by 2021.
Last month, two proposals looking to increase wages for workers at airports serving New York City and other PA facilities did not receive a sufficient number of votes to go through.
"The workers in this region's airports should not be divided by state lines," de Blasio said. "They do the same work on both sides of the Hudson River and deserve the same wages. The Port Authority must treat workers the same at all of its facilities and authorize a $15 hourly wage and sufficient benefits now."
State Senator Adriano Espaillat—as the winner of the Democratic primary to replace retiring Congressman Charles Rangel—who represents a waterfront-heavy district tethered to New Jersey by the Port Authority's George Washington Bridge, said the agency has failed to keep its 2014 pledge both to raise wages and to provide benefits to workers. He commended plans to renovate LaGuardia Airport but said that a similar moral and fiscal commitment must be made to the workers, including those working as subcontractors.
"Subcontracted workers, 98 percent of which are people of color, do not deserve to remain in poverty," Espaillat said. "Now it is time to act responsibly as an agency that follows its mission to move the region forward."

The authority did not immediately respond to requests for comment.
Terence Cullen contributed reporting to this story.