We have gone a good four years with mostly just our memories of Billie Joe Armstrong, that eyeliner-wearing MTV snarler who, as the lead singer and guitarist of Green Day, became the face of the unlikely pop punk movement of the mid-'90s. After a well-noted blow-up during a Vegas show in 2012, he bugged out of the constant touring and creating that had defined his previous quarter-century to focus on the substance abuse issues that his nearly unrivaled work ethic had effectively kept hidden from the world.
Now, all of a sudden, there is more of the guy than we effectively know how to deal with. On Friday Oct. 7, his band put out Revolution Radio, their first record since they released three in succession in 2012. On October 14, Armstrong makes his debut as a lead actor in a film when the punk rock midlife crisis comedy Ordinary World is released via VOD. Costarring Fred Armisen, Judy Greer and Selma Blair, the film plays like a sort of Bizaro World version of Armstrong's life, one where his band fizzled out and he ended up working in a hardware store instead of what actually did happen: Armstrong and Green Day made many millions mainstreaming punk and in the process pogoed themselves straight into the Rock & Roll Hall of Fame. (A rested Armstrong ended his public sabbatical to perform with his band at the ceremony last year).
Add to this that his band returned to New York to play Webster Hall Saturday October 8. Also last week? Armstrong showed up as Chaplin to Tony Hale's Buster Keaton on Drunk History, and called into Howard Stern, a decision that will no doubt come to bite him in the ass should he one day run for President.
"God, when you put it that way, I feel like I'm overachieving or something," says Armstrong, on the phone after playing a gig at the 9:30 Club in DC the night before. That show, like many of on the band's abbreviated tour that will run until the end of October before picking up again in Europe in mid-January, was filled with an inordinate amount of teenagers, considering the band hasn't put out a record in four years.
"I have no idea why this band keeps generating the young fans," says Armstrong. "I mean I'm not complaining about it. It is truly amazing: you see people in their 50s who are freaking out all the way down to people that are 17, 18 years old. You have people who are my age who have teenagers—you know, parents who grew up in the 90's and now have a pretty decent rock collection for their kids to discover."
"I guess it's just the energy that keeps them coming," adds Armstrong. "I'm guessing that's the infectious part."
The energy is decidedly more low-key in Ordinary World. Armstrong plays a former punk rocker who goes into midlife crisis mode when his wife and daughter forget his fortieth birthday, blowing a couple grand to host a blowout party in a top of the line hotel suite, the kind of joint Armstrong and the boys routinely stay when crisscrossing the planet on tour.
Armstrong, 44, resists the idea that inhabiting this alternate reality was a way of coping with what had come to a head four years ago in Vegas. "This thing was completely separate," he says. Still, both the film and Revolution Radio—even the current tour—deal with a similar question in very different ways; chiefly, how does the punk rock ethos fit into a time in life when your kids are beginning college?
"The guy is a true artist," says 'Ordinary World' writer/director Lee Kirk, on Armstrong. "Artists like that tend to be really in touch with themselves and the mood of the moment."
"Obviously he went through a lot in the past four years," says Ordinary World writer and director Lee Kirk, a veteran of The Office who is married to that show's Jenna Fischer. "I've listened to the new Green Day record and there is definitely a synchronicity between the lyrics of the record and the themes the film. They both deal with getting older, accepting changes and also feeling frustrated by those changes. I don't think that was necessarily conscious on his part, but the guy is a true artist. Artists like that tend to be really in touch with themselves and the mood of the moment. They are also very good at expressing themselves about it."
By taking off the eyeliner and giving him some Clark Kents and plenty of stubble, Kirk was also able to tap into the everyman aspect of Armstrong. It is a part of him that is well known to Green Day fans but tends to get lost in both his success and rock star drag.
"The man has had incredible financial and creative success and yet he still understands the daily grind of life and can express so much about it," says Kirk. "He has a deep understanding of the frustrations that we all experience and is very down-to-earth about it. Honestly, it is one of the most fascinating things about him."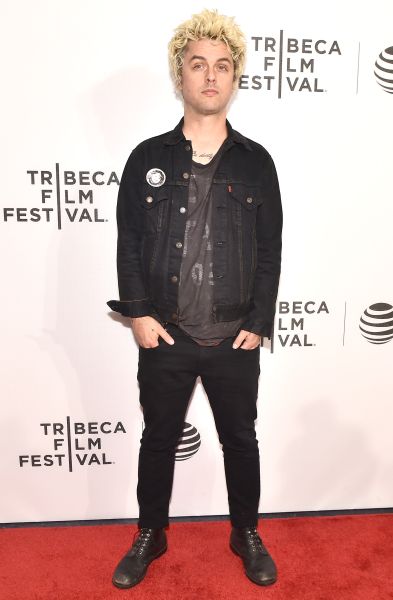 Armstrong, who had a small part in This is 40 and had an arc on Nurse Jackie, was equally workaday in his approach to his first starring role. He spent nine months working with Kirk in advance of the 21-day shoot, and got his lines down cold by recording them on his phone and playing them back over and over while on runs around the East Bay. Most of the prep was training himself to not overdo it.
"Lee kept telling me not to overthink it," says Armstrong. "We wanted to make it very real. If you want to be funny, don't try to be funny. If you're going to be sad, don't try to be sad. Just kind of let the language live through you." The most challenging part was letting go of the controlling aspect that is so much a part of his life as Green Day's front man.
"They say that practice makes perfect, but nobody's perfect, so why practice. After a while you just have to wing it."
"There were a couple of times where I went home after doing a scene and just thought to myself, 'God, I really could've done that much, much better," says Armstrong. "I mean, was it really convincing that Selma Blair was my wife? That sort of thing mostly. I was just tripping in my head. I am a perfectionist pretty much with everything. Like we played the 9:30 last night, and all day I kept thinking about tempos of certain songs that we played. It's just the nature of how I am."
Adds Armstrong, "They say that practice makes perfect, but nobody's perfect, so why practice. After a while you just have to wing it."
Both the film—which takes place in Brooklyn—and the tour's current stop have one thing in common: they both offer a glimpse of his future life. With his youngest son, the recording artist Jacob Danger, set to graduate from high school, Armstrong and his wife Adrienne are planning to move their untethered selves to New York by next fall.
"The question for us now is, how are we going to spend our future Septembers and Octobers? I have to say, it is really exciting to contemplate that. It's going to mean a lot more free time for us and we're gonna get to go out and do a lot more stuff together."
For now, he is on break from family life in a way that his Ordinary World character could only fantasize about. "Honestly, I feel like I am on vacation," he says of the tour. "It has been nice to get away and explore the world. I'm also someone who loves to spend time alone. That has been something that has evolved over my life. I really, really like it."
The best part? It may just be all those fancy hotel rooms. "It's been really nice just getting to dump my shit everywhere and just leave it there," he says. "I mean I don't have to pick it up at all."