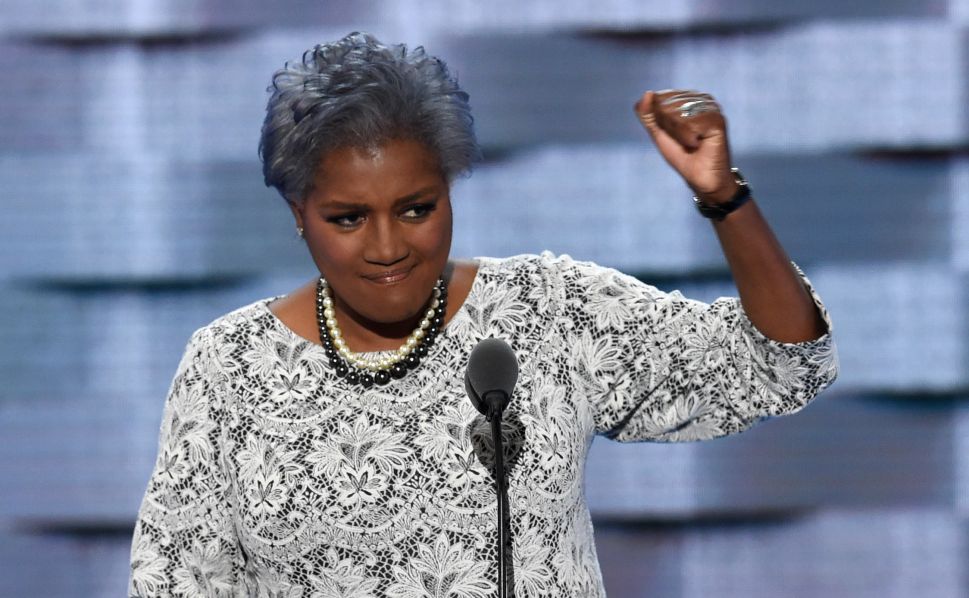 On October 10, Wikileaks released part two of their emails from Clinton campaign chair John Podesta.
Friday, Wikileaks released their first batch of Podesta's emails, which included excerpts from Clinton's Wall Street transcripts that reaffirmed why Clinton refused to release them in full. During the second presidential debate, Clinton confirmed their authenticity by attempting to defend one statement she made in the speech about having a public and private stance on political issues. She cited Abraham Lincoln, a defense comparable to her ridiculous invocation of 9/11 when pressed on her ties to Wall Street during a Democratic primary debate.
The latest release reveals current DNC chair Donna Brazile, when working as a DNC vice chair, forwarded to the Clinton campaign a January 2016 email obtained from the Bernie Sanders campaign, released by Sarah Ford, Sanders' deputy national press secretary, announcing a Twitter storm from Sanders' African-American outreach team. "FYI" Brazile wrote to the Clinton staff. "Thank you for the heads up on this Donna," replied Clinton campaign spokesperson Adrienne Elrod.
The second batch of emails include more evidence of collusion between the mainstream media and Clinton Campaign.
One email, received by prolific Clinton donor Haim Saban, was forwarded to Clinton staff, praising the friendly moderators in the early March 2016 Democratic primary debate co-hosted by Univision in Florida. "Haim, I just wanted to tell you that I thought the moderators for last nights Debate were excellent. They were thoughtful, tough and incisive. I thought it made Hilary appear direct and strong in her resolve. I felt it advanced our candidate. Thanks for Univision," wrote Rob Friedman, former co-chair of the Motion Picture Group.
Another email discusses planting a favorable Clinton story in The New York Times in March 2015. "NYT heroine. Should she call her today?" Podesta wrote to other Clinton campaign staffers with the subject line 'Laura Donohoe.' "I do think it's a great idea! We can make it happen," replied Huma Abedin. The story they referred to is likely "In New Hampshire, Clinton Backers Buckle Up," published in The New York Times on March 12, 2015 about Laura Donohoe, a retired nurse and Clinton supporter in New Hampshire.
John Harwood, New York Times contributor and CNBC correspondent, regularly exchanged emails with Podesta—communicating more as a Clinton surrogate than a journalist.
In an October 2015 email thread, Clinton staff were in damage control over Hillary's support for the 1996 Defense of Marriage Act (DOMA), which defined marriage as between a man and a woman. Hillary Clinton would not disavow her support for it. "I'm not saying double down or ever say it again. I'm just saying that she's not going to want to say she was wrong about that, given she and her husband believe it and have repeated it many times. Better to reiterate evolution, opposition to DOMA when court considered it, and forward looking stance."
Former Clinton Foundation director, Darnell Strom of the Creative Artist Agency, wrote a condescending email to Congresswoman Tulsi Gabbard after she resigned from the DNC to endorse Bernie Sanders, which he then forwarded to Clinton campaign staff. "For you to endorse a man who has spent almost 40 years in public office with very few accomplishments, doesn't fall in line with what we previously thought of you. Hillary Clinton will be our party's nominee and you standing on ceremony to support the sinking Bernie Sanders ship is disrespectful to Hillary Clinton," wrote Strom.
A memo sent from Clinton's general counsel, Marc Elias of the law firm Perkins Coie, outlined legal tricks to circumvent campaign finance laws to raise money in tandem with Super Pacs.
In a March 2015 email, Clinton Campaign manager Robby Mook expressed frustration DNC Chair Debbie Wasserman Schultz hired a Convention CEO without consulting the Clinton campaign, which suggests the DNC and Clinton campaign regularly coordinated together from the early stages of the Democratic primaries.