The late Brooklyn District Attorney Kenneth Thompson—the borough's first African-American district attorney—was celebrated by prominent politicians, family and friends for everything from his infectious smile to his unwavering commitment to social justice in a funeral ceremony that attracted at least 1,000 people. 
Just 11 days ago, Thompson announced that he was taking a leave of absence due to a cancer diagnosis (later revealed to be colorectal cancer), but did not disclose further details. Five days later, he died in hospice at the age of 50.
Thompson is survived by his wife of 17 years, Lu-Shawn Thompson; his two children, Kennedy and Kenny; and his mother, father, brother and sister.
Referencing a song titled "Millions" by the gospel music quartet The Winans—gospel and R&B singer B.B. Winans was in attendance and sang part of that song—his sister, Catherine Adams-Gaskins, spoke on behalf of the family during the two-hour long ceremony at the Christian Cultural Center in East New York. The ceremony was marked by popular Christian songs that saw attendees standing and clapping numerous times. 
"I just want you to know that I was comforted by that song because I know my brother made it," Adams-Gaskins said. "Millions didn't make it, but Ken was one of the ones who did."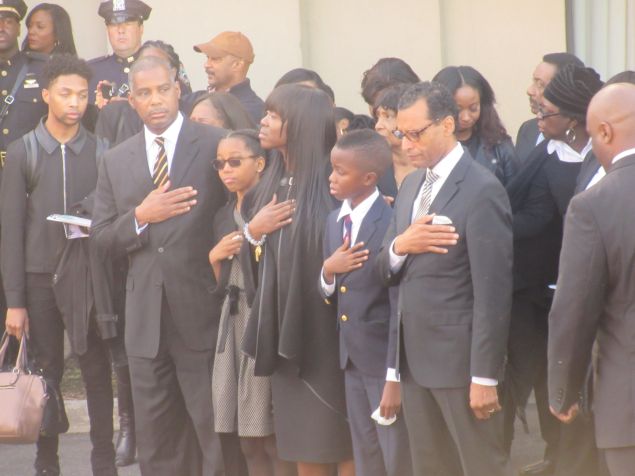 But perhaps one of the single biggest indicators of Thompson's impact was the unusually large number of distinguished guests. U.S. Attorney General Loretta Lynch, Gov. Andrew Cuomo and Brooklyn Congressman Hakeem Jeffries were seen onstage. And Mayor Bill de Blasio, First Lady Chirlane McCray, former Mayor David Dinkins, Public Advocate Letitia James, Council Speaker Melissa Mark-Viverito and Comptroller Scott Stringer were seen in the front row. 
Also spotted were Queens Congressman Gregory Meeks, Brooklyn Councilwoman Laurie Cumbo, Brooklyn Councilman Robert Cornegy and Marilyn Mosby, State's Attorney for Baltimore, Maryland.
A former federal prosecutor, Thompson defeated 22-year incumbent Charles Hynes in 2013. Part of the rising Central Brooklyn political machine headed by Jeffries and including former Councilwoman Una Clarke, he was praised for clearing 21 wrongful convictions.
Lynch said today she first met Thompson in 1995, when he joined the U.S. Attorney's Office for the Eastern District of New York and immediately sensed the energy and commitment from the "bright-eyed lawyer" barely out of law school.
"Even though he had a brilliant legal mind, he knew that it was more than about what was written down in the law books that we all studied," Lynch said. "It was about the dignity and the well-being of real people, of human beings. It was about making the promise of this country real for everyone in this country."
She also read aloud a letter dated Oct. 14 directly from President Barack Obama, who wrote that Thompson "dedicated himself to the long and difficult pursuit of justice."
Speakers also praised his work to convince the U.S. Department of Justice to reinvestigate the 1955 murder of 14-year-old Emmett Till in Mississippi, his decision not to pursue charges against teenagers accused of raping an 18-year-old woman in Brownsville and for representing Guinean hotel maid Nafissatou Diallo—who was at the funeral—who accused French politician Dominique Strauss-Kahn of raping her in 2011.
Cuomo remembered a time when Thompson jokingly cautioned him to avoid telling his jokes ahead of a political meeting with Reverend A.R. Bernard, the church's senior pastor, when he was running for attorney general.
"There are 62 district attorneys in the State of New York," Cuomo said. "There have been 32 district attorneys in Brooklyn, 89 borough presidents. There have been 56 governors and 109 mayors. How many are worth remembering?"
He also praised Thompson and Lynch's work on the 1995 beating and torture of Haitian immigrant Abner Louima—a case he said "had the audacity to accuse police officers of savage, brutal, despicable abuse." 
Jeffries thanked Congressman Jerry Nadler, Congresswomen Yvette Clarke, Nydia Velazquez, and Grace Meng; Councilman Brad Lander; and Assemblyman Dov Hikind for helping Thompson "get over the finish line" in 2013. 
"I just want to make sure that you know as I stand here and we celebrate the life and the legacy of our prominent brother," he said. "Whenever—Kenny and Kennedy—I refer to your father, I will always say, 'the great Ken Thompson,'" as Thompson would refer to Obama, the late Congresswoman Shirley Chisholm—the first African-American woman elected to Congress—and the late civil rights activist and former Manhattan Borough President Percy Sutton.
He also said both he and Thompson's law partner Doug Wigdor, when visiting Thompson at the hospital, read through a list of lawyers, judges, congressional lawmakers and prominent elected officials who wished him well, but that it was Wigdor's note that "even the New York Post wrote a positive editorial wishing you well" that lit Thompson up.
His Chief Assistant Eric Gonzalez—who has taken over the operations of the D.A.'s office in Thompson's absence—commended his late boss.
"I am tremendously proud to have served as Ken Thompson's chief assistant for the past several years but I'm more honored to call him my friend and my mentor," he said. 
Also in attendance was David McCallum, who served 29 years in prison for a crime he did not commit, whose release Thompson secured.
But Thompson's nearly three-year tenure was not without controversy. His investigators had accused him of using them as personal errand-runners and, in August, he was fined $15,000 for using office funds to pay for his personal meals. And, while Black Lives Matter movement praised him when he secured the indictment and conviction of Office Peter Liang for the killing of black Brooklynite Akai Gurley, but he drew criticism when he recommended probation over jail time.