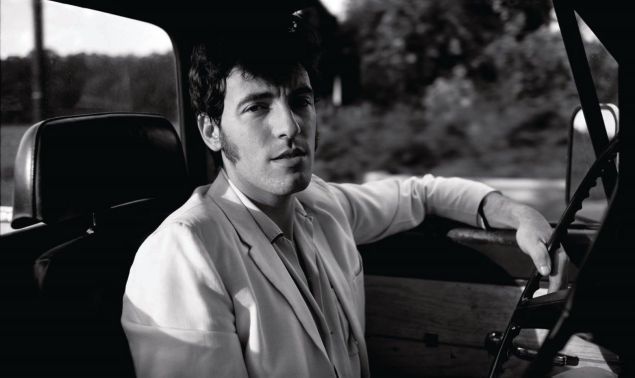 The beauty of Bruce Springsteen's much-anticipated autobiography, Born to Run, lies not in the amusing anecdotes, or the behind-the-scenes stories about the creation of landmark albums like Darkness on the Edge of Town or Born in the U.S.A.
Instead, Springsteen attempts to do something few of his rock icon peers would do—at least, not while they're still alive.
This artist, whose career is built upon a foundation of legend hardened and cooled into mythology, endeavors to peel away the façade, and reveal the simple, humble human lurking within.
"I fought my whole life," Springsteen writes late in his book, "because I wanted to hear and know the whole story, my story, our story, and understand as much of it as I could. I wanted to understand in order to free myself of its most damaging influences, its malevolent forces, to celebrate and honor its beauty, its power, and to be able to tell it well to my friends, my family and to you."
Laying bare your soul while still retaining a faint air of mystery is a remarkable feat, and one Bruce Springsteen largely pulls off.
Such a raw admission from an artist of Springsteen's caliber is still striking, even in an age of 24/7 social media oversharing—the disclosure, threaded through Run's text, that Springsteen has struggled with depression for most of his adult life was the low-hanging, clickbait fruit—but Born to Run is more than cheap, easy revelation.
Laying bare your soul while still retaining a faint air of mystery is a remarkable feat, and one Springsteen largely pulls off over the course of this 508-page excavation of his life and career, which he wrote in fits and starts over a seven-year period.
The early going is preoccupied with his formative years—storms of unrest brewing at home, with an overly attentive mother and distant, diffident father—and once his career takes off, Springsteen tends to lay off the thick, expositional paragraphs, dwelling on moments here and there, but otherwise speeding readers through his four-decade career, perhaps because he assumes die-hard fans are already so intimately familiar with every peak and valley that he need not spend much time rehashing the glory years.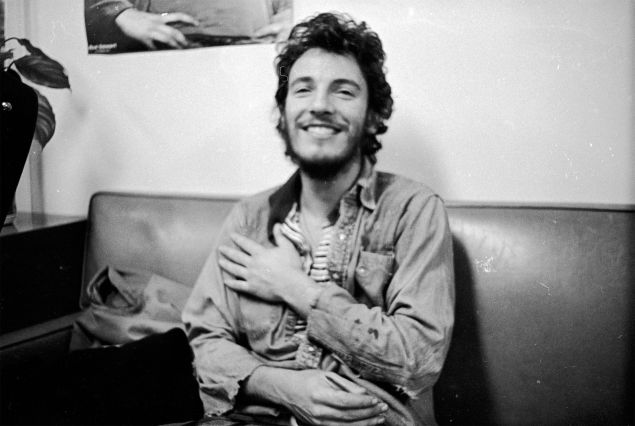 Those expecting an exhumation of gossip from decades ago or score-settling on Springsteen's part will be sorely disappointed by Born to Run: He has come to assess the past, not weaponize it. Any slights or insults are shrugged off as lost to the mists of time.
Few men so idolized and revered by so many would eagerly embrace the therapeutic act of unearthing the past and sifting through it, searching for meaning in moments, gestures and decisions.
The danger in doing so is that it dilutes the power and mystique of the songs, but Springsteen wisely never pulls back the curtain so far as to totally ruin the illusions.
Although Springsteen presents himself as afflicted by the torments of his family's bloodlines and his own life experiences—the closest Springsteen comes to fulfilling the clichéd expectation of a rock star asshole is when he chides Clarence Clemons' nephew Jake, for daring to show up to an audition not knowing the material cold—he is a remarkably abstemious figure, considering the hedonistic lifestyle within which he makes his living.
Springsteen largely refrains from the "drugs" part of the sex, drugs and rock 'n roll equation—although, in elliptical fashion, alludes to rather enjoying the sex part—and instead fashions himself a tireless pilgrim, engaged in single-minded, often sacred pursuit of The Sound.
Springsteen gave his life, it seems, so that we may all reach a higher understanding. (Indeed, so much of Born to Run is dusted with holy imagery and Catholic guilt as to make Springsteen often seem like a failed priest who just happened to have a facility for arena rock.)
The human origins of Springsteen's music are most evident on the companion album, Chapter and Verse, released in conjunction with his autobiography.
Here, there are vivid samples of Springsteen's earliest bands: The Castiles, who yowl their way through "Baby I" and the rip-snorting (and scarcely intelligible) "You Can't Judge a Book by the Cover", and the amusingly monikered Steel Mill, whose rowdy, ragged "He's Guilty (The Judge Song)" is the clearest evidence of what's to come for this son of New Jersey.
[youtube https://www.youtube.com/watch?v=WKtqxWquhtU&w=560&h=315]
The remainder of the 18-track album simply provides familiar signposts for the ascent of Springsteen and the E Street Band, skipping across his catalog to arrive at 2012's Wrecking Ball (an album Springsteen feels was unfairly overlooked upon its initial release).
The sonic evolution is a story presently more cleanly, with no traces of the growing pains and long dark nights of the soul Springsteen undertook in order to keep pushing himself as a singer-songwriter. (All that said, Chapter and Verse is essential only for Springsteen completists—do casual Boss fans even exist?—and isn't crucial to the enjoyment of reading Born to Run.)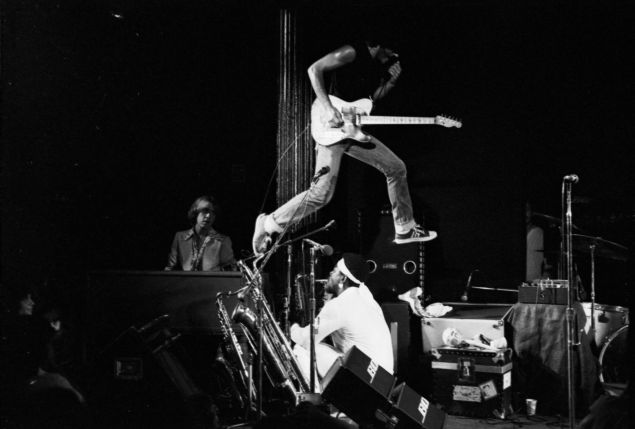 To hear him glide from "Growin' Up" to "Badlands" to the grim folk of "The Ghost of Tom Joad" and "Long Time Comin" and back to muscular anthems like "The Rising" or "Wrecking Ball" is to understand the full breadth of Springsteen's abilities, as well as his knack for crafting human-scaled arena rock, anthems that are recognizable individually even as they resonate universally.
It's that sense of communion—between artist and audience, between performer and song—that Born to Run captures best.
Springsteen, perhaps more than any other rock act with four decades under its belt (Pearl Jam is the only other such band that instantly springs to mind), intuitively understands the exchange of energy between the stage and the seats.
He writes sharply, movingly, about the need, on both sides of the microphone, for there to be an understanding, an acceptance and a release—the rock concert as consecrated encounter, a life-changing force lifting, shaping and reviving. "It ain't no sin to be glad you're alive," as he so memorably sang in "Badlands".
That Springsteen can so clearly articulate what that sensation means, not only to him, but what he sees in the faces of his adoring audiences—full of people, struggling and loving and living just like him—around the world, is what elevates Born to Run from an act of potential hagiography to an insightful rock read.