It isn't the easiest thing to describe the California-Italian restaurants that dominate many neighborhoods in Los Angeles, but you know them when you encounter them.
I knew I was in a Cal-Italian place when I revisited chef Stephen Kalt's Spartina on Melrose Avenue recently and was dazzled by the spaghettini with Manila clams and fermented black beans. Kalt, who rightfully recognizes that Gjelina changed the game when it opened in 2008 with its sophisticated, wide-lens view of Italian food, is a pasta wizard whose best-selling dish is a grilled avocado with Moroccan lemon, Calabrian chili oil and ricotta salata.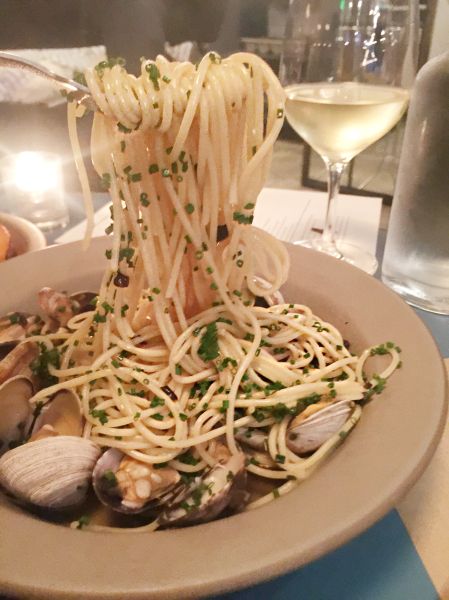 This is Los Angeles, so you celebrate produce and multicultural influences. You also also cook with the confidence that comes with knowing that adventurous eaters will want grilled duck hearts and paccheri with pork-collar ragu. Another crowd-pleasing Kalt dish is the luxurious short-rib tortelloni with brown butter.
I knew I was in a Cal-Italian place when I revisited chef Michael Fiorelli's Love & Salt in Manhattan Beach recently and started my meal with house-pickled vegetables (including excellent cauliflower), red-sauce meatballs with burrata and parmesan, and crispy chicken oysters with spicy buttermilk aioli (if you like Chick-fil-A nuggets with a combination of ranch and Buffalo sauce, you'll dig this dish). Fiorelli loves cooking with deep cuts of meat and parts of vegetables that are often thrown away, so he makes a panini with corned lamb tongue and serves turnip greens with roasted baby yams.
Another reason to visit Love & Salt is the somewhat secret Downlow burger available after 10 p.m. on weeknights and also during weekend brunch: It's a tremendous double cheeseburger with wagyu patties, caramelized onions, aged cheddar, pickles and tomato aioli. But like at Spartina, the pastas—including the wondrous pappardelle with braised lamb neck and the rich AF Instagram/Boomerang-friendly trottole with bone marrow that's scooped into your bowl tableside—feel like the main event.
Both Spartina and Love & Salt also go deep with pizzas. Kalt has a mortadella pizza, a white pie with roasted pears, and a white pie with clams and whipped ricotta. Fiorelli tops one pizza with a resplendent duck egg, another with mortadella and another with caramelized onions and black grapes.
So back to the idea of what a California Italian restaurant in L.A. is. Maybe it's enough to just say that they're sophisticated spots that serve lots of local ingredients in dishes that lean Italian but are influenced by the diversity of Los Angeles. And, of course, two of the most important destination restaurants in L.A. fit this description: Gjelina in Venice and Bestia in the Arts District.
Gjelina started the trend when it opened on Abbot Kinney Boulevard in 2008. The Tasting Kitchen opened down the block in 2009. Then came Sotto (in West L.A.), Bestia, Scopa (in Venice), Union (in Pasadena), Alimento (in Silver Lake), Love & Salt and Spartina. These are all restaurants that serve their surrounding neighborhoods well but are also restaurants that many people have driven across town to visit. And to revisit.