In my honest opinion, a gorgeous bouquet of flowers is the best way to say thank you. Sadly, it's a fleeting gift, which lasts for only a few days before the wilting sets in. So when I received a circular box of white roses this past June from Venus et Fleur, with a note that said my flowers would last a year, I was a bit skeptical. Would these flowers, which were not soaking in water, really last for a full 12 months, let alone a full week?
It's now October and my flowers are still thriving, sans hydration. They look completely natural and they have even maintained their rosy scent; the only upkeep I need to do is dust them off from time to time. So, I decided it was time to phone the co-founders of Venus et Fleur, Sunny Chadha and Seema Bansal, to figure out the story behind the flowers that seem to be stuck in time.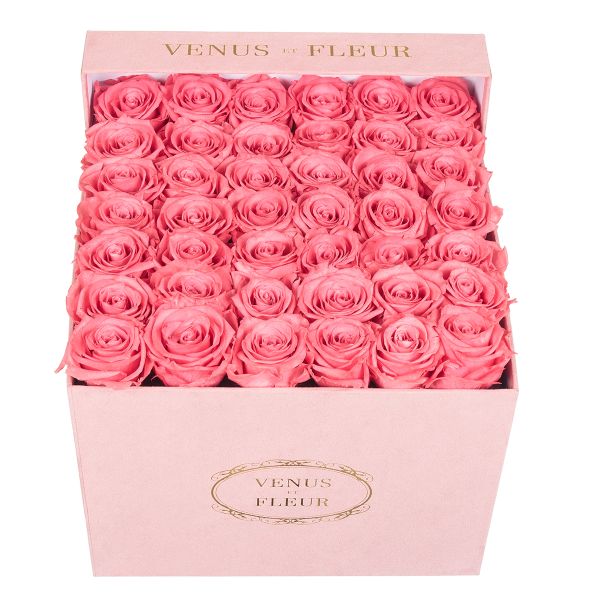 The story of Venus et Fleur started when Chadha bought Bansal a bouquet of roses for Valentine's Day. As they were both living in different cities at the time, he purchased the flowers online and was distraught to find that the delivered product didn't match up with the price he paid. The duo knew they weren't the only couple facing this value issue, so they set out to shuffle feathers and disrupt the flower market.
"We originally started with the Signature Arrangement, which we still offer, of fresh Ecuadorian roses [with] water tubes connected to them," Chadha told the Observer. Packaged in a French hat box, this simple bouquet is guaranteed to last a week, but the duo knew they could do better. So they flew to Ecuador, where they met with a flower farm that was testing similar long lasting formulas. It was there that they nailed down the secret to roses that last for a year, in any shade or color, though they are wary of disclosing exactly what that formula is.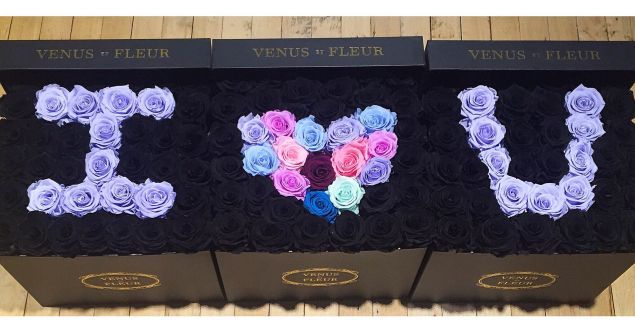 Seriously, they can customize the arrangements to any Pantone color, though they prefer to keep their collection offering within a range of current, trendy hues; Chadha and Bansal are currently perfecting a nude and a gray. But customization is also a huge part of their business. Perhaps you've seen the "major key" they made for DJ Khaled? Or the floral display they made for Kardashian hairstylist, Jen Atkin, that shouts her company name, Ouai?  Venus et Fleur has also contributed to countless marriage proposals and baby reveals with their custom arrangements.
The modern florist recently introduced the Suede Collection, which is a luxe upgrade on the classic hatbox, in addition to a limited edition marbled box. Within the next month or so they anticipate adding a new long lasting flower to their lineup, in addition to a new vessel that holds the flowers. Plus, they plan on adding three new colors to their current selection of 17, by the end of October.
For now, the brand does most of their transactions online and over the phone, but they do welcome customers in the New York area to visit their Chelsea office; shoppers can view the variety of flower hues and pick up arrangements in person. "We are in the process of renovating the space into a showroom," teased Chadha. The brand also hosts pop-up shops during peak seasons, around Valentine's Day and Mother's Day, so you can purchase long lasting gifts that everyone will adore.