The Rocky Horror Picture Show is back. Not that it ever left, but the madcap musical is airing Thursday night at 8 p.m. EST on Fox in a reimagined television version subtitled Let's Do The Time Warp Again starring Laverne Cox, Victoria Justice, Ryan McCartan, Annaleigh Ashford, and Adam Lambert, along with the original Frank-N-Furter, Tim Curry, in the Narrator/Criminologist role.
Many longtime fans are screaming heresy, while others are remaining open to this reimagined rendition of a '50s-flavored pop culture mashup of horror, sci-fi, and gender-bending comedy.
The main challenge for the new team was translating a risqué R-rated original to a slightly safer small screen interpretation. It's not like Rocky Horror was an artistic triumph to begin with, even with its theme of expressing one's true self. It was a fabulously camp and often incoherent experience ripe with sleazy titillation that became heightened by midnight showings that notoriously spawned unintended audience participation.
To this day, people shout out epithets to the screen, toss things like rice (during the wedding scene) and toast (during a dinner toast) at the screen, and point out the Rocky Horror "virgins" in the audience. The now required interactivity elevated the film to mythic cult status.
Such rituals don't work with solitary or small group home viewing, and for this television variation director Kenny Ortega included an audience in a cinema—they are watching the movie unfold and occasionally chime in—while the supporting band is actually interspersed throughout the film's musical numbers. How will this all play out with longtime fans and new converts? We'll find out soon enough.
The Observer spoke with the new soundtrack's producer Cisco Adler by phone and his father, the original and current film's co-producer Lou Adler, via email about what we can expect from this latest rendition, particularly on the music front.
[youtube https://www.youtube.com/watch?v=outmDIi29Bo&w=560&h=315]
Rocky Horror is a sacred cow among cult films. What were the initial discussions like about creating the soundtrack for this new version?
Cisco: It's a sacred cow around here as well, so I think we're all pretty aware of that. I think the ultimate goal is to carry on the legend and keep the old fans invigorated and make new fans along the way. It's a dance, you know what I mean?
Lou: I felt that Cisco was a perfect choice [for the music producer role]. Of course I did. Not only because he was my son. The reason was his knowledge and awareness of the original film, songs and score. He grew up with it in his ear and mind, and his career as a contemporary artist and producer was a plus. I said, "Stay true to the original. Add fresh and contemporary feels and colors." And he did just that.
Cisco, your dad comes from an earlier classic-rock generation while you're more from the hip-hop generation. How did that play out?
Cisco: I'm a mashup. I grew up when everything started getting mixed up, and yeah, hip-hop would be my rock 'n roll. But the [Rocky Horror] songs are there. It's not like we had to change the songs. We had to reimagine them. The word "reimagine" was used a lot—not redo and not remake, but reimagine.
Do you feel fortunate that it was probably easier to assemble this version than the original?
Cisco: Easier in what sense? [Chuckles] Records were made in a different way. We made this with all live musicians. It was cut as old-fashioned as it gets nowadays. That being said, I like to make sure the drums are big and representative of the drums we hear nowadays rather than in 1975, however they were recorded and in what room they happened to be recording in.
But ultimately it's a live rock 'n roll record. As rock 'n roll lives on, the sonic side of rock 'n roll has changed over the years many, many times. I think in its spirit it's still a rock 'n roll record but it's dressed up. We dressed it up in soul, and we took it to the South rather than glam because of Laverne and her character and where she wanted it to go.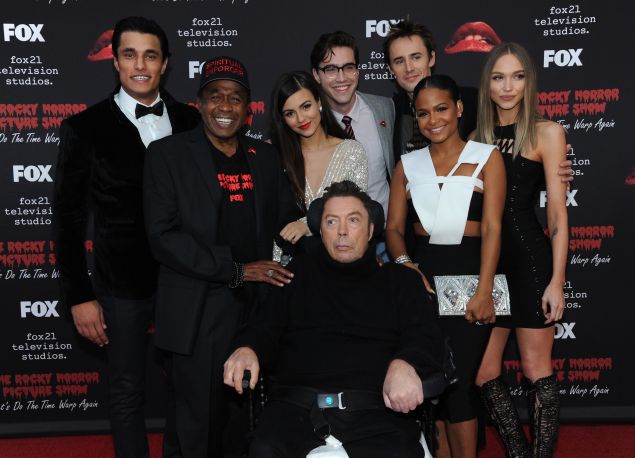 Obviously Tim Curry has given transgender actor Laverne Cox his seal of approval for her portrayal of Dr. Frank-N-Furter.
Cisco: Oh yeah, no question. I was here when they were both here together. It was an amazing moment to see them. It was a ceremonial torch passing right at that moment. But Laverne doesn't have to answer to anyone. She's a different Frank-N-Furter. She's a super talent and brings a whole different thing to this.
When the original came out, Transsexual was the name of another planet, which certainly reflected where the world was at in terms of the acceptance of transgender people. How do you think Rocky Horror will be relevant to a new generation?
Lou: I pretty much know what the initial reaction of the fan clubs are going to be. I felt it when I released Rocky on home video and when I changed from mono to stereo on the film. They feel that the original is it, it's theirs, don't touch it. But thanks to them, the Rocky Horror Picture Show has been in theatrical distribution more than any film in motion picture history. But knowing that we were making this version for a much broader TV audience, it would be new to those Brad and Janets who most likely had not ventured into the midnight showings. We could reimagine it, make it bigger and brighter in choreography and music, and make it a tribute to the fans. And Kenny Ortega did just that.
Cisco: Listen, for the time and what she [Laverne] brings and the conversation, it's extremely relevant. What can you do that's taboo nowadays? I don't think there's much, but I think there is a conversation going on about transgender individuals and their rights and their voice. I think she is a voice of that movement, and it brings a sentiment to this version that the first one may have had with sexuality and bending.
I heard she's a huge fan of the original.
Cisco: It's a huge part of her in terms of coming to be who she is. She definitely made that clear. "I'm Going Home" is basically her piano and vocal take from her screen test because it's [that] powerful.
Listening to this soundtrack, some of the cast members have a similar vocal quality to the original actors and characters, while others do not to varying degrees. For example, Susan Sarandon as Janet sang a little higher than Victoria Justice.
Cisco: Susan's got a higher voice, but I think Victoria's voice has the same damsel in distress quality that plays well. I think everyone brings their own new life, and these are all extremely talented singers. The bar was set high, so it was amazing working with all these people.
In terms of the part of Eddie, Meat Loaf then and Adam Lambert now are very different singers.
Cisco: Lambert is a beast, you know? That's a rock 'n roll part. He's been out singing with Queen, which is pretty much the highest standard of rock 'n' roll singing there is. So I wouldn't expect any less. I like working with people that are on that level. It's like the Olympics.
I imagine in casting these parts you wanted to find people that have their own voice without deviating too radically from the qualities of the original cast?
Cisco: Yeah. We started last November as people were being cast. When people came in, Kenny [Ortega] was in the studio with my father and me, and it was character building as much as it was recording a record, which was super different for me. These people had to build that character and then live with it when they headed into production. So it was a lot of attitude, and what does that mean as dialogue and not just as a melody.
[youtube https://www.youtube.com/watch?v=in90slDA454&w=560&h=315]
How do you translate a racy R-rated cult film with profanity and nudity, risqué outfits, and a bisexual seduction sequence into a TV-friendly production?
Cisco: You know, it's wild, but there's a lot of T&A. It's covered up nicely. In this day and age on TV you can get away with a lot more. I think it's undertones with Rocky Horror. I think British humor is about the undertones — not only what you say but what you say in between. So that's what you have to turn up and play on.
Which performers really impressed you when you were recording this new soundtrack version?
Cisco: Laverne blew my mind. She'd never sang before in a studio—she'd maybe sung at charity events and whatnot—but she came in with a fully formed version of this character and delivered it from the get. I think everyone blew my mind, to be honest. It was kind of wild because of all the baggage and all the tight rope walking with what to do and what not to step on. It was an ensemble and it was amazing. Listen, there are three or four singers on a lot of these songs in multiple keys. It was a crazy process and everyone stepped up.
Ultimately, for you, what is Rocky Horror really about?
Lou: Simply, "Don't dream it, be it," and Laverne Cox is a perfect example of that.
Cisco: Whoever you are, whatever you are deep inside, let it explode out of you. I think on that night at that castle, that's what happened to everyone there. That's what you'll see again, and I think everyone's going to be super stoked. Everyone we've shown it to, people who hold it as precious as anything in their life, have been really pleasantly surprised. Then the people who know nothing about it are like, "Holy fuck, what is this?" That's what we want.
Obviously there's been this trend of doing live musicals on television, but this isn't the same format.
Cisco: It's not like Grease: Live. We shot to the music, so it's definitely a different beast than that. I think Kenny never wanted it to be live and my dad never wanted it to be live. This isn't a remake, it's an homage, even in the musical spirit. This was done like a film. Kenny had a vision, and his vision was to create this alternate reality of Rocky Horror and have the fans be featured as a cast member as they are. I don't know if it was shot in order, but last November it felt like everyone went on a ride together. The final product definitely feels that way. It's a group that came together on a mission to make sure this was handled properly and would carry on for another 40 years.
The Rocky Horror Picture Show: Let's Do The Time Warp Again airs tonight on Fox at 8 p.m. EST