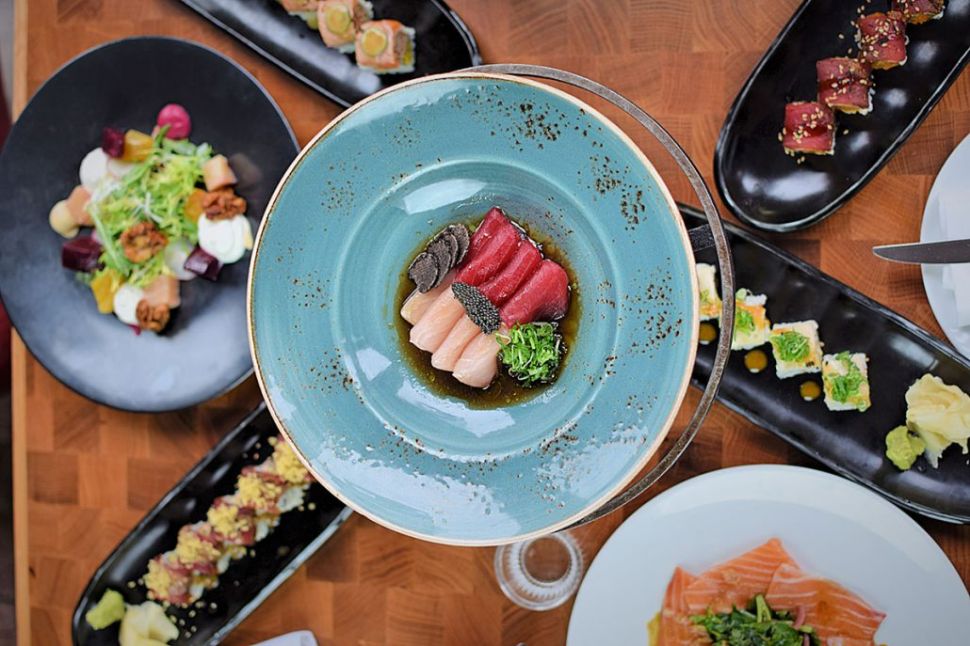 Catch LA is scene dining turned up to 11, a glorious perch where A-listers and beautiful people indulge in caviar-topped truffle sashimi and baller-friendly large-format dishes like Cantonese lobster, a dry-aged bone-in rib eye and Alaskan king crab. It, like Catch's original New York outpost (still going strong after recently celebrating its fifth anniversary in the Meatpacking District), is also about making the most out of a prime piece of real estate.
Catch, of course, has a hot corner in New York with its restaurant and rooftop lounge atop Ninth Avenue, but its location in Los Angeles might be even sexier. Here, at this glistening rooftop restaurant above Melrose Avenue and San Vicente Boulevard in West Hollywood, down the street from the Pacific Design Center and not far from the Sunset Strip and the Beverly Center, is where you can take in views from the Hollywood Hills to Downtown while you sip Perrier-Jouet or linger with desserts like the dazzling sticky coconut cake with coconut water sorbet, braised pineapple and mango sauce.
We popped by on a Monday during the Jewish holidays, thinking that it might be a quieter night at a new place that's already hosted big Emmy parties and had David Guetta, Tiesto and The Chainsmokers in for dinner on the same night even though owners Eugene Remm and Mark Birnbaum don't have a mega EDM club in their portfolio. Those chart-topping globetrotting DJs were just here to eat and soak up the scene.
And on what we imagined could be a slow evening, Birnbaum walked into the busy restaurant on the Monday night we dined, showed us the 340-seat venue's retractable roof (perfect for those three nights a year in Los Angeles when there's rain) in action and then asked nearby diners Bob Saget and Rick Fox what they thought of the interactive indoor-outdoor dining experience. Saget and a friend had a long leisurely meal while Randy Jackson (already a Catch LA regular, we hear) hung out in an adjacent booth, Hillary Duff sat at a nearby table and Fox's table grew from a four-top to an eight-top as the night progressed. Then models converged on a table across from our booth, perhaps ordering from the vegan menu.
Given all the bold-faced names and stunning faces on the roof, and all the paparazzi waiting outside, it's clear that Remm and Birnbaum's EMM Group has figured out how to translate its New York nightlife sizzle to its gigantic new West Hollywood restaurant. And chef Andrew Carroll's menu offers nuance along with the gilding-the-lily glamour you'd expect for a restaurant that exists in this kind of stratosphere.
Carroll's favorite dish, truffle sashimi with tuna, hamachi, chili oil, ponzu, osetra caviar and black truffle, is a delicate balance of umami, heat and premium ingredients where none of the components overwhelm any other. We also dug the king crab spicy hand rolls, ubiquitous on Asian fusion menus all over the country but packed nicely at Catch with crab, crispy rice, yuzu and tobiko in a soy-paper wrap for a pleasant hit of flavor and texture.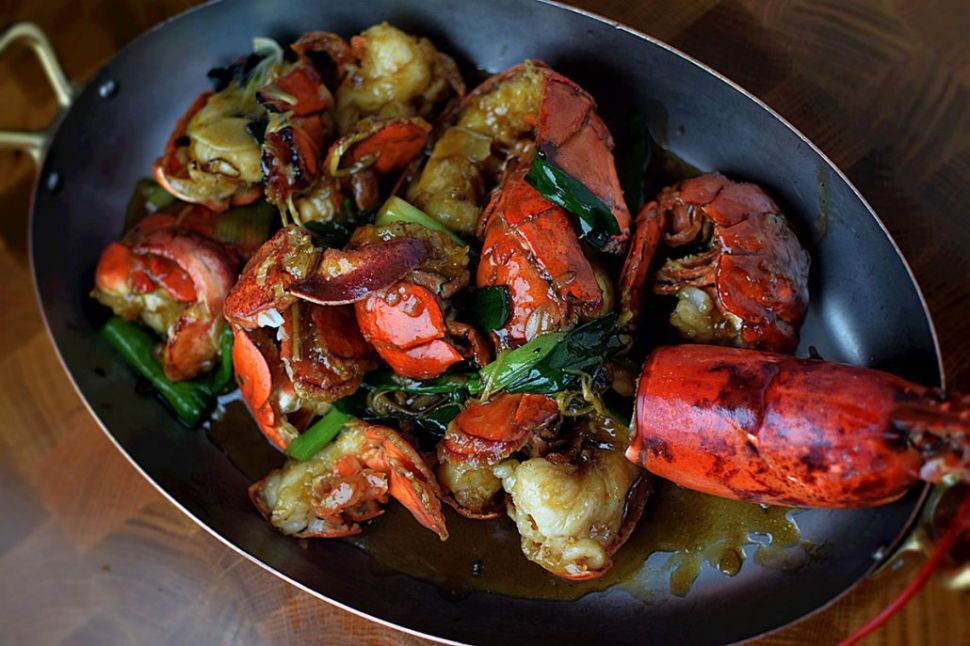 With its garlic, ginger and scallions, the 2½-pound Cantonese lobster cooked in sake and oyster sauce might funk up your breath more than what you eat at other scene-dining hot spots, so it should be applauded in L.A.
And the Hit Me Chocolate Cake, a knock-you-in-the-mouth dose of sweetness that mellows out as you get deeper down into the dessert, comes on a plate with its own hashtag. #HitMe, of course. See you on Instagram.