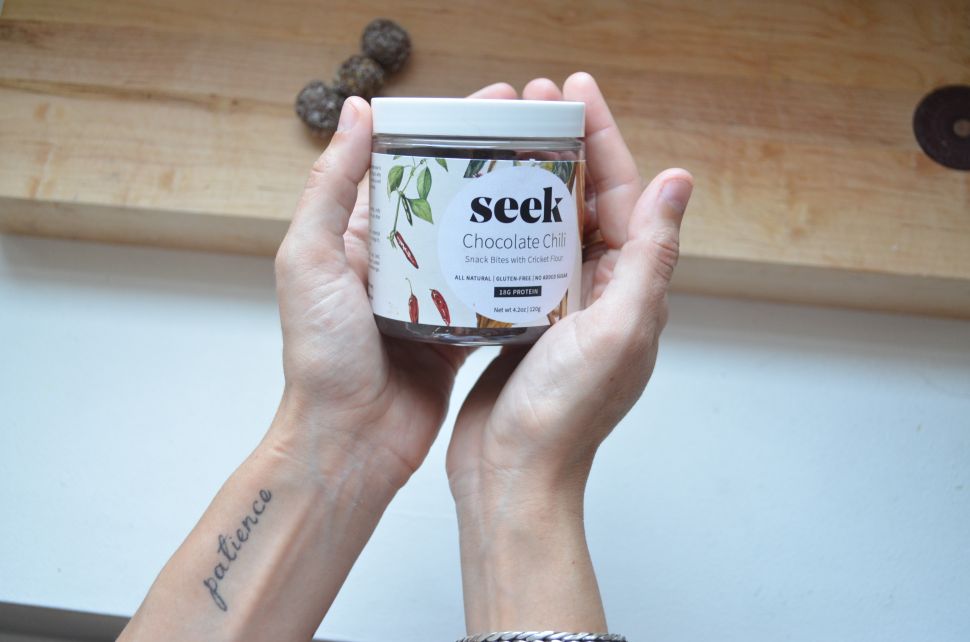 Two billion people worldwide already eat 1,900 insect species—and the United Nations hopes that, one day, Americans will, too. Though many struggle with wrapping their minds and mouths around this sustainable solution to meet protein demands of growing population, the environmental benefits are well lauded. So, what would it take for Americans to embrace bugs as food?
Entrepreneur Robyn Shapiro believes even those with strong aversion can over the psychological "ick" factor with a tasty bite. That's why she makes snack bites with cricket flour. No need to crunch down on a visible exoskeleton. No legs to stick between your teeth.
Shapiro, founder of the New York-based snack company Seek, says she's driven by projects with a nod to the future. As the deputy director of New York City's first solar illuminated underground park, the Lower East Side's Lowline, she surrounds herself with innovative people and ideas. During a tour of the park's prototype, dubbed the Lowline Lab, Shapiro passes Seek's coconut cashew and chocolate chili bites to a visiting food science-focused university group. The bite-sized balls in artful containers go for eight to nine dollars a jar.
"I am trying to provide people with a positive first experience when tasting this alternative protein," Shapiro explains. "That's why I pair the crickets I use with familiar ingredients such as nuts, dried fruit and spices. This is pretty obvious, but people like foods that taste good, so I knew I had to make an incredibility delicious and crave-worthy snack for people to keep coming back for more. And with this, the goal is that ultimately insects will become part of the norm."
Shapiro's dinner parties have included cocktails made with cricket-infused vodka, hornworm caprese salad, waxworm pasta and pesto and flash fried silkworms.
She created Seek to introduce insects into the American diet in an approachable and nutritious manner. "The protein-rich cricket is the star ingredient," she writes of her mission, "and Seek's food fuels you, while protecting our planet's resources."
One-hundred grams of crickets has about 13 grams of protein and 120 calories, whereas 100 grams of chicken has about 24 grams of protein and 219 calories, according to the U.S. Department of Agriculture.
For those pondering the ethics of farming insects, the general thinking from the scientific community is that insects don't feel pain, and placing insects in a freezer before cooking them ensures they are killed humanely. Plus, the bounty-to-land use ratio shakes out better for the planet than, say, grazing cows—which at scale degrades land and emits harmful gasses like methane into the atmosphere (cow farts).
Shapiro hosts dinner parties using her own invented menus which have included cocktails made with cricket-infused vodka, lerp simple syrup, sparkling water and lime, hornworm caprese salad, waxworm pasta and pesto and flash fried silkworms.
She's traveled throughout Latin American and will soon visit West Africa to learn from communities. In the Colombian town of Bucaramanga, roasted hormigas culonas (the ants with the silly looking big butts) stand in for popcorn. Often, Shapiro returns to the states with recipes, continually expanding her culinary practices.
In honor of World Edible Insect Day (yes, it's a thing), she'll team up with Mitchell Joachim of Terreform One and Chef PV, the creator of a new web series "Buggin Out," to share and answers questions on a panel. The event takes place this Sunday, October 23rd at the Lowline Lab located at 140 Essex Street in the Lower East Side and begins at 12:00 PM. RSVP is encouraged.
The panelists aim to normalize the culture of insect consumption by pointing to the some 113 countries where bugs already appear on menus.
"When launching an edible insect food brand, it is not enough to have a delicious product, I know I need to provide the education to go along with that too—for both adults and kids," Shapiro says. "That's what Sunday's talk is part of, and I also enjoy working with youth, they are the future after all. I also recorded a video with Project Explorer which will be released this fall and will be offered for free to students nationwide with accompanying curriculum."
Cayte Bosler is a journalist and social innovation researcher based in New York City.