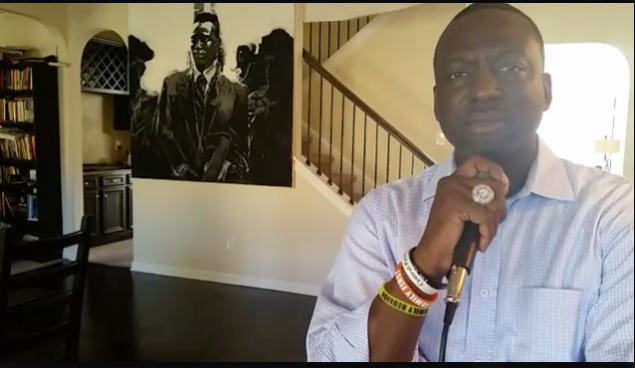 One of the five black and Hispanic men who were wrongly imprisoned for and eventually exonerated of the 1989 rape and beating of a female Central Park jogger reproached voters and politicians still backing Donald Trump—who once called for the execution of those accused and who continues to insist on their guilt.
The men—Yusef Salaam, Antron McCray, Raymond Santana Jr., Kevin Richardson and Kharey Wise—were 14 and 16 when they were arrested in connection with the horrific crime, and when Trump spent $85,000 on full-page ads in New York's four daily papers demanding they face the death penalty. DNA evidence cleared them in 2002, and the city settled their wrongful imprisonment suit for $40 million in 2014.
Yet Trump has continued to maintain the five are guilty, noting that they confessed to the assault.
"We would have become modern-day Emmett Tills," Salaam said during a Facebook Chat from his home, referring to the 1955 lynching of the 14-year-old Till by two white men in Mississippi. "But then if we look at all of the other stuff that he's done, it really paints a really, really vivid picture as to why we do not want this man into the office. This guy is definitely not the person that we want to put there. You know, just dump Trump, as simple as that."
Salaam—who spent seven years in prison—said over the MoveOn.Org-hosted livestream that the political system has been hijacked and there is only one candidate from which people can choose. He asserted that Republican lawmakers who have endorsed Trump have a responsibility to disavow him, and claimed hat there has never been a candidate "who has such a ridiculously horrible past."
He was referring to an 11-year-old tape that leaked last month in which Trump boasted about using his fame to sexually assault women, and the candidate's subsequent excusal of the comments as "locker room talk." He also referred to a New York Times report revealing that Trump declared a $916 million loss on his 1995 income tax returns, enabling him to not pay federal income taxes for a maximum of 18 years.
"I think that they really should follow the lead of the other people that are in their party and dump Trump," he said. "At the end of the day, history is going to write them down as being on the wrong side of this."
McCray, Santana Jr. and Richardson also spent seven years in prison, while Wise served 13 years. Salaam, who said support of family and friends helped him get through the ordeal, said they were thrilled to have been exonerated but that the "real bad feeling" was their innocence not being recognized.
Within the first few weeks of this case, there were more than 100 articles written about it and that only two weeks later, Trump called for the death penalty—which he connected to his message as a candidate.
"It becomes very, very clear that he's echoing the same things that have been echoed throughout time that were completely against us: the slave codes, the police and the militia and all of that stuff we wanna move far away from." said Salaam.
He called Trump's refusal to accept the Central Park Five's acquittal alarming, saying that Trump "is refusing to look at the truth."
This comes as the Republican nominee has been accused of plotting voter intimidation after he claimed next month's election will be rigged—he even said during the final presidential debate that he would not concede if he does not win the election. New York Democrats have broadly condemned those comments, as have some Republican leaders.
Disclosure: Donald Trump is the father-in-law of Jared Kushner, the publisher of Observer Media.