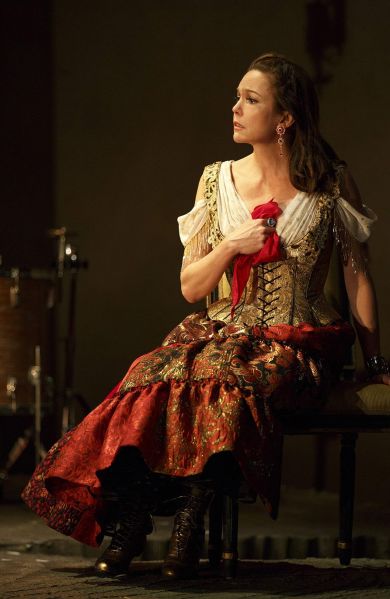 Were the Internet Broadway Database your sole means of tracking down the Main Stem career of Diane Lane, you could get the distinct impression the poor dear has marked time in The Cherry Orchard for 39 years. Two of the three versions of it she did were in 1977 at the Vivian Beaumont Theater—when she was all of 12. Her third—and Broadway's 16th!—Orchard bows at the American Airlines Theatre October 16. 
"There was a word for what I did the first time," she recalls, pausing a beat until it comes to her: "Ensemble. I was ensemble, a little of everything. Whenever they needed me, they'd pepper me in there." Primarily, she was a figment of director Andrei Șerban's galloping imagination, functioning as his mute muse—a little Șerban special-effect he'd sprinkle liberally throughout the play in assorted guises.
"I'm sure every play has its little idiosyncrasies, but the ones in this made up my whole world." She was, by quick turns, "some memory being acted out, a little scullery wench running around in the background, the ghost of Ranevskaya's drowned son, Grisha, and finally even the ghost of the cherry orchard itself." In Șerban's freewheeling rendition, Grisha (who is only mentioned in mournful passing in the text) materializes in ghostly form just to underscore Ranevskaya's sorrow.
Star is the word for what she's now doing in the new Broadway presentation of The Cherry Orchard, Anton Chekhov's wistful reflection on the inevitability of change.
In her support is a class cast: Joel Grey, John Glover, Celia Keenan-Bolger, Tina Benko, Harold Perrineau, Tavi Gevinson, Chuck Cooper and Susannah Flood.
When Lane left that play in 1977 as a teen, she went into films and TV shows—61, to date—bagging nominations for the Oscar (Unfaithful), the Emmy (Lonesome Dove and Cinema Verite), the Golden Globe (Under the Tuscan Sun), the Screen Actors Guild Award (Trumbo) and the Independent Spirit Award (A Walk on the Moon). 
Ranevskaya befits a Star, all right. It has always been the role at the end of the rainbow for actresses of a certain age—Judi Dench, Eva Le Gallienne, Diana Rigg, Peggy Ashcroft, Jane Alexander, Charlotte Rampling, Marsha Mason, Helen Hayes, Annette Bening and the first in line: the playwright's wife, Olga Knipper.
If it's rushing it a bit for Lane to take that on at 51, at least she's got game just to consider it, having shared the stage with Irene Worth's Ranevskaya. "The range and cadences of her voice," Clive Barnes wrote of Worth, "have the serenity of accepted sadness, and she moves across the stage as if it were the living room of her heart." When she at last left her beloved orchard to the plundering and lumbering of its new owner, she pranced prideful circles around the stage a final time like a show pony, breathing it all in as she gained speed and regality. If you saw it, you never forgot it.
Lane is taking that memory and using it to play Ranevskaya. "I want to ground her in a sense of truth that is inescapable," she says. "The writing is there, so it's up to me to not distract from it—just really allow it to unfurl and inhabit it and let it land."
Worth set the bar for the production, and the rest of the company beautifully followed suit. There was wonderful work from Raul Julia, Mary Beth Hurt, Michael Cristofer, Meryl Streep, George Voskovec, Priscilla Smith and Max Wright.
Was Lane conscious of all the great acting going on around her? Was she ever! "It was like a needle on a Richter scale that goes over to the red and you go 'oooooh.' You could feel the heat coming off of it. It was a crackling, electric, adrenalized sort of feeling—sort of like when mommy and daddy are fighting—that feeling in your gut that's not good and you want to fix it, but you can't stop staring at it. It felt like that."
Going young with Ranevskaya was the idea of Simon Godwin, the British director that Roundabout's Todd Haimes brought over to make his Broadway bow with The Cherry Orchard. "We all knew Diane's work," relays Godwin, "and we were really trying to find an actress that has a kind of vitality for this character. Often, she's played much older—by actresses in their 60s and 70s—but, of course, she's recently had a terrible bereavement with her child drowning, so finding somebody in the prime of her life was very important for us. Diane matched all those needs."
Only after he approached Lane about playing Ranevskaya did he learn she had spent a year of her childhood in The Cherry Orchard. "It was an added piece of magic."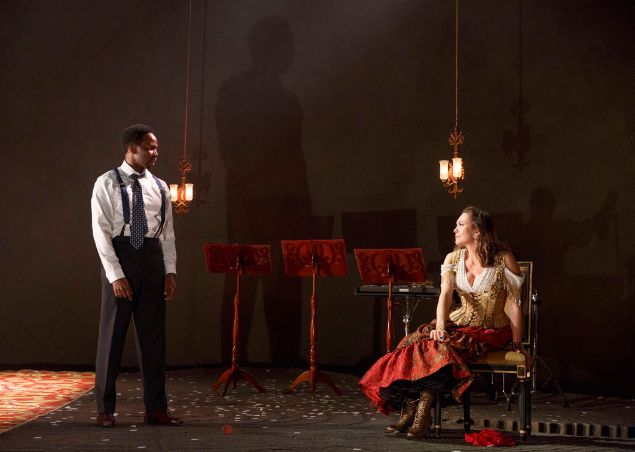 That year was interrupted by a rather heavy Greek "holiday." Midway through the run, Șerban and composer Elizabeth Swados co-conceived an Agamemnon that replaced The Cherry Orchard at the Beaumont for a month and did another month at the Delacorte. This time, as Iphigenia, Lane got lines—screams, even. "I was ceremoniously sacrificed by my father on stage—impaled straight through by Jamil Zakkai. He was a wonderful Agamemnon, and Jamil had also been Jason in Medea at La MaMa six years earlier, so he played my dad and dealt with me dead in both plays.
"I had to come spinning out on stage, and I'm not a dancer. I can learn to dance. If you give me an assignment, I will do it. So here I come, spinning, spinning, spinning, wearing yellow saffron. It was almost like a scarf that was wrapped all around me, and I unfurled out of it, and then they held me up high. Priscilla Smith, playing my mother, was screaming, basically, 'Don't kill her.' It seems to me like we did the play in Greek. All the plays I remember were in the Euripides text. Slowly, they lowered me over the blade, and I was impaled. It was shocking but very poetic and balletic."
By this time—having already put in five years with Șerban doing Electra, The Trojan Women, The Good Woman of Setzuan and As You Like It Off Broadway and on European festival tours—Lane had become pretty thick-skinned about child sacrifice.
She made her virgin sacrifice in Medea right after answering a call for child actors at La MaMa Experimental Theatre Club. "I've been killed on stage since I was six. At one point, I thought it was personal. Then, I learned the death of innocence is archetypical in Greek tragedy and childhood represents innocence. But, if you're a little person and no one explains this to you, you start to look around and go, 'Why am I getting killed in every play?' "
Chekhov's very human comedy—some would call it a tragedy—shouldn't be lacking in any humanity since this new Cherry Orchard is, after all, by Stephen Karam, who wrote last season's Tony-winning Best Play, The Humans. "I love the translation," declares Lane happily. "It's distilled and clear, and it didn't lose any of its poetry. It's mellifluous but so trimmed of a certain kind of miasma that occurs in an arcane text.
"It was a very audacious task to take that on, but, having done The Seagull, I think he has a love of Chekhov. I didn't read his script for that, but I can't wait to see the film."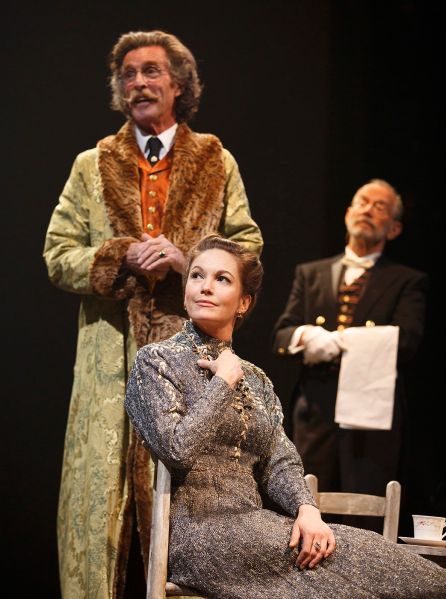 Director Michael Mayer put Karam's Seagull before the cameras last fall at Arrow Park Lake & Lodge in Monroe, N.Y., and it's currently in post-production, awaiting release. Wisely, Mayer hired for stage cred: Saoirse Ronan (Nina), Corey Stoll (Boris Trigorin), Elisabeth Moss (Masha), Annette Benning (Irina), Mare Winningham (Polina), Brian Dennehy (Sorin), Jon Tenney (Dorn) and Michael Zegen (Mikhail). 
Karam and The Cherry Orchard were, again, director Godwin's idea. "Todd saw the Man and Superman I did with Ralph Feinnes at the National and invited me to do a classic for Roundabout," the director recalls. "He asked, 'What plays speak to you at the moment?' I suggested Chekhov. The Cherry Orchard is a play about change, and America this year—of all years!—is asking herself, 'How are we going to change—for better or worse? I said, 'Let's do this, but let's get a new writer on board to do a version that it will speak to America with real brightness and doesn't seem dusty.' "
Karam, a Roundabout pet with two Pulitzer also-rans (Sons of the Prophet and The Humans) to his credit and already listing toward Chekhov (The Seagull), was logical.
Lane will play the hand he has dealt her into early December. Then, it will be back to the movies. She already has three in the can poised for release: Eleanor Coppola's Paris Can Wait with Alec Baldwin; Felt where she plays the wife of the Watergate informant; and Justice League in which she is the mother of Henry Cavill's Superman.
Then there's still that nagging hope of a Broadway revival of Sweet Bird of Youth, which she and Finn Wittrock did to considerable acclaim in 2012 at the Goodman in Chicago. She was Princess Kosmonopolis, Tennessee Williams' aging screen diva, touring the Gulf Coast, very incognito and in sunshades, with her hustler chauffeur. It was the first stage acting she had done in 23 years, and it is very dear to her.
"I know that there was a certain set of circumstances that would be probably needed, or ideal, in my personal life to be able to pull that off on Broadway," she says. "That was the role that almost ran me over. It was a train. That's what I felt about it—lot of cars, very heavy to leave the station, with two characters on stage together for the first 40 minutes out there—just me and Finn, who was beautiful."
David Cromer, the director, is keen on doing it again—as is she. "There are a lot of people involved who want to do it, but it's about the timing and having it work right for all parties." The scenery is said to be stored until that great come-and-get-it day.
Like Ranevskaya, Princess Kosmonopolis was a major triumph for Irene Worth. Lane blinks then smiles. "I didn't realize that. Theater is such a jewel box. I haven't explored all the corners. I'm not aware of a lot of history of the theater. I'm guilty of that, but, at the same time, that keeps me present. If I start to know too much about history, then I'll start to compare and get even more squirrely than I need to be."