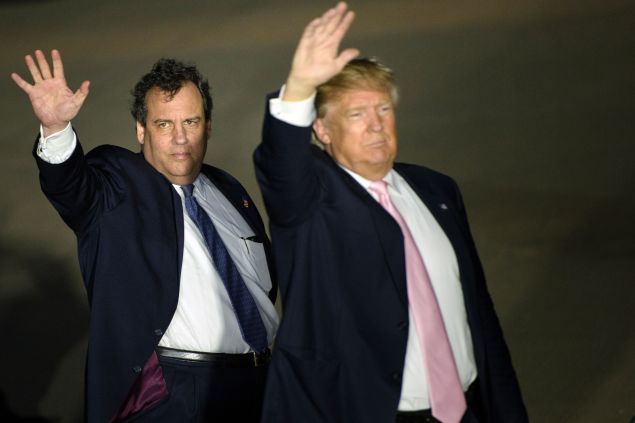 It was supposed to be New Jersey Governor Chris Christie's last chance to step to the forefront of the GOP.
After an inglorious defeat in the Republican primary, Christie took a gamble and endorsed Donald Trump for president in February, back when it looked like the U.S. could be on track to elect its own Silvio Berlusconi—a womanizing, authoritarian product of television with contempt for his country's existing political structures and ambition to match.
Eight months later, Christie's bet on Trump is looking like a bust. RealClearPolitics shows the former reality TV star trailing Hillary Clinton in nearly every official poll, and Christie has fared even worse in statewide polls than he did when he was on his own stump. 
Republicans in New Jersey have widely criticized his decision to devote himself to Trump's cause, and any hope of a populist insurrection on election day is fading fast. Without a Trump victory to give him a shot at the cabinet, Christie's political career will likely be over when his term ends in 2018.
The credibility that Trump had to gain from Christie evaporated in the opening arguments of the Bridgegate trial, and Trump's momentum has stalled following two disastrous debates and the release of audio that caught him boasting about sexually assaulting women. Neither has much to gain from the other now, but that doesn't mean they don't richly deserve each other.
Just as Trump has capitalized on the public's misinformed ideas about his reputation while beating back pointed Democratic attacks on his dismal business record in Atlantic City, the Christie persona has been running on fumes.
Once a charismatic tough-talking candidate that even influential Democrats could get behind, Christie stands to be remembered as the governor who led N.J. Transit, the commuter state's economic lifeblood, into a dangerous decline as he pushed for greater and greater cuts to the state budget.
And, of course, for playing the Penguin to Trump's Joker.
The affinity between the two goes back to before Christie's first term, when Trump offered generous contributions to the Republican Governors Association: $170,000 in 2009 and 2010 when the group backed Christie's election campaign. Trump would go on to give the group $620,000 total before Christie stepped on as its chair in 2014.
The administration of Christie's Democratic predecessor Jon Cornzine had taken Trump to court for nearly $30 million in back taxes and interest on his failing Atlantic City casinos, a sum that state officials cut down to just $5 million in exchange for dropping the case.
As Christie has persevered in playing straight man to an ugly and amateurish campaign, anti-casino expansion interest group "Trenton's Bad Bet" has carried on with a costly ad campaign to drive a stake through the heart of a measure that would allow new locations in North Jersey.
The constitutional amendment to allow those new casinos is so unlikely to succeed, the pro-expansion camp headed by prospective investors has already closed up shop. After a mandatory waiting period, the question could be put to voters again. In politics delay is the rule, not death. 
If, years from now, the impact of a declining American casino industry on host cities takes its predictable course above the Raritan, the Christie administration will have set a dangerous precedent with its light touch for hard-up billionaires.
With Trump facing tough odds for the presidency, Christie's career could still be twinned with his blustering benefactor. According to The Financial Times, Jared Kushner—Donald Trump's son-in-law and the owner of this publication—has been in talks with investors to start a Trump-branded TV network. Christie, with his rhetorical chops and distinctive character, would be a natural choice for a host or pundit.
After New Hampshire, Christie ensured a continued place in the public eye when he signed on to be Trump's ambassador to the party and the public. But as a gambit to save his reputation in the public sector, he made the worst possible bet.
Disclosure: Donald Trump is the father-in-law of Jared Kushner, the publisher of Observer Media.