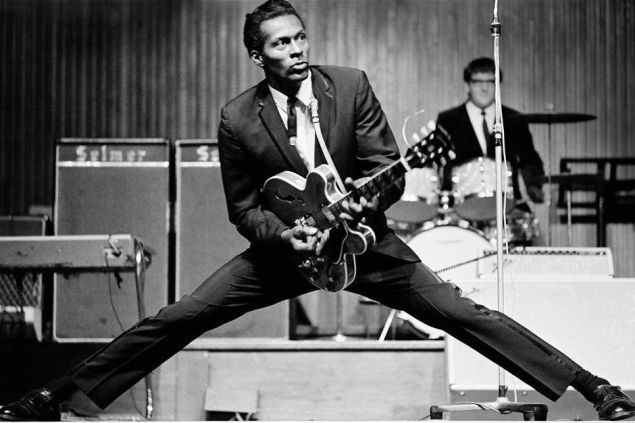 Today the true father of rock 'n' roll, Mr. Chuck Berry, turns 90.
"Elvis Presley ain't got no soul," the man once known as Mos Def proclaimed on his 1999 album Black On Both Sides. "Chuck Berry is rock and roll. You can dig on the Rolling Stones, but they ain't come up with that style on they own."
Even with all the love for Elvis and the Stones, you cannot deny where rock 'n roll began. In fact, in the May 26, 2016 edition of The New York Times Magazine, music journalist Chuck Klosterman projected that Chuck Berry will be canonized as the embodiment of rock 'n roll 300 years from now when historians look back on the 20th century.
"Let's assume all the individual components of rock shatter and dissolve, leaving behind a hazy residue that categorizes rock 'n' roll as a collection of memorable tropes," he writes. "If this transpires, historians will reconstitute the genre like a puzzle. They will look at those tropes as a suit and try to decide who fits that suit best. And that theoretical suit was tailored for Chuck Berry's body."
Like Tony Bennett who also turned 90 this year, Berry continues to play shows and stay active in the scene he birthed. But it is indeed shocking that, as a recent story in USA Today pointed out, this landmark birthday is being met with very minimal celebration—a shock considering every single one of the acts featured in the recent Desert Trip festival would not sound the way they do without the moves made by Chuck in the 1950s and '60s.
In celebration of this once-in-a-lifetime event for this legitimate national treasure, the Observer has put together a buyer's guide for you to score the best Chuck for your buck if you are looking to take yourself to school on this man and his contributions to pop music, replete with a handy Spotify playlist to serve as your soundtrack.
After School Session (1957)
[youtube https://www.youtube.com/watch?v=ghIaZd3ZUb4&w=560&h=315]
Chuck Berry might have broken out at rock 'n roll's birth with "Maybelline" in 1955. But it took two years for his debut LP to hit the record sections of family department stores across the USA. However, After School Session surely seemed well worth the wait. Berry and his supergroup of Chess session masters including his longtime piano player Johnnie Johnson, the great Willie Dixon on upright bass and Little Walter drummer Fred Below indeed took their competition to school.
By redirecting their collective chops on the Chicago blues circuit to American malt shops, Berry translated the infectious energy of his live performances to wax without losing an ounce of their street heat, evidenced on the slow blues of "Wee Wee Hours" and, of course, one of the great anthems of restless youth "School Days" with its immortal decree of "Hail, Hail rock 'n roll!"
Chuck Berry Is on Top (1959)
[youtube https://www.youtube.com/watch?v=lPqzI7K4b9c&w=560&h=315]
Released in 1959, Berry's third record is so packed with smash singles you might mistake it for a greatest hits package, as some have in the past: "Carol", "Maybellene", "Johnny B. Goode", "Little Queenie", "Roll Over Beethoven" and more of Berry's best songs are all here.
But Chuck Berry Is on Top, no doubt put together as a means to get all of Chuck's hit singles from the '50s in one place, is constructed so fluidly by producers Leonard and Phil Chess you'd think they were all cut during the same session. Chuck Berry is on Top is not only Berry's single best album, it was also one of the key components to the blueprints for the coming British Invasion in the early '60s that would take his legend to the stratosphere.
St. Louis to Liverpool (1964)
[youtube https://www.youtube.com/watch?v=Nw-5xE_8bWU&w=560&h=315]
By 1964, the Beatles, the Stones, the Yardbirds, the Small Faces and the Kinks all took the lessons they learned from After School Session and Berry Is On Top, and injected them with a frenetic, electric shot of savage youth. With St. Louis to Liverpool, Berry invaded the Invasion.
Highlighted by faves like "No Particular Place To Go" and "You Never Can Tell" (immortalized in the famous dance scene during Pulp Fiction) and punctuated by some of his most lucid gestures of pure blues ("Things I Used To Do", "Night Beat"), Berry redirected that borrowed mojo to deliver an LP as blistering as his best '50s work. And, oh yeah, it's also got arguably the best holiday tune Berry ever recorded ("Merry Christmas Baby").
Concerto in B Goode (1969)
[youtube https://www.youtube.com/watch?v=PAnKqdlPWDo&w=560&h=315]
Just about every marquee act on Chess Records agreed to do a "psychedelic" album at some point during the late '60s and early '70s. Muddy Waters had Electric Mud. Howlin Wolf had The Howlin' Wolf Album. Bo Diddley had his blues-funk masterpiece The Black Gladiator on Chess subsidiary Checker Records.
But when Chuck Berry went psych, he did so for Mercury Records with 1968's Concerto in B Goode, a strange little side trip that finds the guitarist working alongside a group of young exploratory journeymen—including future Rod Stewart guitar player Billy Peek—who help aurally navigate Berry through the effects-drenched terrain of the period. The highlight, of course, is the side-long 18-minute title cut, which Berry gets wild on the wah-wah in ways Jimi himself never could have imagined.
Rock It (1979)
[youtube https://www.youtube.com/watch?v=VIYbFhlIJVw?list=PLx61-KqyvwysOQZ4ztXvvg16qXwVFQoHw&w=560&h=315]
This is the last LP of newly recorded material Chuck Berry has released, and while it didn't make as much of a splash as it should have back in '79, listening to it through the headphones of history reveals that the guitarist was hipper to the era's pure pop than some might have believed at the time.
The cover wasn't too far off—Berry's guitar is the Millennium Falcon of rock 'n roll, and catchy tunes like "Wuden't Me" and "Move It" weren't too far off the mark of what such contemporary FM stars of the day as Rockpile and Robert Gordon were doing at the time. Meanwhile, the version of "Havana Moon" on here is some total Jimmy Cliff sunsplash shit that works better than the original off After School Session.
If this turns out to be Berry's final studio statement, it would be a beautiful parting statement.
Lucky for us, he celebrated his birthday by announcing the release of his long-awaited follow-up to Rock It, simply entitled Chuck, due out on the esteemed blues imprint Dualtone Records in 2017. Recorded with his longtime road band, which includes his son Charles Berry, Jr. on guitar and daughter Ingrid Berry on harmonica, the album was written and produced entirely by Berry and brings but a glimmer of hope to the most uncertain new year.