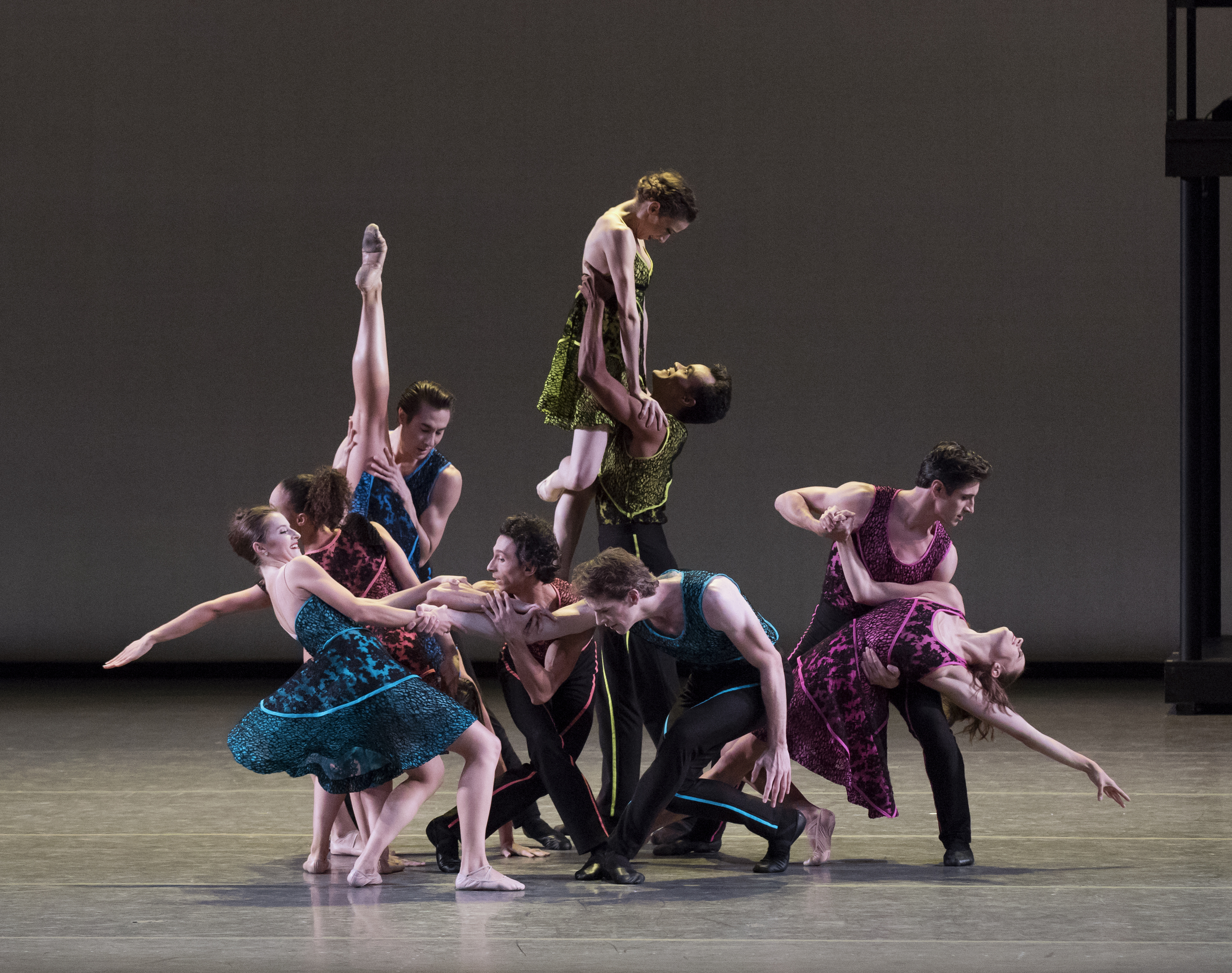 This year's City Ballet fashion gala gets two gold stars: one for starting more or less on time, the other for the absence of speeches. Is this a first? Of course then came the four (count 'em) new ballets, each one proceeded by a short film showing the eager choreographer interacting with the eager fashion designer and the resigned but game Marc Happel, director of the costume shop, and his happy elves. Instructive? Not really, but easy to take.
The costumes were less easy to take, proving yet again that people whose life is spent designing garb for dancers do it better than fashionistas (or fashionistos), however talented, who drop in on the ballet world. Certainly none of the four designers—Narciso Rodriguez, Dries Van Noten, Jason Wu, and Rosie Assoulin—was a disgrace to the neighbors, the way Valentino was five years ago when this ghastly tradition was inaugurated. Just to remind us, he did make a brief encore appearance when the gala ended with the Valentino-ed finale of Peter Martins' Bal de Couture, which was a disgrace to the neighbors.
As for the four new works, none of them was bad and none of them was necessary. Leading off: For Clara, to Schumann chamber music, the company's first piece by the excellent principal dancer Lauren Lovette. Someone should have stopped her from using this highly charged and highly demanding score: it just isn't very danceable. And—a mistake many young choreographers make—she flung everything into it, more steps than there are stars in heaven. She has good instincts, but this piece was overloaded and underedited. She'll learn.
Then came a pas de deux for Sara Mearns and Amar Ramasar by resident choreographer Justin Peck: The Dreamers, music by Bohuslav Martinû, also not very available to dance. Slow, deliberate, intimate, this piece, I suspect, was of greater interest to the choreographer than to the audience. It certainly was far more successful than a pas de deux for Mearns that Peck threw together for Fall for Dance a couple of years ago, but that's not saying a lot. In The Dreamers the two dancers spent a good deal of time on the floor, next to and on top of each other. I like to think they had a good time.
To my surprise, the new work I liked best was ten in seven by a member of the corps, Peter Walker, of whom I knew nothing. (Nor do I know why the title eschews capital letters.) Onstage there's a small folksy combo led by an electric guitar, plus ten dancers (that's where the "ten" comes from) who come together in "seven" combinations. There's a structure, there's a lot of bounce, the look of the costumes (Wu) is appropriate—nice colors peeking through black net. It isn't particularly ambitious (a blessing) but it's confident. Did I have fun? Yes. Do I need to see it again? No. But I do need to see what Walker comes up with next.
Finally, Unframed, by the very experienced Annabelle Lopez Ochoa, more restrained here than in her usual ambitious Eurocentric mode, no doubt in response to City Ballet's more chaste approach to dance. This was an extended piece with music by Boccherini, Elgar, Vivaldi, and—get ready—Pēteris Vasks. The Big Four. Alas, all this music didn't add up to a coherent score, and the competent (endless) choreography didn't add up to a meaningful ballet, although it was sort of interesting watching all the many dancers take off and put back on their cute little jackets.
Even after all these years, going into a gala I harbor secret hopes that it will come up with a ballet worth holding on to: I was conditioned by galas that would feature a new Balanchine ballet—a Vienna Waltzes, a Chaconne. Foolish old moi.
The rest of the season to date has roller-coasted between the usual peaks and troughs.  Let's talk about the highs. To begin with, there was a beautiful performance of Balanchine's ravishing Divertimento No. 15, his Mozart ballet and the only Mozart ballet the world will ever need. This work demands five female principals, and there were times in the remote past when Balanchine felt he didn't have the right five and would replace the ballet at the last moment. But a couple of weeks ago the stars were in alignment. Not with five towering ballerinas (the original cast included Tanaquil LeClercq, Diana Adams, Allegra Kent, Melissa Hayden, and the pyrotechnical Patricia Wilde) but with five admirable ones, with Tiler Peck in the central role, and three admirable guys to support them. (This ballet features one of Balanchine's most original configurations—five women and three men.) What made the performance special was that it all looked fresh, invigorated, coached—the eight girls in the corps were right there with the principals, looking happy to be in this masterpiece. Coaching is all—and often it's sadly lax at City Ballet. (As it was, later in the season, in Symphony in Three Movements and the "Diamonds" section of Jewels.)
Another highlight: Mearns in the final "Rosenkavalier" section of Vienna Waltzes. She's a dancer I usually don't like, but here she was contained yet rapturous—a worthy successor to Suzanne Farrell. I wish I could enjoy her as much in "Diamonds." She dances it carefully, but she simply doesn't have the high romance, the grandeur—the prima ballerina assoluta quality—that the occasion requires. Unfortunately, Maria Kowroski, whom I much prefer in this role, is still out on maternity leave.
Whereas Ashley Bouder is just back from maternity leave, and gave a glowing account of Duo Concertant—softer and more subtle than we could ever have expected from this explosive but rarely subtle dancer. What's more, she was paired with Robert Fairchild who last season was looking ragged after his endless stint on Broadway in that dreary Gershwin musical An American in Paris. Here he was buoyant again, imaginative, happy I assume to be back in superb choreography. He and Bouder were as good together in Duo as any pair who have danced it since the original cast: Peter Martins and Kay Mazzo.
Other exemplary performances: beautiful Rebecca Krohn as the second "Emeralds" ballerina, delicate and elegant; Adrian Danchig-Waring, also in "Emeralds"; Teresa Reichlen, as always, as the "showgirl" girl in "Rubies"; Unity Phelan and Indiana Woodward in everything.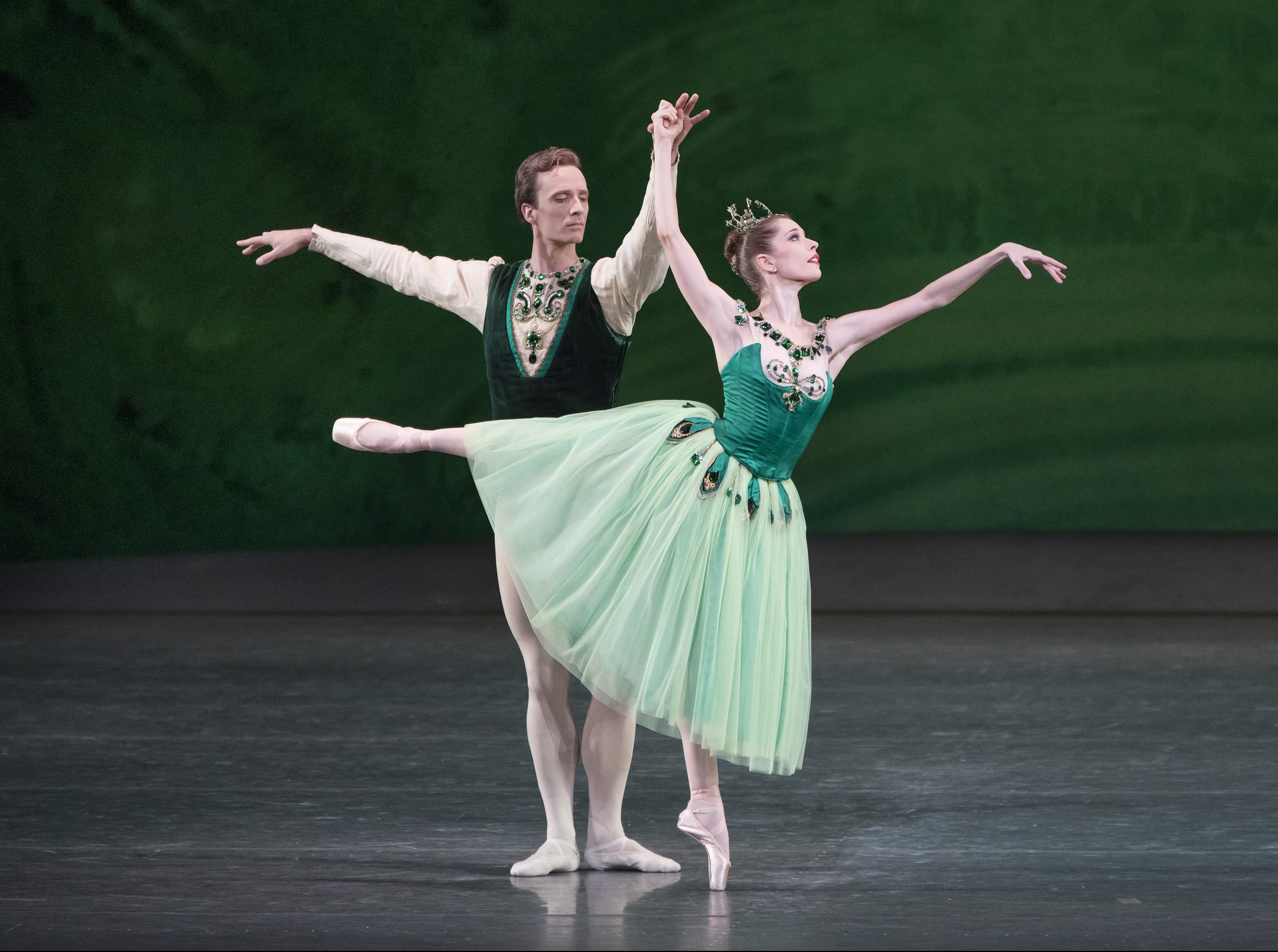 Unfortunately far from exemplary—in fact, deeply disappointing—was Balanchine's Episodes. This ballet was once thrilling, disturbing, riveting. Today it's pallid and unconvincing. Stubbornly, the company hasn't restored the famous Paul Taylor solo from the ballet's first few seasons. (Balanchine hoped he would stay on as a principal dancer, but Taylor had his own fish to fry, and Balanchine just let the solo go: he had no one else he thought could do it right.) It was brought back by Martins for a Balanchine celebration, then dropped again. But it's crucial to the ballet, the hinge between the strange first sections and the sublime finale to Webern's orchestration of a Bach ricercata. Its rightness in that position was confirmed a couple of years ago when Miami City Ballet restored it to the ballet and made Episodes whole again. How about a class action suit against City Ballet and the Balanchine Trust for not doing their job here?
There are other problems with the current Episodes. It's one of those works that never took kindly to the move from the smaller stage of the City Center to what is now, unfortunately, called the Koch. Far more destructive is the brightness of the lighting. Episodes, with its mysterious Webern score and even more mysterious action, was once dark, intense, almost grotesque. Today it's bright, cheerful, and pointless. Always suspicious of my memory, I checked with Allegra Kent who was in the original cast (in 1959), and she confirmed my sense of the original lighting. I'd rather see Episodes dropped from the repertory than see it so underwhelming—and so under-appreciated.
So it goes with City Ballet—one day you're in heaven, the next day you (and it) are down in the dumps. Even so, it remains the most stimulating ballet company in the world.