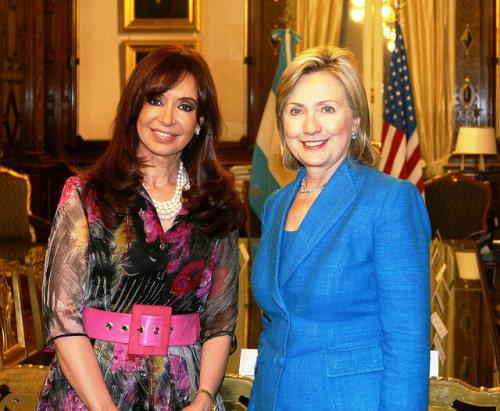 I'm a reporter who intensely dislikes both major party presidential candidates, but my personal experience during this campaign, bolstered by witnessing the incredibly slanted coverage we've seen the past month, is that the media is far more interested in running negative stories about Donald Trump than about Hillary Clinton. Trump indisputably received a lot of positive coverage when he was running in the GOP primaries, but once this became a two-person race the gloves came off, which has had a huge impact on coverage and helped Hillary immensely.
One of the most heavily promoted storylines of this year's campaign is that Trump is a tool of Moscow and Vladimir Putin and no one is pushing it harder than Hillary Clinton's campaign, as seen in last week's debate. The idea that Trump is Putin's Manchurian Candidate is too ludicrous to take seriously, as Paul Starobin, Businessweek's former Moscow bureau chief, has written.
This storyline gained currency a few months back when Trump's top campaign advisor, Paul Manafort, was forced to resign following a barrage of negative coverage about his work as a lobbyist in Ukraine. A flurry of stories came out — I wrote a couple of them— that raised legitimate issues about Manafort's role in Ukraine, but few noted that his efforts mainly took place at a time that Ukraine had friendly relations with the United States, during the Bush and Obama years.
Here's a story, thus far unreported, about a leading Clinton surrogate and fundraiser named Freddy Balsera who founded a company called Global Development Consultants Inc. with Carlos Molinari, a businessman who's been indicted in a massive financial scandal in Argentina. Global Development Consultants is mentioned on multiple occasions in Molinari's indictment, and Argentine prosecutors believe it played a role in laundering money directly into the United States — which would seem to be a good hook for U.S. reporters. The related scandal — which has been heavily covered by major U.S. media outlets — has resulted in the indictment of former Argentine president Cristina Kirchner and a host of financial middlemen and money launderers.
Do I think this made Hillary Clinton a tool of Kirchner's left-leaning government? No I don't, just as I don't believe Manafort's work in Ukraine somehow makes Trump Putin's puppet. But I do believe the media would have been all over this story if it had been a Trump surrogate and not a Clinton surrogate who was involved, and that it raises important questions about one of her leading allies in Florida.
(I asked Balsera and the Clinton campaign for comment. Thus far they have not replied.)
Balsera is a lobbyist and PR consultant who runs Miami-based Balsera Communications, and he has a "unique proficiency" in peddling political narratives to the public, according to his bio page on the firm's website. His partners at the PR firm include David Duckenfield, who took a leave from Balsera Communications to work in a senior job at the State Department under John Kerry between 2014 and 2016.
Balsera is also a Democratic operative with a big, influential political network in Florida, a key swing state, and he claims to have a huge following with Hispanic voters. He was an Obama media surrogate and claims to have crafted a good chunk of Spanish-language political ads for his campaign which "helped deliver an estimated sixty-six percent of the national Hispanic vote."
Balsera was an Obama bundler and a member of his national finance committee, which appears to have reaped him some notable dividends. His family and Molinari's bowled at the White House in 2010 (and Molinari's daughter is an Obama donor). The president appointed him to the Advisory Commission on Public Diplomacy, which sells U.S. foreign policy abroad, and earlier this year Balsera Communications opened a new office in Buenos Aires just as Obama was in the country tangoing his way through a state visit. A picture on Balsera's Twitter feed shows him and Duckenfield jetting down to Buenos Aires to be there for Obama's official trip. All a coincidence, no doubt.
Balsera helped secure a U.S. visa for an Ecuadorean woman, Estefanía Isaías, who had been barred from entering the United States because she'd been busted for illegally obtaining visas for her maids. The State Department under Hillary Clinton lifted the ban on Isaias in 2012 — the same year her rich, politically wired family gave more than $100,000 to the Obama Victory Fund and other Democratic causes, the New York Times has reported. "It was one of several favorable decisions the Obama administration made in recent years involving the Isaías family," which lives in Miami and is accused by the government of Ecuador of having looted a bank," the Times wrote.
Balsera sponsored Isaías's visa application, which said she would be employed by his firm. But the Times never found any evidence that Isaias ever actually went to work for Balsera Communications.  A senior executive at the firm had never heard of her and she was not listed as an employee on its website, Facebook page or Twitter timeline. In other words, it looks like Secretary Clinton did a big favor for Obama money man Balsera and for a family of Democratic donors.
Nowadays Balsera raises money for Hillary's campaign —incidentally, his partner Duckenfield, another Obama bundler, does so, too— and is national co-chair of the DNC's Hispanic Leadership Council. He's also a director of Correct The Record, a Super PAC that closely coordinates with Hillary's campaign and that put together a "rapid response team" that attacks Hillary's critics. The group spent at least $1 million to target social media users and heavily pushed the "Bernie Bros" meme, which suggested that Sanders' supporters were mostly deplorable misogynists.
Correct the Record was created by David Brock, the professional propagandist who also set up Media Matters — another Clinton attack vehicle that protects its Supreme Leader in the same way that North Korea's Central News Agency defends Kim Jong-un.
Like many in the Clinton camp, Brock's political positions and empathy are decidedly situational.
His vehicles have worked furiously to promote stories about Donald Trump's awful remarks about women. This is a bit rich because back during Bill Clinton's years as president — when Brock got his start in propaganda as a Republican hatchet man — he famously labeled Anita Hill, the woman who accused Supreme Court Justice Clarence Thomas of sexual harassment, "a little bit nutty and a little bit slutty."
Anyway, Balsera is a big deal in Washington and Miami and it turns out that he's well connected in Argentina as well through Molinari and Global Development Consultants (and now with his PR firm's brand news Buenos Aires office). But for reasons that will become clear shortly, the normally voluble Balsera apparently doesn't like to talk about Global and all traces of that firm's presence on the Internet have been scrubbed, seemingly after Molinari's embarrassing legal problems erupted in Argentina.
I obtained — from the National Legal and Policy Center, which provided key research for this story — a screenshot from the firm's old website. It shows that Global, registered in Florida, was created by Balsera and Molinari. A third major player at the firm was Diego Molinari, Carlos' son, who was identified on the now scrubbed Global website as CEO and executive vice president.
Here's a nutshell summary of the case:
The figure at the center of the scandal is Lázaro Báez, a former bank teller turned oligarch who built a vast business empire through contracts awarded by his close friend Cristina Kirchner and her husband, Néstor Kirchner, who preceded her as president of Argentina. When Néstor died, Báez was so bereft that he erected a three-story mausoleum to house his former patron's remains.
Prosecutors allege that Báez received huge kickbacks on his government contracts and moved them abroad into offshore accounts with the help of a labyrinth of middlemen. The network was reportedly set up in large part by Mossack Fonseca, the firm at the heart of the now famous Panama Papers scandal, and includes dozens of shell companies set up in the United States, mostly in Las Vegas.
According to the prosecution, tens of millions of dollars in kickback money was moved abroad with the help of SGI Argentina, a financial consultancy firm. SGI was hired to move Baez's money by a man named Leonardo Fariña, who worked for Molinari for years and, the prosecution claims, retained SGI on his advice.
The whole scandal erupted after video footage from early 2011 emerged showing Martín Báez, the oligarch's son, and a number of SGI employees counting cash at the company's office and stuffing it into suitcases to be shipped overseas. Fariña, who later turned state's witness, claimed that SGI sent so much money abroad, mostly to Switzerland, that the cash wasn't counted but weighed.
On February 24, 2011, which is close to the time that the video was made, SGI sent a letter to the U.S. consulate in Buenos Aires requesting a visa for Fariña. The letter said he would travel to Florida the following month on a chartered plane with Molinari, who was identified as the president of Global Development Consultants.
The letter refers to Fariña as SGI's representative and said that Global Development Consultants had invited him "to see all the projects in which we may be interested in investing." Molinari's November 2013 indictment says that Farina bought 10 percent of the shares of Global Development Consultants for $1 million, which would have made him a partner in the firm.
According to prosecutors, Fariña's trip with Molinari coincides with a period when SGI was moving all that dirty money abroad and was looking to make investments in Florida. Prosecutors say that during the first six months of 2011 Molinari and a number of friends took a total of 33 chartered flights looking to funnel SGI's money offshore, including to Florida.
Curiously, in May 2011 Global Development Consultants and another firm formed an LLC called Stambul Ventures to manage the luxury Langford Hotel in downtown Miami. Molinari's divorce records, which included a list of his assets, and Florida corporate records show that he had an interest in the property as well.
The Langford's developers raised millions — 35 percent of the total costs — through the State Department's EB-5 visa program to underwrite the renovation of the property, which was previously a historic bank. They applied for the funding in 2012 and began receiving the money in 2015.
In order to apply for the EB-5 visa, a foreigner must invest $500,000 in a project that produces at least 10 jobs in a rural or high unemployment area – or $1 million elsewhere. "Critics of the visa program say it amounts to little more than buying a visa and it benefits the wealthy more than the high-unemployment communities it's supposed to help," NBC News said.
The EB-5 program has been riddled by allegations of fraud and favoritism toward politically connected investors. In 2015, a Department of Homeland Security watchdog report said a top official had repeatedly intervened "on behalf of well-connected participants," including Virginia Governor Terry McAuliffe and Tony Rodham, a brother of former Secretary of State Hillary Clinton, Politico has reported.
As of this writing, Báez remains in prison as the case unfolds, former president Kirchner has been called to testify and Molinari remains indicted and has reportedly been barred from leaving the country. And it appears that Balsera's company Global Development Consultants served as a method for Argentine crooks to move dirty money through the United States.
It's a ripe, juicy story involving a foreign scandal that helped bring down an overseas president, and it involves allegations of financial criminality in the United States and features an appearance by a major political campaign figure. I look forward, with bated breath, to reporters jumping to pursue this story, as there are still a lot of questions that need to be answered.