A month after the traditional Labor Day kickoff to the campaign season, Hillary Clinton's position in the Electoral College has eroded significantly, but The Party Crasher still rates her a solid favorite to become the nation's 45th president in a month's time.
After examining 19 states, as well as two congressional districts that each possess a single electoral vote, this columnist has issued 16 ratings changes since the September holiday, and every one of these changes reflects a downgrading of Clinton's position. Nonetheless, only four of those changes indicate a flip from Democratic to Republican, and The Party Crasher's current forecast still shows Clinton with a 322-216 advantage in the Electoral College, down from 348-190 at the last forecast.
However, it is also important to note that this forecast considers three states where Trump currently leads by less than 1 percent to be states that Clinton ultimately will win. If the current polling bears out, a shift of 30 electors in these three states would tighten the race considerably. At that point, the real-estate tycoon would need only to erase a small deficit in Florida to acquire his grandest property yet: the White House.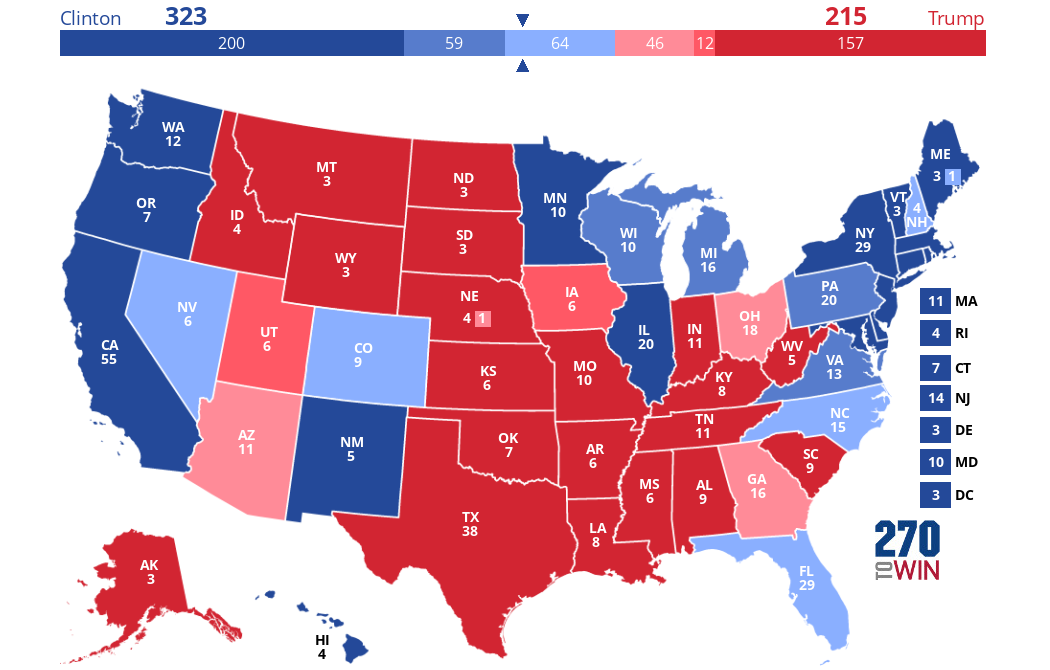 Click the map to create your own at
270toWin.com
Let's first examine the two states and the two Congressional districts which have moved from Democratic to Republican since that forecast.
The biggest surprise is the move by Iowa from "Leans Democratic" to "Likely Republican." The Hawkeye State, with six electoral votes, has voted Democratic in five of the last six presidential elections (going to George W. Bush by less than one percent in 2004), even voting for the hapless Michael Dukakis in his landslide 1988 loss to Bush's father. But Iowa's largely white, working-class population seems to be benefiting Trump, who currently holds an average lead of five percentage points according to Real Clear Politics. Another factor that appears to be aiding Trump in Iowa is the fact that its popular Republican governor, Terry Branstad, and his strong statewide political organization are actively working for Trump, with his son, Eric Branstad, heading Trump's statewide campaign. This strong support stands in stark contrast to a number of Republican leaders in other states who are unenthusiastic about their party's nominee and are sitting this one out.
Another surprise, and major move, comes in the rural 2nd Congressional District of Maine, where recent polling by the Portland Press-Herald has shown Trump with a commanding, double-digit lead. This district has awarded its lone electoral vote to the Democrats in six straight elections, but now, like Iowa, moves from "Leans Democratic" to "Likely Republican."
Less surprising, but also notable, is another major move from "Leans Democratic" to "Likely Republican," this one in the 2nd Congressional District of Nebraska, which centers on Omaha. Only one recent poll, by Emerson College, has been taken here, but it shows Trump with a nine-point lead. Judging by its typical Republican lean, and the rightward move by neighboring Iowa, this polling result does not seem questionable, and so this district shifts in Trump's favor.
Making the shorter but significant step from "Leans Democratic" to "Leans Republican" is the pivotal state of Ohio, with 18 electoral votes and a long history of backing the overall winner. The last time Ohio picked wrong was 1960, when it favored Republican Richard Nixon over Democrat John Kennedy. No Republican has ever won the presidency without winning Ohio, but it is fair to note that the Buckeye State does tend to be a point or two more Republican than the national electorate as a whole. Trump currently holds a tenuous average lead of about 2 percent, though Ohio's significant nonwhite population and Clinton's expected organizational advantages could well keep the state in the Democratic column on Election Day. That said, Trump has led most of the recent polling in Ohio, and a slim but clear lead is indisputable at this point. Although Ohio is considered a bellwether, Clinton can win without it if she needs to. Trump cannot.
Moving on, let's take a look at four other crucial states that Trump must win in order to take up residence at 1600 Pennsylvania Avenue. He currently holds average polling leads of 0.8 percent or less in North Carolina (15 electors), Colorado (9) and Nevada (6), but The Party Crasher still forecasts all three states as "Leans Democratic."
In North Carolina and Nevada, these ratings are unchanged since Labor Day, but in Colorado, this rating represents a significant decline in Clinton's fortunes. With leads approaching double digits in the Centennial State at that time, this columnist moved Colorado to "Safe Democratic." Trump's average polling lead of 0.5 percent should be concerning to Democrats, but in the 2012 and 2014 elections, Democratic statewide candidates for president, governor and U.S. senator all significantly overperformed their polling numbers when the actual votes were counted. Given this history, this columnist still views Colorado as significantly likelier than not to end up in the blue column on Election Day.
In North Carolina, Democrats are especially motivated this year to punish Republicans for some of their controversial decisions, such as the "bathroom bill" regulating transgender usage of public restrooms. GOP Gov. Pat McCrory and Sen. Richard Burr both find themselves trailing in recent polls, and there seems to be a groundswell benefiting Team Blue in the Tar Heel State, so the forecast here remains "Leans Democratic" at the top of the ticket as well, but to nobody's surprise, it's going to be close.
In Nevada, Trump's current average polling lead is 0.2 percent. The Party Crasher expects a motivated Latino community, and the last hurrah of outgoing Democratic Sen. Harry Reid's vaunted political machine, to pull this state out for Clinton in the end.
And in Florida, where recent polling has shown an uptick in support for Clinton, the Democratic nominee holds only a bare 1.2 percent average polling lead. Clinton has led four of the last five reputable polls.
Eleven other ratings changes since Labor Day all favor Trump as well, but The Party Crasher does not believe that Clinton is seriously endangered in any of these states at this time. Perhaps only in Pennsylvania does this assessment appear at odds with the current polling averages, where Clinton's lead is a very tenuous 1.8 percent. However, as this columnist has noted previously, the Democratic nominee can almost certainly expect to come out of Philadelphia and Pittsburgh with a lead of half a million votes, and it is virtually impossible to see how such a lead could be overcome in the rest of the state. That said, Pennsylvania —along with Maine, Michigan, Minnesota, New Hampshire and Virginia, where Clinton's average polling leads are more robust, but down from their Labor Day levels — moves from "Safe Democratic" to "Likely Democratic."
In four other traditionally Republican states, Trump appears to have solidified his position since Labor Day, with Georgia moving from "Leans Republican" to "Likely Republican," and South Carolina and Missouri moving from "Lean Republican" to "Safe Republican." Montana, with very little in reputable polling, had been characterized as "Likely Republican" and now moves to "Safe Republican."
Finally, there is one state in which Libertarian Gary Johnson does appear to potentially be having a major impact on the race: his home state of New Mexico. On Sunday, the Albuquerque Journal ran a poll showing Clinton leading Trump only 35 percent-31 percent, with Johnson taking a whopping 24 percent. Johnson, a popular former Republican governor, also did significantly better in New Mexico in his 2012 run than he did nationally, racking up slightly more than 3.5 percent in the Land of Enchantment, as compared to just under 1 percent nationwide. Because of Johnson's apparent strength, New Mexico moves from "Safe Democratic" to "Likely Democratic."
The bottom line is that Clinton is still in a strong position to win, despite significant erosion over the last month, but much depends on whether her perceived organizational advantages and local factors in four key states — Florida, North Carolina, Colorado and Nevada — materialize as expected. Still, she only needs one or perhaps two of these states to surpass 270 electoral votes, and Trump needs them all, plus Ohio, where his lead remains tenuous. With about a month to go, it is still Clinton's election to lose.
Note: All polling data was current as of Sunday, October 2.
Disclosure: Donald Trump is the father-in-law of Jared Kushner, the publisher of Observer Media.
Cliston Brown is a communications executive and political analyst in the San Francisco Bay Area who previously served as director of communications to a longtime Democratic Representative in Washington, D.C. Follow him on Twitter (@ClistonBrown) and visit his website at ClistonBrown.com.