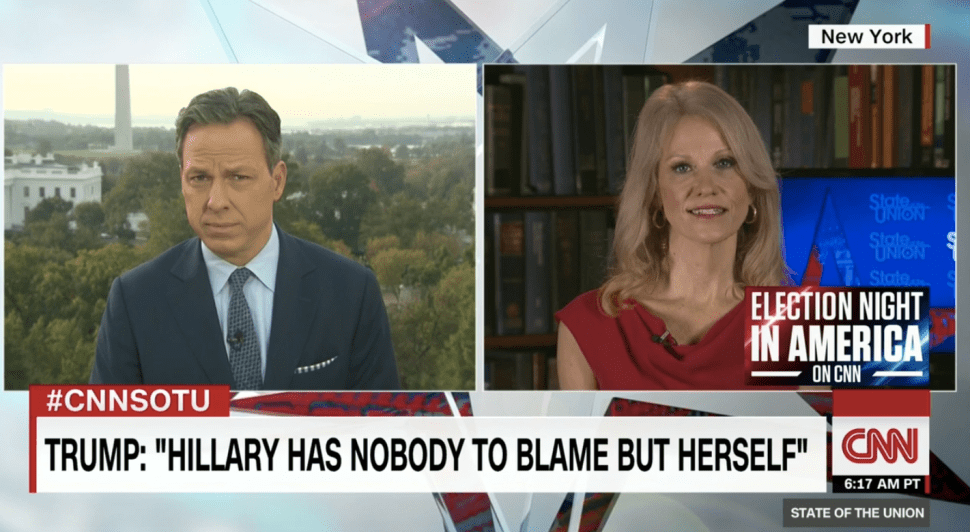 Of seven major Sunday shows, only State of the Union on CNN showed video of the chanting man at the Donald Trump rally in Phoenix last week.
The man—white and possibly in his 30s or 40s—wore a blue tee shirt that said "Hillary for Prison, 2016." While others chanted "U-S-A! U-S-A!" this man taunted the media.
"Jew-S-A! Jew-S-A!" he shouted, his fingers twisted, his neck veins bulging, his facial features contorted into a Halloween mask of hate. "Jew-S-A! Jew-S-A!"
Host Jake Tapper spoke to his guest, Kellyanne Conway, the campaign manager for Trump, a Republican who is running for president against the Democrat Hillary Clinton.
"We have seen a lot of anti-Semites and racists and misogynists who support the Trump candidacy," Tapper said.
"Wow," Conway replied.
"Would you call that deplorable?" Tapper asked her.
"Wow," Conway said again. "Yes, I would. His conduct is completely unacceptable."
Then she unleashed her third "Wow" before disputing her host.
"I have to push back on some of the adjectives you just used," she said. "I hope you've been to Trump rallies . . . Clearly he does not speak for the campaign and the candidate. What he had to say was disgusting."
Tapper acknowledged that not every Trump supporter acts like this but asked Conway why Trump's rallies seem to provide a welcoming environment for this kind of person.
Why, Tapper pressed her, does Trump refuse to denounce people like this? After all, Trump likes to denounce so many people so much of the time.
Conway seemed to take this as further proof that the media is out to get Trump.
"This exchange," she said, "is, frankly, the best piece of evidence I have that we're actually going to win."
Tapper's State of the Union is state of the art when it comes to Sunday shows. It even uses Tapper's own artistic hand with a carton segment at the end of each episode. Of all the competitors Sunday, Tapper's show brought the most energy and edge.
And Tapper punches both ways. Earlier in the show, his guest was John Podesta, who runs the Clinton campaign.
Tapper stated to Podesta that Clinton's continuing problems from email revelations flow from her "horrible mistake" of putting a private server into her home when she was secretary of state.
He asked Podesta if he'd talked to Huma Abedin Clinton's close aide, whose computer is being examined by the FBI.
Without staying yes or no, Podesta tried to dismiss what Tapper was saying.
"We can sit here and speculate, put facts in the record—"
Tapper cut him off for a scolding.
"I'm not speculating, sir," Tapper interjected. "Our reporting is that it was a laptop computer that belonged to Anthony Weiner and they found State Department emails on that laptop. That's reporting. That's not speculation. You have access to Huma Abedin. I don't. Have you asked her how this happened?"
Abedin is now estranged from her husband, former New York Congressman Anthony Weiner, who is being investigated by the FBI for allegedly sending sexual messages for an underage girl.
Podesta, who is usually unflappable, seemed rattled by Tapper.
"I don't think she knows anything more than what we've seen in the press today," Podesta said. "I'm sure if the—you know—if people, uh—uh—if, uh, proper authorities want to ask her questions, they'll ask her questions. But she's been fully cooperative."
Ending his show on a light note with the weekly feature "State of the Cartoon-ian," Tapper spoke of how Vice-President Joe Biden recently contemplated taking Trump out "behind the gym" to set him straight.
This was after The Washington Post exposed a 2005 recording of Trump bragging about his own alleged sexual assaults (all of which he now denies).
Tapper jokingly proposed a fist fight between Trump and Biden. He drew a comparison to the handgun showdown between Aaron Burr and Alexander Hamilton, two Founding Fathers who dueled to the death (of Hamilton).
We all know that story is told in what is now a Broadway musical, which Tapper referenced with bites of dialogue from that mega-hit. He also used audio from Trump, who put down Biden.
"I'd love that," Trump sarcastically said of Biden's challenge. "I'd love that! Mr. Tough Guy. Ya know, he's Mistah Tough Guy."
Tapper concluded "And you know what? Frankly, after this grim, rough-and-tumble election season, it's hard to imagine a more fitting end to this season than an actual fist fight."
'They put Sean Hannity at a news desk. They have the bug that says 'Fox News.' They have really eviscerated their distinctions between who is real news, what is hard news.'
Hand me the remote . . .
FOX NEWS SUNDAY Republican Congressman Devin Nunes of California told host Chris Wallace that investigations of Clinton's email might disqualify her from security briefings given to each candidate.
"Should Hillary Clinton's staff be given classified briefings at this point?" he asked. "I think it is a question that needs to be answered."
On the pundit panel, George Will suggested the revelations of Friday—"Clinton Email Case Re-Opened!"—might have been overstated.
"The headline, coast to coast, is the FBI has new evidence," Will said. "There is no evidence whatsoever, yet, that there is new evidence pertaining to the email thing. This is a content-less October surprise at this point."
Later, Will said the investigation "does strengthen the fundamental Trump narrative, which is 'Burn it down, blow it up. I'm terrible, but who could be worse than the people running Washington?' . . . It strengthens, in a sense, the perverse Trump message."
Charles Lane of The Washington Post marveled that "Things have gotten so screwed up that the target of the investigation, Hillary Clinton, is essentially begging to have the ongoing investigation take place in public."
MEET THE PRESS Host Chuck Todd on NBC showed video of Trump supporters chanting "Lock her up!" and of Trump goading them with comments about Clinton.
"Her criminal action was willful, deliberate, intentional and purposeful," Trump told his mob of supporters.
Todd then spoke with Mike Pence, the pious Indiana governor who is Trump's running mate.
"What criminal conduct is he talking about?" Todd asked Pence. "Do you believe she committed a crime?"
As usual, Pence dodged the question.
"Hillary Clinton is a risky choice," Pence said.
Todd asked Pence about how Trump has vowed to sue the dozen women who have come forward to accuse him of sexual assault after Trump contradicted his own recorded words and denied sexual misconduct in a presidential debate.
"Is that advice you would give him?" Todd asked Pence.
Business commentator Larry Kudlow came by to say "the FBI is in full revolt" over Director James Comey's handling of the Clinton email case.
"The whole building was ready to leak," he said.
According to Republican strategist Mike Murphy, Comey's letter to Congress about the newly discovered emails "was so opaque, the speculation machine—here and everywhere else—is going to go into hyper-drive."
Minor party candidate Evan McMullin, who is running for Emperor of Utah, stopped by to say "Both of these candidates are so deeply corrupt and so deeply unfit for the presidency . . . Our goal is to block them both."
Regarding Trump, in answer to a question from Andrea Mitchell, McMullin said "He's unethical . . . Doesn't understand the Constitution . . . Doesn't respect the separation of powers . . . Very dangerous to our country."
THIS WEEK The ABC host, George Stephanopoulos, welcomed Virginia Sen. Tim Kaine, Clinton's running mate, who warned of the "dark and dangerous vision of Donald Trump" and said Comey owes the public more details about his agency's probe into Clinton's emails.
When Conway took her turn on this show, Stephanopoulos showed a recording of his interview last week with Trump, who told him (regarding Clinton): "George—George, she's so guilty."
Another Republican guest was Virginia Congressman Bob Goodlatte, chairman of the House Judiciary Committee. He said he and his Democratic counterpart, John Conyers, were briefed on Saturday by Comey.
"Much of this is classified material," Goodlatte said.
Stephanopoulos asked how he would know if he hadn't seen it.
"We don't know, we don't know," Goodlatte said.
In a long statement, in suggesting perjury, Goodlatte accidentally said "impeachment."
On the panel, Baltimore Mayor Stephanie Rawlings-Blake said Donna Brazile—interim chair of the Democratic National Committee—told her the email revelation on Friday hit her "like a Mack Truck."
"This is crazy," Rawlings-Blake said. "Nothing is clear."
Of Comey, the mayor said "He got shook. He acted under pressure (with) Trumpesque recklessness."
She said the only good thing about the latest development is that it will get more Democrats out to vote.
FACE THE NATION Pence, making the rounds, was asked by CBS host John Dickerson about Republican insinuations that Attorney General Loretta Lynch was pressured by former President Bill Clinton to go easy on the investigation of his wife.
They spoke at an airport before Comey decided to stop the investigation in July. When asked if the attorney general pressured the FBI not to go further, Pence said "I'm not alleging that."
DICKERSON: "Then why bring it up?"
PENCE: "The meeting itself was very troubling."
DICKERSON: "What does 'troubling' mean?"
Pence went on to say that there is "double standard" for Clinton and that "the investigation is now reopened."
In a recorded interview, Dickerson asked Biden whether Clinton needs somebody to stand up to her when she acts on bad instincts, as she has in the email fiasco.
"I do think she does," Biden said.
Although American intelligence officials have said that someone from Russia hacked the DNC emails, Trump has refused to acknowledge this. It puzzles Biden.
"He (Trump) just may not be informed enough to know what he's saying," Biden said. "He's so far out of the box that it's hard to believe he could be so devoid of the facts. He's being briefed. Intelligence guys are coming in."
RELIABLE SOURCES The CNN media show with Brian Stelter showed a tweet from election bracketologist Nate Silver.
"The FBI story broke at the exact time when the media was eager for a dramatic twist/complication in the 'Clinton Coasts' narrative," Silver wrote.
Then Stelter showed a tweet from Trump, who wrote: "Wow, Twitter, Google and Facebook are burying the FBI criminal investigation of Clinton. Very dishonest media!"
After reading Trump's words, Stelter reported that none of it was true.
Jennifer Rubin of The Washington Post discussed the role of Fox and the possibility that the right-wing propaganda outlet may change its personality in the near future.
"Fox, for a long time, has played this game, saying, well, we have our opinion shows, Sean Hannity and Bill O'Reilly," she said. "But then we have straight news . . . These distinctions have gotten completely blurred. They put Sean Hannity at a desk that looks like a news desk. They have the bug that says 'Fox News.' They have really eviscerated their distinctions between who is real news, what is hard news."
When you point this out to Fox, Rubin said, "they get very offended."
"Frankly, it's a game they started and they exploit it," she said.
Should Megyn Kelly and her allies lose what may be a power struggle in the post Roger Ailes era, Rubin said Fox will stay the same with O'Reilly and Hannity defining its personality.
Hannity, she said, "perpetrated the birther lie" that President Obama, the nation's first African-American president, was born outside the United States, a lie that implied that Obama was not a legitimate president.
"They're making stuff up," Rubin said of Fox.
MEDIA BUZZ In a review of the spat between Kelly and former House Speaker Newt Gingrich (R-Fox), host Howard Kurtz gave the floor to Erin McPike.
"The most consequential anchor of this election cycle," McPike called Kelly.
But Kelly Riddell didn't seem as impressed that Kelly had challenged Gingrich about Trump's alleged sexual assaults, which Trump bragged about on tape in 2005, then denied in 2016.
"It's Megyn Kelly shopping for a new job," Riddell said. "That could have been part of the reason she took on Newt Gingrich that way."
Conway, stopping by on remote video, said "We can never get the stench and the stain of the Clintons off."
SEE ALSO: MEGYN KELLY IS THE BEST NEWS ACTRESS IN THE BUSINESS
Disclosure: Donald Trump is the father-in-law of Jared Kushner, the publisher of Observer Media.