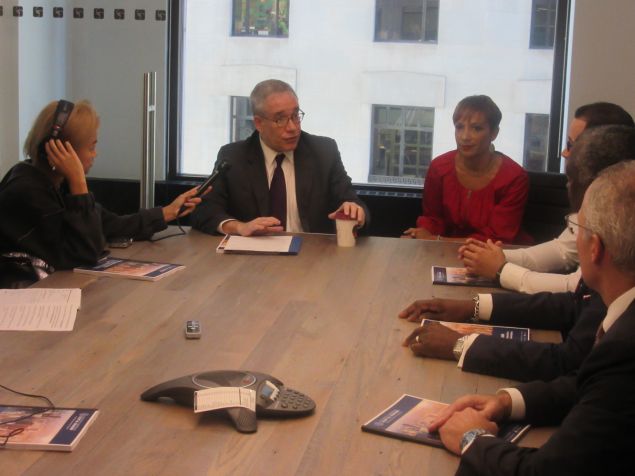 Comptroller Scott Stringer—a rumored 2017 Democratic primary rival to Mayor Bill de Blasio—gave the city a D+ on spending with nonwhite- and female-owned firms for the second year running in his annual report card.
The city's chief financial officer made the announcement while speaking at Constructomics, a Lower Manhattan-based home builder classified as a minority- and/or women-owned business enterprise, or MWBE. Stringer, who held a roundtable with MWBE leaders ahead of the press conference, said that in fiscal year 2016 the city spent $15.3 billion on goods and services—but only 4.8 percent went to MWBEs.
He said that was even less than what he reported at the Association for a Better New York breakfast last month—that only 5.3 percent of $14 billion the city spent on goods and services went to MWBEs.
"Last year, the results weren't pretty," Stringer said. "The citywide grade was a D+. And this year, I'm sorry to say that we're seeing more of the same. Nearly half the agencies scored a D or an F."
He also noted that there are upwards of 500,000 minority-owned businesses and 400,000 women-owned businesses in New York City but only 4,527, less than 1 percent, are certified to do business with the city. His analysis also found that just 994 of certified firms received city spending in fiscal year 2016.
"It's not only hurting our small business owners, it's a missed opportunity for the entire city economy because when we invest in our small businesses, they invest in their neighborhoods and our economy gets stronger," Stringer continued.
The comptroller's office also launched its first-ever series of interactive online maps that show which certified MWBEs received city spending by race, ethnicity and gender.
Out of 32 agencies graded—31 mayoral agencies and the comptroller's office—the Business Integrity Commission, the Department of Buildings and the Department of Sanitation each received an F. The rest of the agencies received C's and D's. The only agency to receive an A was the Department of Housing Preservation and Development, which received an A for the second year in a row.
The Commission on Human Rights, the Department for the Aging, the Department of City Planning, the Department of Consumer Affairs, the Department of Small Business Services and Stringer's own office each received a B.
Stringer has clashed frequently with the administration over what he perceives to be the city's abysmal performance in increasing the number of contracts given to MWBEs. Just six days after Stringer's scathing assessment of de Blasio's record of helping MWBEs and on other issues affecting the city's most vulnerable residents, de Blasio unveiled a new 30 percent MWBE participation goal to be met by 2021 and the appointment of Deputy Mayor of Strategic Initiatives Richard Buery—who implemented de Blasio's universal prekindergarten initiative—as the city's new MWBE director.
De Blasio named Rev. Jonnel Doris as the city's full-time senior MWBE adviser in July.
The mayor previously said his new vision had nothing to do with Stringer's blistering takedown of the program. And his spokesman, Eric Phillips, had dismissed Stringer's critiques of de Blasio's work to help the city's most vulnerable residents as the kind made "when you have never run anything and don't know what you're talking about."
"I think my management skills are pretty well regarded in this city," Stringer retorted today.
When the Observer asked Stringer whether the appointment of Buery and Doris is sufficient, the comptroller said Buery has taken on "some very tough issues," adding that he enjoys working with him. He also said Doris has been working with Chief Diversity Officer Carra Wallace—whom he appointed in 2014 to oversee city agencies—and Wendy Garcia, deputy chief diversity officer to Wallace, and "gets good marks from everyone I've talked to."
But he stressed that the new statistics indicate the need for a full-time chief diversity officer, noting that once such a role is codified, it will not "be at the whim of changing administrations."
"I think [Doris] is making a difference, I really do," Stringer said. "I think Richard Buery is going to make a difference. But if we were close to 30 percent, we'd let it go. The future is about making sure we have a chief diversity officer who works full time at this."
But he acknowledged that a change in state law is necessary to allow the city to have access to tools and resources to which the state has access.
"We certainly want to go to Albany," Stringer said. "We wanna look at some legislative issues, we're aware of that. The mayor has raised those issues. I think he's absolutely right."
In a statement, Buery said Stringer is "wrong on the facts." He noted that last year, the de Blasio administration awarded $697 million in contracts to MWBEs—a 52 percent increase in dollars from the previous year.
He also said contracts went to MWBEs 14 percent of the time, up from eight percent the prior year and that the city is "well on our way" to giving out 30 percent of the value of its contracts to MWBEs.
"Comptroller Stringer's report is not an accurate measurement of the important progress this administration has made in improving city contracting and sharing the results of our city's economic progress with all of our businesses," Buery said.