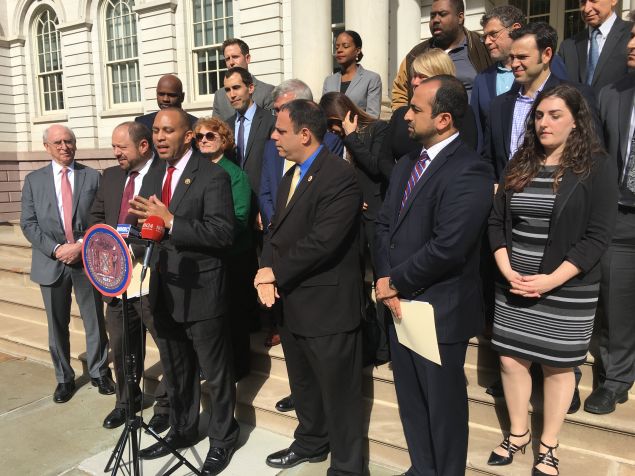 Brooklyn Congressman Hakeem Jeffries and a coterie of other Democratic pols called Republican presidential nominee Donald Trump a "two-bit racial arsonist" who's making a "desperate" claim that the presidential election next month will be rigged to save his flailing campaign.
Trump has increasingly asserted that a confluence of media bias and voter fraud will slant the results of next month's election against him, and refused to say in the final presidential debate last week whether he would accept the outcome. But city Democrats today argued that the real "rigging" in the works are voter identification and voter intimidation efforts they claimed the GOP has turned against communities of color, the poor and college students.
"The Republican nominee has proven himself to be nothing more than a two-bit racial arsonist who apparently idealizes Benito Mussolini and Vladimir Putin," Jeffries said at a press conference hosted by Queens Councilman Rory Lancman. "This is not someone who we can trust with any degree of confidence that he's gonna encourage his supporters to do anything other than intimidate, suppress and discourage Americans from all across the country to participate without obstruction."
He said that the trend of working to minimize the number of Americans who participate in the electoral process escalated in intensity in the aftermath of the election of U.S. President Barack Obama and "continued in full force" when the Tea Party revolution translated into many different individuals across the country coming to power in 2011. And beginning that year, he said, more than 180 different bills impacting the franchise were introduced in 41 states—though recent court decisions have thrown out a few of them in states such asNorth Carolina.
"Some of these bills have made it into law," he said, arguing the effort picked up after the Supreme Court ruled certain provisions of the 1965 Voting Rights Act unconstitutional in 2013. "Some of these laws have been struck down or modified. But the effort has continued and intensified."
The comments by Jeffries, an ardent supporter of Hillary Clinton's candidacy, echoed accusations the Rev. Al Sharpton made over the weekend that Trump was attempting to suppress African-American turnout in the election. The Trump campaign did not immediately respond to a request for comment.
Jeffries added that a recent nonpartisan study that found there were perhaps 30 documented instances of voter fraud out of 300 billion votes cast in the last 35-plus years.
"It's nonexistent and it leads us to ask the question: why then is there such rhetoric, such intensity in terms of the notion of a rigged election?" Jeffries said. "Because there's a desperate candidate who's run a desperate campaign who's decided to resort to desperate measures in order to win this election."
Lancman and the New York Democratic Lawyers Council joined together with federal, state and local elected officials to announce a mobilization effort to protect the vote in swing states as well as swing districts within New York State.
Lancman said the institutionalized effort to suppress the vote and deny communities of color—especially African-Americans—the right to vote has become "an article of cynical politics." He said Trump and his campaign have encouraged his supporters to intimidate voters, encouraging them to watch the polls and telling his supporters that if other communities are not watched, "they will steal this election from us."
"This is actually a very open and naked part of the Republican Party platform to try to make it as difficult as possible as it is for people of color to vote, poor people to vote," he said.
Manhattan Assemblyman Brian Kavanagh, who sits on the Assembly's Election Law Committee, said Trump's comments are discouraging in light of the fact that there are federal courts across the country with judges appointed by Republicans and Democrats saying that states' voter laws are unconstitutional because they target people based on their race and ethnicity. But he also said they are unsurprising given that the party has promoted such tactics.
"Now one would hope that this year, with all of the kind of unpleasantness and the kind of horrors of the Trump campaign that many of us have seen, that this might be a chance for our country to step back from some of those trends and recognize that if you talk about rigged elections again and again and again over many years," Kavanagh said. "it's not surprising that when a demagogue gets your party's nomination, he will use that tactic just as many other people in the party have."
Disclosure: Donald Trump is the father-in-law of Jared Kushner, the publisher of Observer Media.