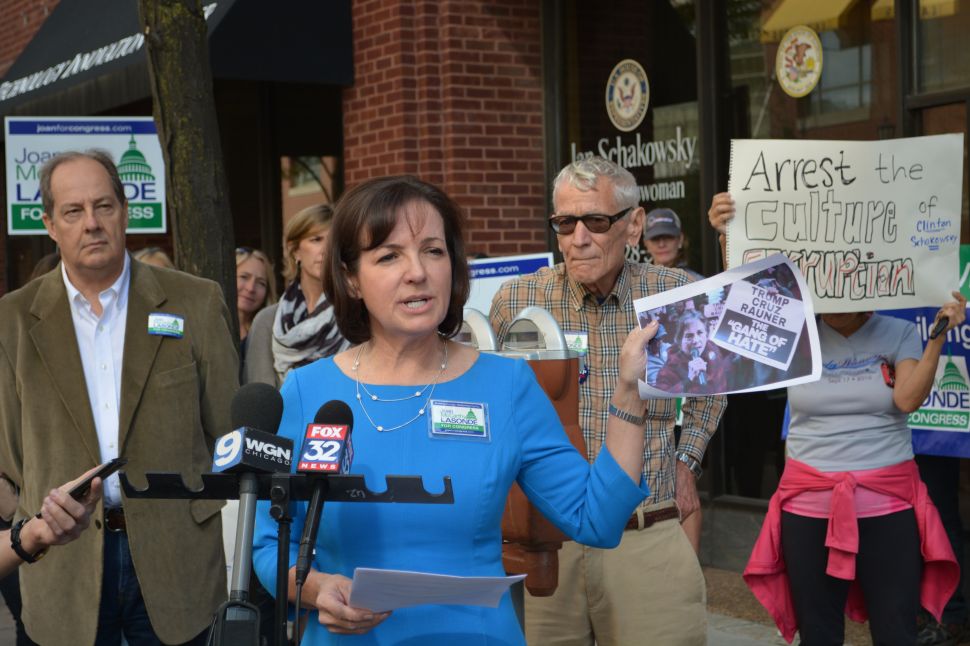 Today Republican congressional candidate Joan McCarthy Lasonde announced at a press conference that she had delivered a letter to her opponent, Illinois Rep. Jan Schakowsky, demanding the congresswoman's resignation over her culpability in "incitement to violence to disrupt political activity." In the letter to Schakowsky, Lasonde claims that "You likely participated in those activities and, in any event, must have known about them and could have stopped them."
This assertion is based on the apparent involvement of Schakowsky's husband, Robert Creamer, a political consultant with Democracy Partners that does work for both the Democratic National Committee (DNC) and Hillary Clinton's presidential campaign.
Creamer is featured prominently in videos released this week by right-wing provocateur James O'Keefe, which appear to depict a network of activists colluding with the Clinton campaign and the DNC to incite violence at the rallies of Clinton's Republican opponent Donald Trump.
In the surreptitiously recorded videos, various operatives brag about how they plant people in the lines at rallies to "bird-dog" Trump supporters; i.e. to antagonize them to the point of aggression in full view of television cameras in order to demonstrate the narrative that Trump's base in inherently racist and violent. These plants sometimes include the homeless and mentally ill.
Among the activists' proudest moments is the forced cancellation of a Trump event at the University of Illinois in Chicago earlier this year after widespread scuffles both inside and outside the venue generated security concerns. The mayhem led to multiple arrests, and several people on the scene—including police—had to be treated for injuries.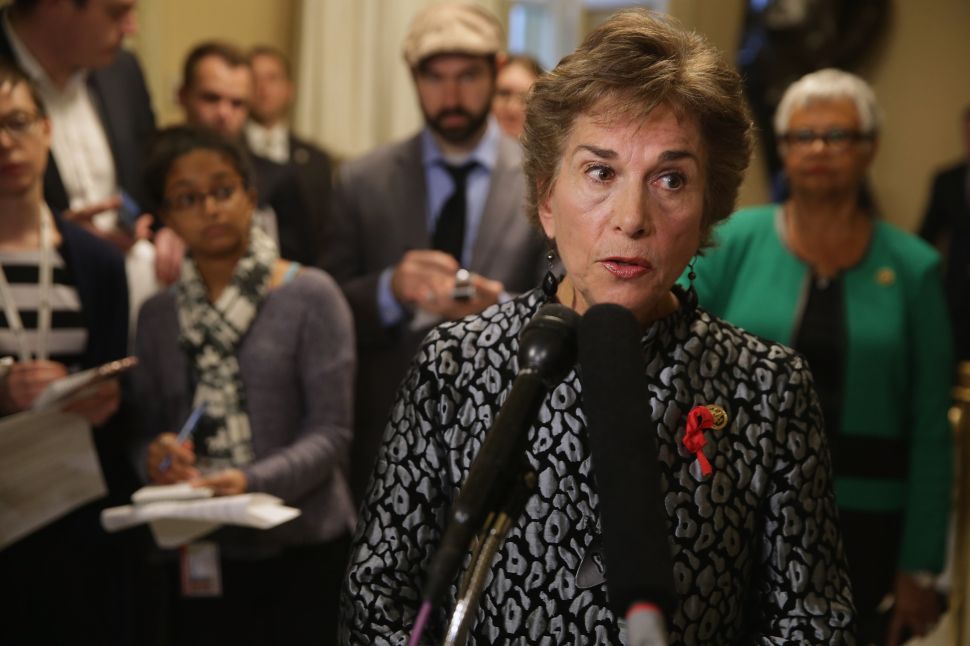 On the same night as the Trump cancellation, Schakowsky attended a protest outside the Governor's Dinner, held for Republican candidates and officeholders in Chicago. Schakowsky carried a sign reading:
TRUMP

CRUZ

RAUNER

THE "GANG OF HATE"
Cruz is Ted Cruz, the Republican senator from Texas who was at that time a candidate for the Republican nomination for president. Rauner refers to Illinois Republican Gov. Bruce Rauner. The signs were printed by an organization called Americans United for Change, one of the groups implicated in the O'Keefe Videos. Americans United for Change had been contracted by Creamer's Democracy Partners to do work on behalf of the Clinton campaign. Scott Foval, the group's national field director, was fired based on comments he made in the O'Keefe Videos.
According to Lasonde, "I was at that dinner and had to enter through the protesters. They were as hateful and abusive as what they claimed to be protesting about. 'Hater,' 'bigot,' 'racist' and worse they yelled at us. It was only through luck that no violence broke out there, too. Jan Schakowsky was there as ringleader of this protest."
In addition to calling for Schakowsky's resignation, Lasonde has also has called for investigations by the Department of Justice, the Federal Election Commission, the Cook County State's Attorney, and the Illinois Attorney General.
The actions Creamer describes in the video are recognizable to anybody who's watched Schakowsky's career over the years and his fingerprints are probably on many of Schakowsky's own events. As with the current situation, other progressive groups often are involved in organizing these events giving the candidate "plausible deniability" but raising questions about illegal coordination that may run afoul of federal campaign laws. In many ways, Chicago is the epicenter of tactics which are now becoming more routine on a national level.
In fact, at least one prominent Republican in Illinois' 9th congressional district suspects that Schakowsky's statements and political actions may serve as a test market for the Democrats to roll out on a national basis. According to Blair Garber, the Evanston GOP committeeman, "Jan (Schakowsky) will say something, and if it polls well, Hillary says the same thing a week later. I think that Creamer scripts things for Jan to test in this safe district, and if they go over well, they take them national. This is based on Alinskyite political organizing. This is exactly what Obama did." Jan Schakowsky was among Barack Obama's earliest and most enthusiastic supporters in Illinois.
In 2009, at the height of the controversy over President Obama's proposed healthcare law, Schakowsky scheduled a town hall meeting in her district at Niles West High School in Skokie. Some of her constituents naively believed this event would be an opportunity to voice their concerns and learn more about their Congresswoman's position on the issue. Instead, many area residents had to be turned away at the door because hours before the event began an overflow crowd of volunteers, supporters, and union members had been bused in by Obama's Organizing for America and a group called Healthcare for America Now. Organizers on the scene passed out signs and instructed attendees on how to block cameras if health reform opponents asked questions challenging Schakowsky's vision. Instead of a town hall, Schakowsky had organized a pep rally where opponents of her position were marginalized.
In 2010, partly driven by his experience at the healthcare town hall, Schakowsky was challenged in her reelection by former Skokie resident Joel Pollak, now the senior-editor-at-large for Breitbart News. During the campaign, the League of Women Voters sponsored a candidate forum where both Schakowsky and Pollak participated.
Prior to the event, the Schakowsky campaign passed out literature to people as they entered the venue—in clear violation of rules that had been established by the LWV and agreed to by the candidates. When Pollak called her on it during the event, Schakowsky did not respond, and a chorus of seemingly orchestrated boos errupted from the crowd.
As the event continued, booing and heckling of Pollak by a handful of the Congresswoman's supporters increased, seemingly led by a dashiki-clad malcontent seated near the front. The commotion reached such a crescendo during his closing statement that the moderator finally had to intervene. At no time did the Congresswoman dissuade her supporters from behaving inappropriately.  At the close of the event, Mr. Dashiki turned and warmly greeted a well-dressed supporter of Schakowsky seated nearby—Robert Creamer.
Jan Schakowsky is a proud, progressive Democrat who consistently runs on a platform so far to the left that she makes Bernie Sanders look like Barry Goldwater. Her liberal Chicagoland constituency seems perfectly pleased with that as she regularly wins reelection by as much as 76 percent. After a redistricting, however, her last three opponents have all garnered 66 percent of the vote indicating a reduced, if still quite comfortable majority for her. While her politics may be in line with her constituency, however, her tactics might not sit so well with the good-government types in Evanston and the Northshore.
Consequently, Creamer has always kept a low profile in Schakowsky's campaigns and is about to take an even lower one in the presidential race. In a statement he said, "I am unwilling to become a distraction to the important task of electing Hilary Clinton, and defeating Donald Trump in the upcoming election. As a result I have indicated to the Democratic National Committee that I am stepping back from my responsibilities working with the campaign." No word yet on what involvement, if any, he'll have on his wife's current run. Schakowsky's political director has not responded to a request to comment for this article.
Keith Liscio is a small businessman and resident of Illinois' 9th congressional district.  He has been a longtime observer of Illinois politics.