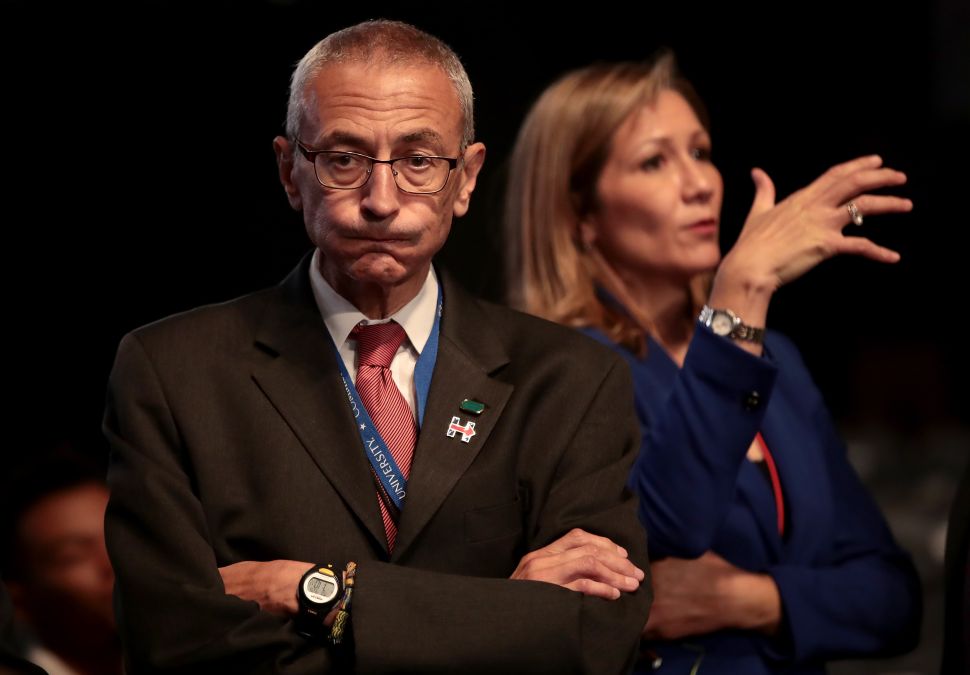 On October 21, WikiLeaks released another batch of emails from Hillary Clinton campaign chair John Podesta, making this 25,000 out of the 50,000 emails they claim to have obtained.
Here are the most revealing emails included in the first half of the Podesta releases.
Clinton's Goldman Sachs talks, and excerpts from other highly-paid transcripts, which the campaign refused to release during the primaries, were included. The speeches exposed Clinton's concern for the welfare of Goldman Sachs, Wal-Mart, and other dubious corporate entities. She claimed the financial industry should regulate itself, and dubbed the Dodd-Frank financial reform bill a took for politically pacifying the public.
"You need both a public and a private position" on issues, she said in one speech, reaffirming suspicions that Clinton's stances are primarily crafted to maximize political expediency.
Several disturbing foreign policy ideas were suggested by Clinton throughout the speeches. Clinton confirmed a no-fly zone in Syria would kill a lot of civilians, and require boots on the ground. She reminisced about discussions with Chinese diplomats, in which she used imperialistic threats from claiming the U.S. could "ring China with missile defense," to retorting that the United States has the right to rename the Pacific Ocean the American Sea if it feels like it.
In a separate speech, Clinton denigrated environmentalists as losers who need to get a life, and affirmed her support for fracking.
A memo attached to an email from April 2015, two months before Donald Trump announced his campaign publicly, cited Trump as a "Pied-Piper" candidate who the Clinton campaign and Democratic National Committee (DNC) would strategize to use the mainstream media to elevate.
A separate April 2015 email outlines strategy to rig the debate schedule for the Democratic primaries in a way that will benefit Clinton the most.
Current DNC interim chair Donna Brazile is implicated in the emails several times. In a 2014 interview with The Washington Post, Brazile confessed she would favor Clinton in the primaries despite her then-position as DNC vice chair, which in theory demands neutrality. In the Podesta emails, Brazile also tipped off the Clinton campaign to the exact wording of a difficult question to be asked at a CNN town hall the next day, forwarded info about a Sanders campaign outreach program to Clinton staff, and was actually cited as a surrogate for Clinton by staff members.
Emails from 2008 reveal that President Barack Obama received advice from Citigroup Banker Michael Froman on who to include in his administration before he won the election. Froman was appointed U.S. Trade Representative by Obama. In May 2016, via a Freedom of Information Act (FOIA) request, emails released to the Huffington Post revealed that Froman spoke with Wall Street firms and lobbied to include certain provisions in the Trans-Pacific Partnership (TPP) agreement for the financial industry.
The Clinton Foundation's shady dealings were well-documented in Podesta's emails. The COO of the foundation nearly committed suicide because of Bill Clinton's behavior. Other staff members express their frustration in dealing with demands from Bill and Chelsea Clinton at the non-profit.
Clinton aide Huma Abedin blamed Hillary Clinton for actions she refused to take responsibility for regarding a Clinton Foundation pay-to-play in a January  2015 email to Clinton campaign manager Robby Mook and Podesta.  In another email, the government of Qatar solicited a five minute meeting with Bill Clinton to present him a birthday check for $1 million. Qatar has given millions of dollars to the Clinton Foundation, and subsequently received an over 1000 percent increase in weapons exports from the United States during Clinton's service as secretary of state.
Media collusion with the Clinton campaign was long suspected by Sanders supporters and Republicans, with several emails now confirming it. Though some emails are benign back and forth between reporters, several journalists and media outlets offered themselves to be used as propaganda tools to prop up the Clinton campaign agenda.
A January email lists Guardian columnists Jessica Valenti and Sady Doyle, and MTV News correspondent Jamil Smith, among others, as individuals who attended a conference call to discuss "Bernie Backlash" with the Clinton campaign. The campaign saw "friendly" journalists as extensions of their campaign staff to be manipulated into supporting their agenda, rather than autonomous and relatively-objective journalists.
The Clinton campaign planted stories in The New York Times, including a "heroine" article about a Clinton campaign volunteer who voted for Obama over her in 2008. A New York Times contributor and CNBC correspondent emails Podesta back and forth, desperately seeking his approval. [?]
In July 2015, the Times' Mark Leibovich offered the Clinton campaign a transcript of an interview he conducted with Clinton to edit and amend as they saw fit, which goes way beyond journalistically reasonable fact-checking.
"We have has a very good relationship with Maggie Haberman of Politico over the last year," noted one Clinton campaign staff email. Haberman moved to the Times shortly after the email, which praised her highly; "We have had her tee up stories for us before and have never been disappointed. While we should have a larger conversation in the near future about a broader strategy for reengaging the beat press that covers HRC, for this we think we can achieve our objective and do the most shaping by going to Maggie."
A January email shows the Times' Jason Horowitz emailing Podesta, asking for his thoughts on the relationship between Obama and Bernie Sanders—which Podesta, off the record, says does not exist. If Horowitz wanted an objective opinion on the relationship between Obama and Sanders, he wouldn't be soliciting it from the Clinton campaign.
The Associated Press, Boston Globe, Business Insider, Univision, NBC, and other media outlets are implicated in the Podesta emails as well. The Clinton even campaign held an off the record party for the journalists in mainstream media who support their campaign.
Contrary to Clinton cheerleaders who have amended their initial arguments that the WikiLeaks emails are fabricated, and are now trying to ignore them, the revelations from these leaks are concerning to the integrity of democracy in America.
The emails from Podesta reveal a scripted, calculated, and Machiavellian campaign apparatus that circumvents legal loopholes, freedom of the press, and conflicts of interests in the service of Hillary Clinton's political agenda. Clinton partisans can no longer claim that this election was fair, or that the press, or the DNC were unbiased, as they did throughout the Democratic Primaries to Bernie Sanders supporters who suspected the deck was stacked against them the whole time. Turns out the Sanders supporters were right.