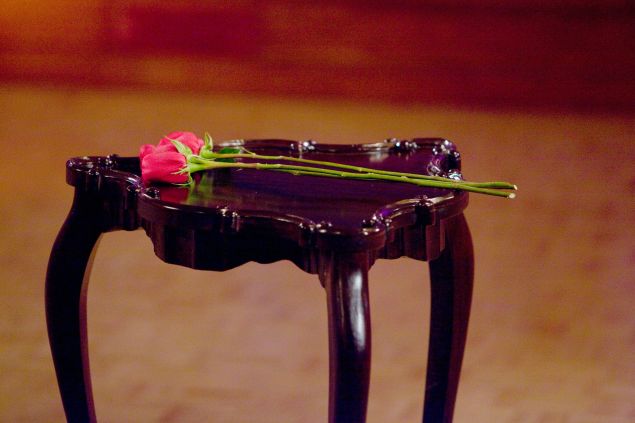 After watching oodles of episodes of The Bachelorette as a married woman, I was bamboozled into believing it's normal to multi-date when you are single. Compulsory, in fact. I decided to re-evaluate my lifelong, monogamous approach.
"I'm glad you're going out with this Coffee Matt guy," said my friend Madge,  excited I had a potential new suitor in the form of the handsome barista who befriended me over my brew.  "Obsessing about Michael (a guy I really liked) isn't going to do you any good, get some other contestants in the mix." It made sense. Every guy I had ever gone out with had a bevy of women to pick from. Technically I wasn't even dating Michael, despite our long friendship and recent hook up. He clearly was not that into me, yet I still chased him.  I changed his name to ASSHOLE in my phone, in all capital letters , so I would know by glancing at my phone that he had finally attempted some sort of communication.
Anyway, I was excited to see Matt, but there's always a downfall to going out with a crush you've had from afar. When you actually get to know them, they forever lose their mysterious elusiveness. You cannot ever get it back. Sometimes it works to your benefit, other times it does not.
Meeting during my lunch break in Union Square, Matt surprised me with a large cup of the cold brew coffee that had changed my life. I was impressed by this thoughtful gesture.
We had lunch at a quaint diner, then spent a nice spring day going to various vintage stores. We got ice cream, and chatted over several cups of coffee. As simple and effortless as this cute first date was, it came off as premeditated. He was almost too confident, or maybe I was was jaded. That it could've easily been a routine "first date" he had done with any girl he had taken out. I enjoyed it, remaining skeptical. He had the undeniable swagger of a player.
He revealed that he left the coffee shop for another job in catering, but he seemed determined to make the best of it so he could focus on his true love of music and creating graphic novels. Nothing intrigued me more than an artistic man with ambition.
"Can I see you again?" He asked, dropping me off at work. I said yes and he pulled me close asking for a kiss. I happily obliged, blushing, bashfully backing away so I wouldn't be late for work. A few hours later he texted and asked me out for the following night.
"I don't mean to be un-gentlemanly, but I'd like to be somewhere where I can kiss you a lot and have it not be obnoxious to other people."
"Since we're both sober we should go to a bar and make out in the back. Everyone there will be drunk, so they won't notice." I replied trying to make things light and funny.   We ultimately decided that he could come over to my apartment to "watch a movie and talk". The real translation of that meaning: No talking, all action.
"You're not going to be watching anything!" Madge told me over the phone as I prepared for my night of supposed Netflix and chilling. "You're going to fuck! Don't even bother picking out a movie." Madge always seemed to be right and gave straight to the point advice. As for my attire for the evening, I turned to my friends on the mass text that kept them informed of my dating escapades.
1."Wear a white tank top, no bra, and sweatpants." suggested one respondent.
2."Wear that, but wear a bra with it so it won't look like you know you're going to get laid." said another.
3."Wear that, no bra and but get the tank top wet so he can see through it."
4."Wear a sundress with no panties."
I greeted Matt at the door, in the end I went for a white tank top, baggy sweats and no bra, trying to look as if I didn't plan my outfit.
"You have a lot of stuff." He said looking around my bedroom, which was a mess. My friends had lovingly nicknamed it "hoarders paradise" mainly filled with things that had yet to be properly unpacked and put in their right places. "Have you thought about organizing this?" he asked.
"Listen I've been back here for less than a month and I work seven days a week. I'm always exhausted." He grabbed me and kissed me. We spent the next several hours doing everything but watching a movie.
I was quiet and embarrassed, almost feeling guilty and ashamed of myself for hooking up with him on what I'm assuming was a second date. I apologized profusely for being nervous. He told me to stop. Both of us being sober, made me even more self-conscious.
Why was it so awkward? I don't know. Even during our marriage I was unsure and found it difficult to navigate things. I was always clueless about who should say what, when.
"You can stay over if you want." I said flippantly to Matt. Pretending to not care what he decided.
"I'll stay." He said. I was actually glad he did.
It's a strange feeling having a new person in bed with you after years of being with the same partner. To him I was probably no different from any girl he had most likely hooked up with the night before, baristas, after all, have a rep. To me though, the situation was awkward and overwhelming. Matt had no problems falling asleep as I laid there trying to process what had happened. My phone buzzed loudly-"ASSHOLE-imessage" appeared on the screen.
"Who's Asshole? Your ex?" Suddenly Matt was awake, peering over my shoulder.
"No, it's some other guy." I said, somewhat annoyed that he was trying to read my texts, but flattered by his curiosity. He laid back down. I opened the message which was a meme of a cat. Again, leaving me annoyed and frustrated."  I changed ASSHOLE to "AMY" in my contacts, feeling a twinge of guilt, even though I had no reason to.
On the Bachelorette, the point is to have multiple contestants, I reasoned, so this hook up was a step in the right direction.   I glanced over at Matt. He looked adorable sleeping but so do lion and tiger cubs. They look incapable of causing any harm, but if woken up, they have the potential for a nasty bite. With my luck, I prayed that it would not be a matter of time until Matt bit me and became "ASSHOLE 2" in my phone.