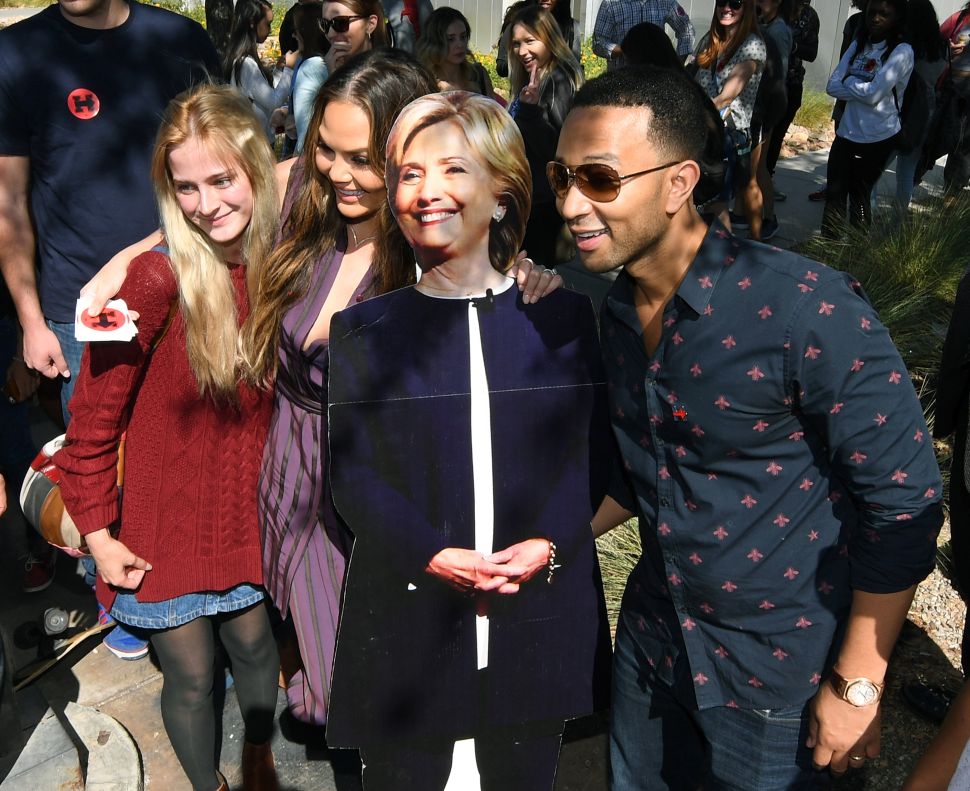 The anonymous hacker organization DC Leaks released a set of emails on October 6 from Hillary Clinton insider Capricia Marshall.
"She worked on the Bill Clinton presidential campaign. In 2000, as the Clinton Administration wound down, Marshall worked on Hillary Clinton's New York Senate campaign, although in its aftermath her name figured in charges of campaign finance violations brought before the Federal Election Commission. Capricia Marshall is increasingly at Clinton's side these days," wrote DC Leaks in its announcement.
One series of emails reveals Clinton Foundation staff discussing setting Clinton up on Late Night with Jimmy Fallon. "The answer we actually need is will she go on Fallon as a guest to get them to do a viral video while there," wrote Craig Minassianto to Terri McCullough via their Clinton Foundation email addresses.
There is also correspondence between Clinton Foundation staff coordinating celebrity and media appearances related to Clinton Foundation publicity. These emails reveal how the Clinton Foundation serves as an apparatus to network and showcase the Clinton brand alongside the top celebrities and TV shows. Staff also express concern that many of the celebrities cited as possibilities to schedule for events, "may not seem legitimate voices."
MSNBC producer Sheara Braun corresponded with Clinton campaign spokesperson Adrienne Elrod in a chain of emails Marshall was cc'ed on from April 2015. There Braun described a segment MSNBC aired every week to target millennials for Clinton. "The point of the segment is basically to inform young people about all of the crap and nonsense that Sec. Clinton and President Clinton (but mostly Sec. Clinton) had to face back in the 90s when President Clinton was running for office…everything from cookie-gate to stand-by-your-man-gate to Hillarycare," wrote Braun. "The point isn't to dwell on the past but the point is to talk about this amazing, intelligent woman who probably faced more nonsense back in the day because she is a woman…and she continues to have to face it. She is smarter than most men and more qualified than most men to be president."
MSNBC's favoritism was already apparent for those paying attention throughout the Democratic primaries, but this set of emails demonstrates a blatant switch from professionalism to dogmatic support for Clinton's candidacy.
"This was not a good interview for her. She admitted some things were not disclosed at Clinton Foundation," wrote Joyce Aboussie in one email to Marshall, regarding a June 2015 interview Clinton did with CNN's Anderson Cooper. In August, the Intercept reported Aboussie set up a meeting between Clinton and executives from coal giant, Peabody Energy.
"Super excited to be Canvassing for H and doing our part to rock SC!," wrote Clinton Foundation executive director Stephanie Street, in an email noting she would be working in South Carolina for Clinton before the state's Democratic primary. As far as ethics are concerned, at the very least, Clinton Foundation staff should have refrained from participating in any Clinton campaign events.
In a chain of emails Marshall was included in, Clinton aide Cheryl Mills and Clinton campaign traveling press secretary Nick Merrill went into damage control over an article published in the Intercept in June 2016, that explained how Clinton used a Leadership PAC as a slush fund in 2008 and 2009. A State Department official who received a press inquiry from the author of the article gave Mills and Merrill a heads-up on the story.
What could be Clinton's new email address was also included in the leak, as first reported by the Daily Caller. An email sent to Marshall and several others from the address hdr29@hrcoffice.com read:
"Dear All–
Now that our No Ceilings roll out has finished, I wanted to thank you, and through you, the entire team that did the work to support us in producing a world class report, plan and event.
I could not be happier or prouder. Please get some rest–you've earned it!
Onward—H"
Marshall was also added on an email from Congresswoman Debbie Dingell asking Clinton staff when she should announce her formal endorsement of Clinton, supporting arguments against superdelegates that say they serve as apparatuses to the presidential campaigns to manufacture consent for a particular candidate. "I keep mouth shut and wait for you all to tell me what you want," she wrote.
Marshall was forwarded an email from Elizabeth Frawley Bagley, senior advisor for secretary's initiatives at the State Department, who wrote a critical email to the priest who invited Sen. Bernie Sanders to visit the Vatican.
The large batch of emails released by DNC leaks exposes the inner workings of the Clinton Campaign, its public relations efforts, and its networking with elite circles around the country. It's one of several releases from DC Leaks in the past few weeks, in addition to the documents released by WikiLeaks and Guccifer 2.0, with more expected in the coming few weeks leading up to election day.
SEE ALSO: EIGHT RULES FOR TRUMP TO WIN THE SECOND PRESIDENTIAL DEBATE