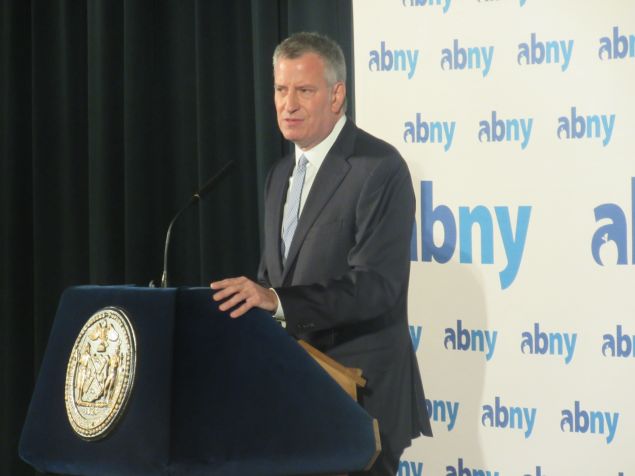 Mayor Bill de Blasio proudly proclaimed that the city has dramatically increased the number of full-time employees, saying that it was "best money spent" to ensure quality education and a safer city.
As of July, the city has 287,002 full-time employees, with thousands more anticipated to add to that number, the New York Times reported Tuesday. And last month, the Wall Street Journal reported that the de Blasio administration hired roughly 16,000 employees and put billions dollars into the city budget in the last two-and-a-half-years.
"We've absolutely increased the amount of public employment," de Blasio said at a breakfast meeting of the Association for a Better New York, a coalition of business interests. "Why? Because we've added pre-K teachers and we're adding single shepherds and other elements, reading specialists, a lot of things you've heard here that we believe are foundational things in our schools."
Government watchdog groups have expressed concerns about ensure the long-term fiscal stability of the city budget and the mayor adding employees who may not be "mission-critical."
The mayor, in increasingly typical fashion, declined to hold a press gaggle for reporters to ask questions following his speech at the event. But one attendee chose to ask during the question-and-answer session what she thought was a slightly off-topic question—and de Blasio responded, "Why not?"
She inquired about the relatively dramatic growth in public employment in the city during his administration and how that could hurt the economic health of the city.
The mayor answered said he understands concerns about making sure that the city is fiscally sound, and reminisced about the financial troubles the city endured during the 1970s and the 1980s. But he maintained that such investments are necessary.
He cited examples such as the addition of 2,000 police officers, which he said would help bolster the neighborhood policing program that Police Commissioner James O'Neill is spearheading and "make us a safer city" and the Home-Stat program, a homelessness outreach program. He noted that the investments will also help schools do better.
"Part of my job is to make sure we not only have the workforce of today but the workforce of tomorrow and that we are competitive in the world in the long-term," de Blasio continued. "Our school system wasn't getting close to achieving that goal. So these investments in schools are necessary. We don't know another way to achieve it that doesn't involve adding accounts, spending money. We believe it was some of the best money spent."
The mayor used his speech at ABNY to promote his Equity and Excellence for All initiative, which he said has a three-pronged approach: an emphasis on early childhood education in the form of the universal prekindergarten program, increased professional development for teachers and the proliferation of reading specialists in schools.
He noted that this morning, 71,000 children were attending full-day pre-kindergarten, that violence in city schools has decreased by 35 percent over the last five years and that 115,000 middle school students attend after-school programs. He also made sure to promote his Computer Science for All initiative, which Comptroller Scott Stringer blasted as not moving fast enough at his ABNY breakfast speech last month.
He also defended his administration's choice to put less emphasis on high-stakes testing, saying that standardized testing should only be one version of assessment and remarking that his administration stopped giving letter grades to schools "'cause we thought it was creating a very negative metrical culture."
And while he did not directly mention charter schools during his speech—strange perhaps, considering so many ABNY members have backed the publicly funded, privately run institutions—an attendee asked him about how the city is working with charters.
He stressed that charter schools have expressed interest in the city's pre-K program and that charter schools appreciate the fact that they can learn from traditional public schools. He also said City Schools Chancellor Carmen Fariña has sought partnerships with charter schools.
But the ABNY breakfast was not without drama. Roughly 100 officers, along with Patrolmen's Benevolent Association President Patrick Lynch outside against de Blasio ahead of his speech. At issue was the one percent increase in cop salaries in their two-year retroactive contract, which covers a period during the Bloomberg administration when the then-mayor refused to negotiate with public sector unions.
An arbiter of the state Public Employees Relations Board set in mediating a contract dispute between the rank-and-file police and the city. The matter went before PERB after Lynch rejected de Blasio's offer of a longer contract along the same lines that the mayor has granted other municipal workers: a contract that would include small or nonexistent backdated pay bumps for the Bloomberg years.
"We want to focus him on the fact that the reason real estate is booming in this city, the reason tax dollars are coming in and people feel safe is because of the women and men of the New York City Police Department, and they deserve to share in that prosperity," Lynch told the Observer. "He refuses to negotiate a contract that does not contain zeros."
The administration would only again extend its offer of the existing pattern.
"Our door has always been—and continues to be—open to the PBA to negotiate a long-term contract, as we've done with nearly the entire city workforce to date," said spokesman Austin Finan.
Updated to include comment from Finan.