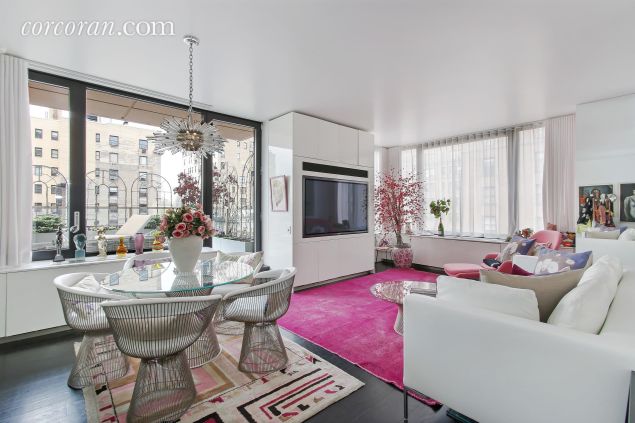 Sadly for pink-loving fashion designer Betsey Johnson, it is not yet time for her signature split at the end of the show.
Of course, this time we're referring to her still-unsold Upper East Side condo, and not the finale of one of her fashion shows in which she is known to do an aforementioned split after the final number.
And for some reason, Johnson seems to really want to part ways with the one-bedroom, two-bathroom apartment at 30 East 85th Street, which she put on the market in May for $2.25 million.
Sure, it's only been a few months, but Johnson is already offering the 850-square-foot pad at quite the discount—it's now asking just $1.795 million, which is less than the $1.85 million the fashion designer paid for the condo back in 2008.
Sure, it's not the most neutral of uptown abodes—there's a signature pink carpet in the living room, as well as a pink chaise and an abundance of modern light fixtures. But really, it's nothing compared to her rather over-the-top apartment at 45 Fifth Avenue, which she parted ways with in 2008 for $3.6 million. In fact, it's quite toned down–perhaps even, dare we say, understated?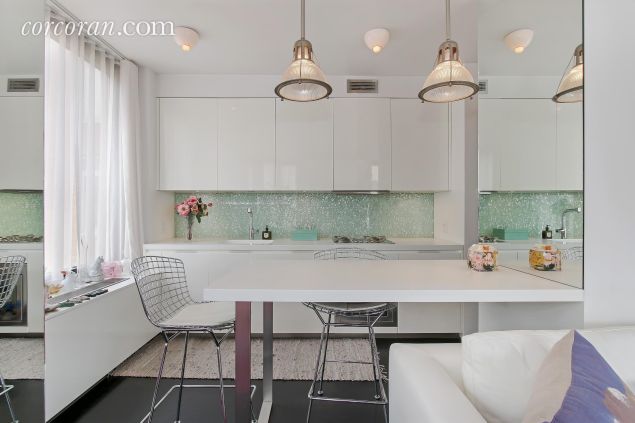 Still, it seems that no one is taking the bait for the apartment, despite its hardwood floors, open kitchen, and marble baths. There's even a 300-square-foot terrace, per the listing shared by Corcoran brokers Beth and Sammy Benalloul.
Perhaps the décor is simply too much for neighborhood denizens—after all, beige may reign supreme when it comes to the Upper East Side.
As for the price cut, maybe Johnson is just really in a hurry to get over to the West Coast—she's said she prefers California as of late, particularly with her children and grandchildren living there, and simply can't get enough of Malibu. Oh, and she has her Mexico property, which is aptly named "Betseyville."