During a loopy defense of the Donald Trump sex scandal Sunday, Rep. Renee Ellmers told CNN's Jake Tapper "We're accusing a man of sexual assaults here. And I'm not going to debate who's telling the truth. But it is a 'She said, he said' situation. What I will say is—"
Tapper cut her off right there.
"Just to correct you," Tapper said, "it's a 'She said, she said, she said, she said, she said, she said, she said, she said, she said' situation."
Tapper, host of State of the Union, was counting the nine women (so far) who have come forward to say Donald Trump sexually assaulted them, just the way he bragged about it when he didn't know he was speaking into an open microphone in 2005.
On the Access Hollywood recording, Tump boasted to host Billy Bush of his serial sexual predation. The tape was posted online a week ago last Friday by The Washington Post.
Two days later, in the second presidential debate against Hillary Clinton, Trump—when asked for the third time about it—denied acting on his own words, dismissing it as "locker-room talk" but no action.
On tape, Trump had bragged that he likes to kiss women and "I grab them by the pussy" even if he has never been introduced to them.
It's easy, Trump explained, because he is rich and famous.
One of his nine alleged victims said "He touched my vagina through my underwear" after Trump ran his hand up her skirt in a New York nightclub.
Rep. Ellmers didn't wish to dwell upon such things.
"Let's talk about the real issues moving forward," Rep. Ellmers said. "Let's move on."
As most of the Sunday shows explained, it's hard to move on when Trump, the Republican candidate, insists on attacking his accusers—some of them for their looks, as if to imply "She's not worth raping."
Trump calls all of them liars and tells his rowdy mobs that Clinton belongs in jail and that the election is rigged and that the nation will be forever damaged if he loses this contest for the White House.
One of the hardcore holdouts to publicly defend the toxic Trump is Rudy Giuliani, the former authoritarian mayor of New York, who sparred with Tapper at length on Sunday.
TAPPER: "Mr. Mayor, do you believe every one of these women is lying?"
GIULIANI: "No. I believe my friend, Donald Trump, when he tells me he didn't do it."
Like most of Trump's dwindling GOP supporters, Giuliani tried to change the subject. He suggested election fraud is possible on Nov. 8 because Democrats always cheat in big cities like Chicago and Philadelphia that are full of Democrats and black people.
"Dead people generally vote for Democrats rather than Republicans," Giuliani said. "They leave dead people on the rolls and then they pay people to vote for those dead people."
Speaking of the American people in general, Giuliani said "We do cheat! We have people who cheat in elections. I've found very few situations where Republicans cheat. Maybe if Republicans controlled the inner cities, they'd do as much cheating as Democrats."
Speaking of Democrats and on behalf of them, one of Tapper's guests was Paul Begala, a veteran operative who praised the denunciation of Trump last week by first lady Michelle Obama.
Without naming the large, loud, orange-headed demagogue, she condemned Trump by comparing him to the kind of creeps who shout lewd things at women on the street and stands too close to them in the office and stares at their bodies a little too long.
Ms. Obama's speech—carried everywhere but Fox News Channel—blasted not only Trump but the ingrained sexism that allows so many men to treat women as less than equal.
"Michelle Obama's speech will be one of the things people study 100 years from now," Begala said. "It was that powerful."
In that Trump was not available for Sunday show interviews, Tapper sprinkled his hour with recorded Trump statements from recent days.
"These claims are all fabrication," Trump said of his sex scandal. "They're pure fiction and they're outright lies . . . The election is rigged, rigged like you've never seen before . . . We have only the illusion of democracy but are, in fact, controlled by a handful of global special interests rigging the system and our system is rigged . . . . When you looked at that horrible woman last night, right. You said 'I don't think so.' She would not be my first choice. That I can tell you. You don't know. That would not be my first choice . . . The election of Hillary Clinton would lead to the destruction of our country."
MEET THE PRESS One of Chuck Todd's best guests on NBC was Vice President Joe Biden, who called Trump's claims about women "a textbook definition of sexual assault."
Biden said Trump's attitude is "I live in the penthouse. I'm a billionaire. I'm a star. And I can do what I want . . . This is not a guy who should be representing the United States in any way . . . This guy has acknowledged that he has been a sexual predator."
In that U.S. intelligence agencies said Russian hackers are aiding Trump by leaking Democratic campaign emails to WikiLeaks, Todd asked Biden if there would be retaliation against Russian President Vladimir Putin, a favorite of Trump.
Todd asked Biden if the U.S. would throw Putin "a high, hard one," in the baseball metaphor of a brushback pitch.
Biden smiled slowly and chose his words carefully.
"We're sending a message," he said. "We have the capacity to do it. He'll know it. It will be at the time of our choosing and under circumstances that have the greatest impact."
Also visiting Todd was Indiana Gov. Mike Pence, the Republican candidate for vice president. Todd asked Pence why he no longer calls Trump "this good man."
Pence insisted that he still does. In that American intelligence is sure Putin's Russia is hacking the Democrats, Todd asked Pence why Trump refuses to believe it.
When Pence changed the subject, Todd said: "Governor, governor, governor, governor. You're not answering this question. Why doesn't your running mate believe what you believe about a foreign government in Russia trying to hack into American democracy?"
Pence is one of those self-righteous Midwestern Republicans who puff themselves up with sanctimonious claims about religion and family values and low taxes and small businesses who would thrive under less regulation and almost never about grabbing women by the pussy, as Trump does.
So Todd showed Pence a tweet from Bill Kristol, a Trump-hating conservative.
"Given that he's now been utterly humiliated by the Trump campaign," Kristol wrote, "does Mike Pence have the self-respect to resign from the ticket?"
'He sort of threw the gauntlet down to say 'Are there any people out there who've been assaulted by me?' And, lo and behold, the floodgates opened.'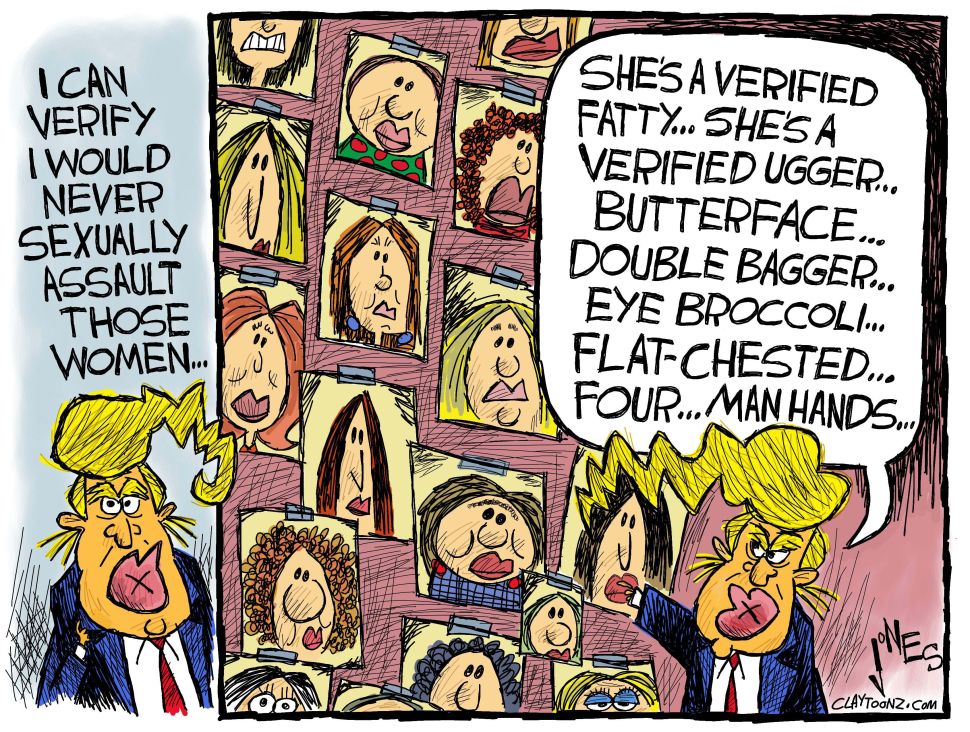 FOX NEWS SUNDAY Host Bret Baier subbed for Chris Wallace, who will moderate the third and final debate Wednesday night.
The show opened with tape of Trump bellowing about Clinton "She should be locked up! She should be locked up!"
Trump demanded prison for his opponent because of irregularities with her email server when she was secretary of state under President Obama. The FBI investigated but did not push for criminal charges.
Both vice-presidential candidates stopped by as they made the rounds on most of the shows. They weren't as outspoken as the pundit panel, which included Monica Crowley, a right-winger who used to work for former President Richard Nixon.
Naturally, she tried to get away from talking about Trump's sex scandal.
"He's got the majority of voters with him on the core issues," she said, naming Islamic terrorism and Mexicans among those issues.
Crowley said Trump could win the next debate and turn around his flailing campaign against Clinton if he would "put her on the defensive. If he's able to reset the campaign by laying out his positive agenda and then putting her on the defensive, he has a fighting chance."
Fox made its own Wallace its "Power Player of the Week" and showed a tape of Wallace talking to Trump in 1988 for NBC. On it, Wallace asked Trump if he might once day run for the White House.
"I think I'd have a very good chance," said a much younger, much lighter, less orange Trump. "I mean, I like to win."
MEDIA BUZZ The Howard Kurtz hour on Fox included Heidi Przbyla of USA Today who said of the Trump sex scandal: "The accounts of these women almost hauntingly match what Donald Trump said he himself does to women. And, also, the sheer volume of the women who are now coming out."
Fellow conservative Guy Benson knocked down the specious argument of Trump defenders about why these women took so long to accuse Trump.
"He denied it in front of 70-plus million people," Benson said. "So I can understand why some women watching that might say 'Wait! That's a lie. He did do this to me.'"
Krystal Ball, the show's token liberal, was allowed to respond to the knee-jerk complaint from the Trump campaign that the media didn't thoroughly cover or believe the stories of sexual aggression about former President Bill Clinton, husband of Hillary, several decades ago.
"That was extensively covered in the '90s," Ball said. "And the news media typically covers what's new. And there have been stories, by the way—large stories in The Washington Post and The New York Times—going back over those allegations."
Kurtz refused to give on the "curious timing" of the Trump sex scandal. Why, he asked documentarian Mark McKinnon, did these women wait until the month before the election?
"They were inspired to do this when Donald Trump went on television in the debate and said 'No,' that he had never actually physically assaulted anybody," McKinnon said. "And they're sitting there watching, saying 'Well, now, wait a minute. I was!'"
RELIABLE SOURCES Brian Stelter on CNN interviewed three authors who have written books about Trump. One was Timothy O'Brien, who said of Trump "He sort of threw the gauntlet down to say 'Are there any people out there who've been assaulted by me?' And, lo and behold, the floodgates opened."
He compared the Trump sex scandal to similar revelations about Bill Cosby, the actor and comedian, and Roger Ailes, the disgraced Trump pal who was forced to leave the leadership of Fox News after lawsuits and other allegations about his alleged sexual harassment of his female employees.
Stelter noted how Trump's McCarthyesque accusations grew more shrill during the week.
"What he said on Thursday—talking about the banks and corporations and globalists—it came off awfully close to anti-Semitic language," Stelter said.
The recently hired chief executive officer of the Trump campaign is Steve Bannon, on leave from the right-wing (alt-right) website Breitbart. Bannon has reportedly made hostile remarks about Jews. Trump listens to him, reports say, even more than Ailes and Kellyanne Conway herself.
David Frum, one of those conservatives with a clear-eyed perspective, said of the Trump sex scandal: "If his claim is that people are inventing these terrible stories about him, the stories are all verified and agreed and approved and endorsed and proven by his own words and face."
Stelter turned the conversation to the "conservative media crackup" caused by Trump and Frum said Fox and other propaganda outfits are "main-lining fantasy into the conservative bloodstream."
Then he quoted himself from 2010.
"We began by thinking that Fox worked for us," Frum said. "And then we discovered that we all work for Fox."
Kathleen Sullivan of The Washington Post told Stelter "The difference between Breitbart and the Trump campaign is virtually nothing."
They agreed that a lot remains unexplained regarding the release of the Access Hollywood tape. NBC had it because it carried the show; but "they were sitting on a huge story," Sullivan said.
THIS WEEK Martha Raddatz subbed for George Stephanopoulos and began with "It has come to this: The Republican nominee for President of the United States flat out says at rally after rally that the election can't be trusted and that Hillary Clinton belongs in jail."
After a clip from Michelle Obama's takedown, there came a clip of Trump playing the victim.
"These false attacks," he said. "To be lied about. To be slandered. To be smeared so publically."
Kaine told Raddatz that Trump is "making weird claims that, no, I couldn't've assaulted this person. She's not attractive enough to assault. How bizarre is that? He is swinging at every phantom of his imagination because he knows he is losing. This is what bullies do."
Speaking for the Republican side was Newt Gingrich (R-Fox), who changed the subject to how Democrats always steal elections in big cities like Philadelphia, St. Louis and Chicago where, you know,  . . . . they live.
"I remember when Richard Nixon had the election stolen in 1960," Gingrich said, insisting that both Illinois and Texas were stolen by Democrats and that John F. Kennedy did not deserve to be elected.
Pressed on Trump's menacing words about the election being rigged, Gingrich tried to soften them, insisting Trump means only that the news media is rigging it for Clinton, not the whole government.
Raddatz showed a Boston Globe headline that said "Trump supporters talk rebellion, assassination, at his rallies." Raddatz segued to an interview on video from a Trump rally.
"If I have to be a patriot, I will," the man said.
The interviewer replied: "It sounds like you're saying that it would be acceptable to assassinate a president."
The Trump fan said: "If she's corrupt, why should she be able to stay in office?"
Gingrich did oppose one part of the Trump tirades: His attacks on the women who said he groped them.
RADDATZ: "Is that appropriate?"
GINGRICH: "I think it's stupid."
This was the only major show to delve into the next big story from the Middle East: The attempt by Iraq forces and U.S. allies to take back the city of Mosul from ISIS in Iraq.
Retired General David Petraeus—who also headed the CIA—predicted vicious urban fighting.
"There will be a ring of fire," Petraeus said. "There will be tunnels. There will be bombers with improvised explosive devices. But, at the end of the day, the Iraqi forces, with our assistance, are going to prevail.
"There's no question the Islamic State fighters in Mosul are dead men walking and I think they increasingly know it. They're even trying to desert and they're being executed."
FACE THE NATION The holy man Pence spoke with John Dickerson of CBS and told him Trump's sex scandal is nothing compared to Bill Clinton's fling with Monica Lewinsky.
"The most appalling behavior by an American president in the history of this country," said Pence, who apparently was at Sunday School during the Watergate scandal that forced President Nixon to resign.
Pence should ask Bob Woodward, a Dickerson panelist, who "rah-pore-did" it back in the 1970s.
Pence made one slight error. He referred to something called "the Democrat Party." As he no doubt knows, the party is called "the Democratic Party" and sneaky choir boys like Pence should stop pronouncing it with disrespect.
One of Dickerson's press pundits was Maureen Dowd of The New York Times who said of Trump "There's no logic in TrumpWorld. He lives in his own alternative universe."
Disclosure: Donald Trump is the father-in-law of Jared Kushner, the publisher of Observer Media.