FAIR LAWN – After 2005 footage surfaced last week of Republican presidential nominee Donald Trump making comments deemed by the White House to constitute sexual assault of women, New Jersey's congressman from the fifth district—Republican Scott Garrett—proclaimed that he was denouncing those statements and felt that Vice Presidential nominee Mike Pence was the best candidate for the Republican Party. On Tuesday, Garrett's campaign said that despite his disagreement with Trump's statements in the leaked video footage, the congressman will still vote Trump for president if he is the party's official nominee come Election Day.
Garrett's statement followed an inquiry by Observer after a Tuesday conversation with challenger Josh Gottheimer where the Democratic candidate said he felt Garrett's denouncing of Trump was part of an effort to "distance himself" from his voting record in congress, particularly on women's issues.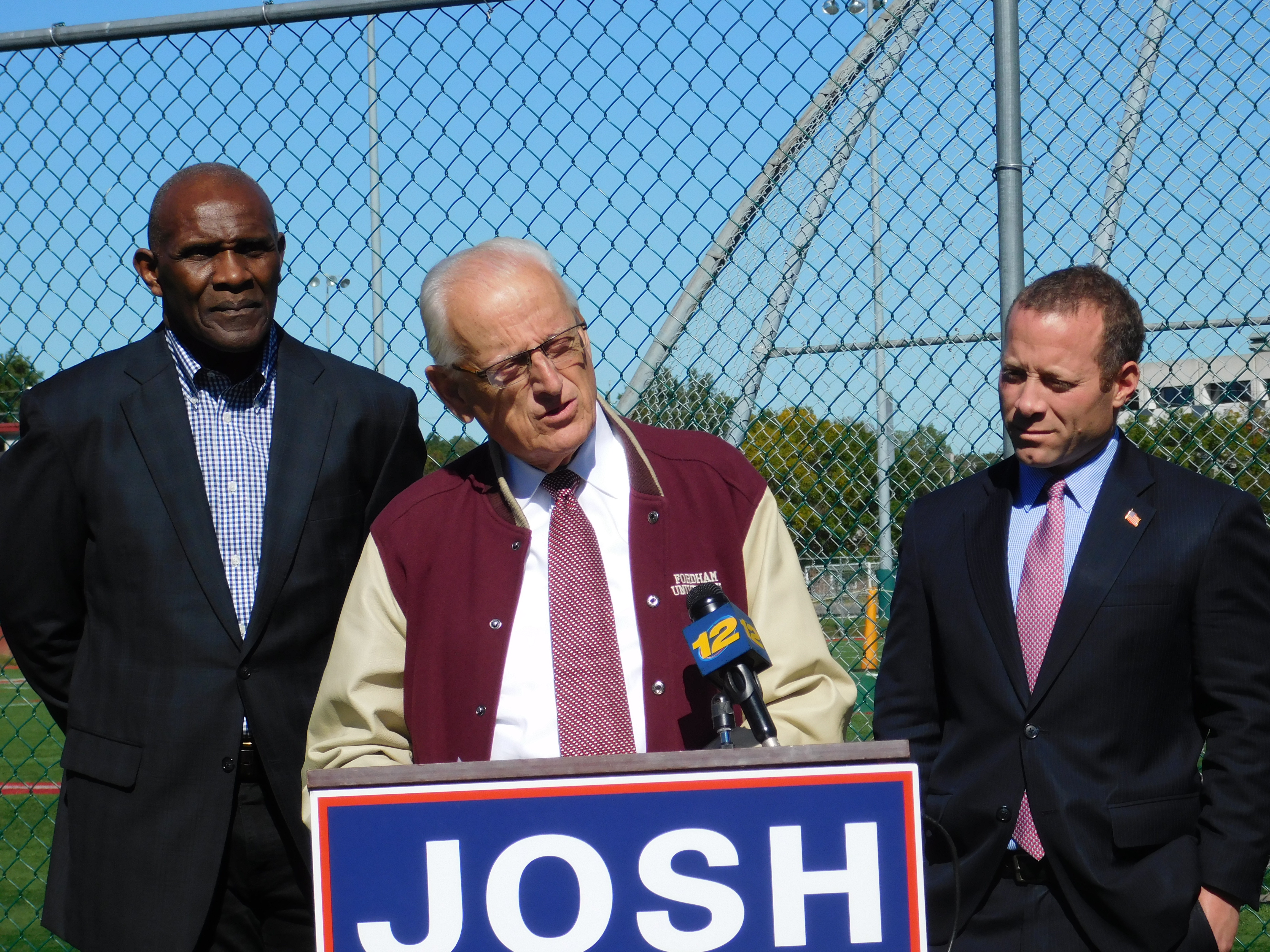 When questioned about Gottheimer's comments, Garrett campaign manager Sarah Neibart issued the following statement: "It's not surprising that Josh Gottheimer continues to lie to the people of New Jersey and the media. The truth is Scott Garrett's position has been consistent from the beginning. On Saturday, he denounced Donald Trump's reprehensible comments and said he believes in Mike Pence. He has always believed that [Democratic nominee] Hillary Clinton is not the candidate whose leadership and policies are right for America. Donald Trump remains the nominee of the Republican Party, and Rep. Garrett has always said he will vote for the Republican Party nominee. Scott Garrett's top priority in this election is stopping the Clinton-Gottheimer agenda of higher taxes, more wasteful spending, and weak national security policy."
While New Jersey's district five has always leaned Republican and Garrett has held office for 13 years, this year the Democratic Congressional Campaign Committee (DCCC) has poured significant effort into unseating the incumbent Republican. Gottheimer has raised more funds than Garrett and said that he feels voters are "looking for a more moderate approach."
"We know where Trump has been and we know where Garrett has been. Nothing has changed other than the fact that [Garrett] knows he is in trouble so it is an act of simple desperation," Gottheimer said on Tuesday. "I don't know what he is trying to do. He seems to be all over the map trying to find his footing. But, you can't find your footing. His record is his record is his record. I think it was Reagan than said 'Facts are stubborn things.' It is what it is and I think people are realizing the facts."
According to Ben Dworkin, Director of Rider University's Rebovich Institute for New Jersey Politics, Garrett's move to denounce Trump's words  likely comes as an attempt for the conservative congressman to maintain his  voter base rather than attempt to capture moderates who may be swayed to vote Gottheimer. In September, a report from Buzzfeed claimed that Garrett acknowledged that "moderates aren't going to vote for" him.
"It is significant but it is not uncommon," Dworkin said of Garrett's recent denouncing of Trump. "[House] Speaker Paul Ryan has all but told the Republican members of the House to do what they have to do in order to win. If that means separating yourself from your party's presidential nominee then do it. The videotape that was released this past Friday has engendered anger and disappointment from conservative Republicans as well as moderates. I don't think Garrett distancing himself from Trump is necessarily a play for the moderates, it might be to keep his conservatives."
According to Montclair University political scientist Brigid Harrison both Garrett's distancing himself from Trump and the congressman's advertising in the district points to uncertainty for the November election.
"There is a level of concern in this election that we haven't seen in his past re-election bids. It is often viewed as a competitive district and  he has attracted strong challengers but this year feels much different. This has to do with the quality of Gottheimer's challenge," said Harrison, citing resources and funding from the DCCC. She also said that Garrett disavowing Trump's statements may be an appeal to Republican women voters. Harrison said that, in general, there has been a "gender gap" between Garrett and Gottheimer with women leaning more toward the Democrat.
Recent polling has shown that district five is likely to be competitive. Last month, polls showed Garrett barely ahead while a poll conducted last week by the House Majority PAC put Gottheimer at 48 percent among likely voters and Garrett at 41 percent. The Cook Political report also announced that the race was a "toss up." The Wall Street Journal reported on Monday that Meg Whitman,  former Hewlett-Packard executive, former national chair of the New Jersey Governor Chris Christie presidential campaign and former Republican nominee for governor of California endorsed Gottheimer. However, past challenges to Garrett have always failed despite significant buzz in the past.
The congressional district five election will be held on November 8.
Disclosure: Donald Trump is the father-in-law of Jared Kushner, the publisher of Observer Media.