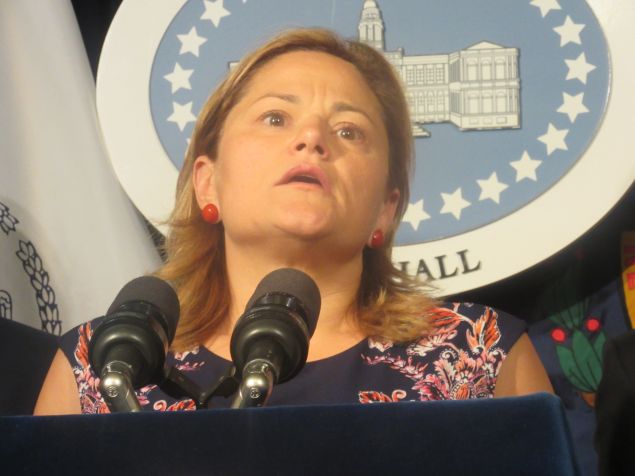 City Council Speaker Melissa Mark-Viverito said recently leaked footage of Republican presidential nominee Donald Trump boasting about how his fame enabled him to sexually assault women reopened old wounds for her—and today she called upon Republican lawmakers to break with their party's standard bearer.
Yesterday night, Mark-Viverito disclosed a previously unknown history of childhood molestation on her Twitter account.
She told reporters today, at a press conference before a stated meeting of the Council, that she was not able to come to terms with the experience until she was in her 20s. When a reporter asked her what responsibility pro-Trump New York elected officials bear, the speaker Mark-Viverito said elected officials must either blankly condemn or endorse the GOP nominee's behavior.
"There has to be, yes, a public accounting of where do you stand. Those that have expressed some sort of public support of Trump, where do you stand right now today? Yes, I think people have a, they have a responsibility to make their positions extremely clear," she said, alluding to recent reports that the Queens-born businessman groped numerous women.  "What we're hearing and what keeps adding to the list every day is more horrific."
"I have seen the headlines, so to speak, just know in broad strokes that other women are coming out and talking about personal experiences that they had with him," she continued.
Republican Staten Island Councilmen Joseph Borelli and Steven Matteo are the only members of the Council supporting Trump. Both have criticized his remarks in the 11-year-old video footage, but maintained their endorsements—though Matteo, the Council minority leader, has framed it mainly as a matter of party loyalty. Staten Island Congressman Daniel Donovan, another Republican, has made similar comments.
Mark-Viverito said she would have a hard time being around individuals who support Trump because an endorsement of Trump translates into condoning his behavior. She said was motivated to reveal her experience given the combination of her platform, which she said provides a level of visibility and the "violent political climate we find ourselves in" at the moment. She said she has been "getting a lot of positive support" since she made the revelation.
"When you have an environment and a climate where you have a, really what triggered it for me was last Friday when we heard about the tape," Mark-Viverito said. "When you have an individual who is boasting about violating and taking from women something without their consent, I just couldn't anymore. And to have someone laughing and gloating it and enabling it is just, it was very painful for me and triggered things that I haven't felt in a long time."
This isn't the first time Mark-Viverito has attacked Trump. The Puerto Rican-born lawmaker has repeatedly called him a "racist" and, in July, she commissioned an analysis of how much his plans to deport undocumented immigrants and Muslims would cost the city, which arrived at the figure of roughly $800 million.
At an unrelated press conference this afternoon, Mayor Bill de Blasio said he spoke with Mark-Viverito this morning and that he was proud of her for speaking up, calling it "very gutsy and honorable and painful."
"It's not easy to talk about, I'm sure, but you know, I really admire her for doing it," de Blasio said. "I admire all women who are coming forward now because of the scandal."
"For Melissa, I just wanna say, I offered her my empathy for what she went through but my appreciation that she was willing to take that and try to turn it into something positive," de Blasio continued.
Disclosure: Donald Trump is the father-in-law of Jared Kushner, the publisher of Observer Media.