No artist sets out on a career with the idea of painting homeowners' pets. But some who come to it embrace it, to say the least.
Kate Hyland of Windsor, Ill. said it started with a friend who "knew [she] liked to draw." The friend asked her for a drawing of her horse. "Everyone went crazy over it," Hyland said. "Then, someone who had a dog asked me to draw his dog, and people liked that, too. Then, everyone who had a dog asked me to draw it."
Hyland had studied art a little bit in college but, at the time, was working at a factory. "My husband and I sat down one day and realized I could make money from this." And so she quit the factory and began her career as a pet portraitist, busiest just before Christmas but with work to do throughout the year.
Many other artists have also tapped into this niche area of the art world, due to the seemingly insatiable desire of pet owners to honor or memorialize pets with a drawing, painting or sculpture.
"Their animals are their children, and there are millions of people who feel that way," said Ellen Silverberg, an East Hampton, N.Y. transplant to Oakland Park, Fla., who has been painting dogs ("I've also done guinea pigs, birds, cats, I did one horse") for decades. "I never … wonder why [people] spend so much on a pet. It just seems so obvious and natural to the people I deal with."
Similarly, a Los Angeles painter, Roger Henry, who had worked in the film and television industry, discovered this reservoir of feeling that people have for their pets when he was assistant to director Gus van Sant on the 1993 film Even Cowgirls Get the Blues. The film's director, accountant and wardrobe director all met in Henry's office one day to look at something pertaining to the movie but were all taken by a painting Henry had made of his dog, Aubrey. As it happened—this is Hollywood, remember—all three had brought their dogs to work with them. "They saw my painting, admired it and each one said, 'Will you do a painting of my dog?'" he said. "It just snowballed from there."
This is real art, but art that is more often found in some horse or dog owner's den than in an art gallery or museum. That is not to say no art galleries or museums display pet portraiture. Perhaps the largest gallery of this type is the Dog & Horse Fine Art & Portraiture gallery in Charleston, South Carolina, and the American Kennel Club in St. Louis operates a Museum of the Dog that boasts a collection of over "700 original paintings, drawings, watercolors, prints, sculptures, bronzes, and porcelain figurines, and a variety of decorative arts objects depicting man's best friend throughout the ages."
If you happen to be in Charleston this November, Dog & Horse will be exhibiting acrylic paintings of English setters, foxhounds, Jack Russell terriers and poodles by British artist Ian Mason ("The Essential Dog," November 4-December 3). In art school, Mason stated that he was "mainly interested in minimalism and conceptual art," as well as "installation art, Ready-mades and the appropriation of objects," but life seemed to have intervened and he found his way to "a return to drawing and painting. I then began exploring potential subjects and became intrigued with the image of dogs." He did note that his current work represents "a contemporary interpretation of the traditional dog portrait."
Pet portraiture is a subset of the larger portraiture industry. We more quickly associate portraiture with humans, mostly older males dressed in dark suits painted with dark backgrounds. Those men tend to be university presidents, corporation founders and presidents, U.S. presidents and state governors, federal agency secretaries, law firm senior partners, Supreme Court judges and hospital benefactors, whose retirements are celebrated by stately dinners and the commissioning of a portrait, which will hang next to those of their predecessors. Take a walk down the long Cross Hall in the White House to see portraits of all the presidents before Barack Obama (his will be painted after he leaves office) or, if you don't want to travel that far, to the Harvard Club on West 44th Street in Manhattan, where the walls are filled with portraits of Harvard University presidents.
"Many of the portrait commissions we receive are for important people," said Beverly B. McNeil, one of the three co-owners of Portraits, Inc., which has showrooms in New York City, North Carolina and Alabama, "but we commission quite a lot of pets." Of the 175 portraitists that Portraits, Inc. represents, McNeil noted, five or six specialize in animals, although many of the others will include a pet, when it is a parent commissioning a portrait of a child or whole family.
That requires versatility on the part of the artist, if for no other reason than the fact that an animal's anatomy is quite different than that of a human. "I would be comfortable painting an animal," said Daniel Greene, an artist in North Salem, New York, who has done portraits of numerous luminaries in business, government, the arts and the military and teaches workshops for wannabe portraitists. "Years ago, I had cats and did a number of pastels of them, so when I was commissioned to do a portrait of a young girl holding a cat I felt pretty confident doing it." Otherwise, he directs prospective clients to other portrait artists who more regularly paint pets.
"There are families and people who love their pets," McNeil said, adding that some portraits are of "pets that have passed away, and the portrait is a kind of remembrance." Dogs are the largest subject of petportraiture, followed by horses, while cats are a distant third.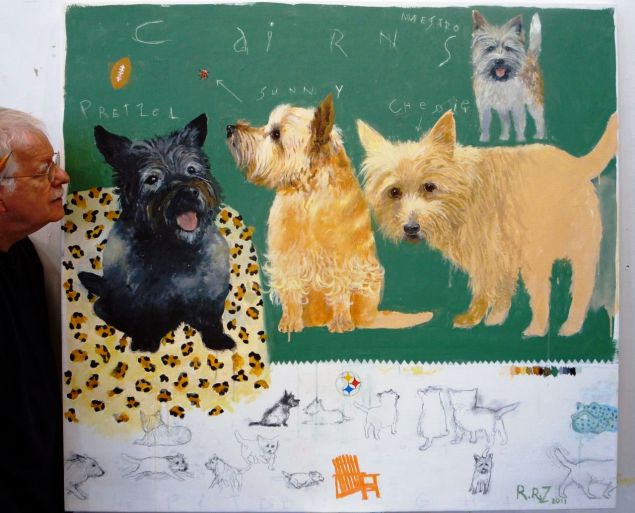 The price of portrait commissions of humans generally at Portraits, Inc. runs between $5,000 and $100,000, "and it can be higher if more than one person is in it," while pet portraits run in the $3,000-8,000 range. The cost spread gets wider still for those commissioning a pet portrait through Dog & Horse Fine Art & Portraiture gallery, which represents "more than 30 artists across the United States and Europe," according to gallery director Dama Gerald. Prices range from $300 for a 5" x 7" oil study to $80,000 for a large-scale painting by one of their better-known artists (no, you haven't heard of them).
The costs may go higher if the artist needs to travel to sketch or take photographs of the pet in question, although pet portraitists largely rely on photographs taken by owners that are sent to the artists. Especially if the animal has passed away.
Gerald stated that her gallery is unique for the variety of artistic styles employed by the artists it represents. "It's not just realistic representational, although there is that. We also have more modern/ abstract, or looser and painterly." Dogs and horses are the principal pets being commemorated, but orders for birds and cats have come in. "Someone once painted a lizard, and we had a painting with a frog in it."
Most pet portraitists do not work through a gallery but rely on word-of-mouth and Web site searches, and not all of those who commission animal portraits are private pet owners. Many of the commissions fordog portraits that come to Lena Toritch, a sculptor in Salt Lake City, Utah, are from police and fire departments or military regiments with canine units. For instance, outside the Canton, Ohio police station is her lifesize bronze of "Jethro," and the federal Department of Justice's Bureau of Alcohol, Tobacco, Firearms and Explosive has her bronze of "Nash," who was shot to death while pursuing armed robbery suspects. The Marine Corps' Camp Lejune in Jacksonville, North Carolina, and the Airborne & Special Operations Museum in Fayetteville, North Carolina, also have her work sited on their grounds. However, most of her clients are homeowners who just want to remember their pets fondly. "People call me the dog queen," she said.
While two-dimensional images of pets tend to take between a few weeks and a few months, the creation of a bronze usually is a longer process, often requiring six months or longer, and Toritch's average price is $15,000—considerably more than Kate Hyland's $160-250, Ellen Silverberg's $500-3,500 and Marty Whaley Adams' $250-5,000 price ranges.
There is anxiety inherent in every type of art. Fine artists produce works that they hope other people will appreciate or just consider art (critic Harold Rosenberg referred to the "anxious object" in this context), while graffiti artists create images that they want viewers to see as something other than more urban blight. Portrait painters of people may give themselves a certain artistic license through interpreting their subjects (Simmie Knox's portrait of Supreme Court Justice Thurgood Marshall, for instance, shows him smiling, which he rarely did in any photograph), but pet portraitists simply have to get it exactly right. That's why the photographs that portraitists use need to show every spot, how the ears stand up, how the animal cocks its head, if one leg is shorter than another.
"Cats kind of look alike, but they have a certain spot that you have to get just so," Gerald said. The worst, she claimed, are "designer dogs," such as Labradoodles, which can cause endless headaches with their mixed features. Still, one of the gallery's most sought-after portraitists, Marty Whaley Adams, who lives in Charleston, likes mixed breeds, such as a part-Labrador part-Weimaraner. "The differences make it interesting for me," she said. "My favorite dogs are not pure breeds but rescue dogs."