When Downtown L.A.'s most talented and prolific chef says he's focusing on vegetables, you pay attention.
Josef Centeno, after all, is the man who put Caesar brussel sprouts, roasted Japanese eggplant and a sugar-snap pea and pear salad on the menu at his game-changing Bäco Mercat, which celebrates produce as much as the chef's gyro/pizza/sandwich/taco hybrid bäcos. "These are the sexiest vegetables I've ever had," my wife said after we visited Bäco Mercat for the first time in 2012, and I haven't since found a better way to describe what it's like to eat Centeno's food.
Now at his new P.Y.T., the chef is making his intentions clear: This is a restaurant where, as Centeno wrote in an email announcing the opening, he will "further explore cooking mainly with plants as the featured ingredient. . . . I love the flavors of vegetables, fruits and herbs, and the way that they take to other flavors. I think they invite a lot of experimentation in a way that big cuts of meat might not."
Centeno isn't exactly a chef who feels strongly about boundaries, so he is serving a little meat at P.Y.T, and there was the option of adding uni to any dish on the night we visited. But produce-forward is the point here. Centeno shows his mastery of marrying sweet and savory and different textures in dishes like a melon salad with coffee cake persimmon, figs, rye crumbs, Reed avocado, buttermilk and strawberry guava. A LALA Farm salad with gorgeous San Marzano tomatoes is dressed with a chocolate-mint vinaigrette.
That's the beauty of Centeno's worldview and L.A.'s dining scene. Nobody has to be just one thing.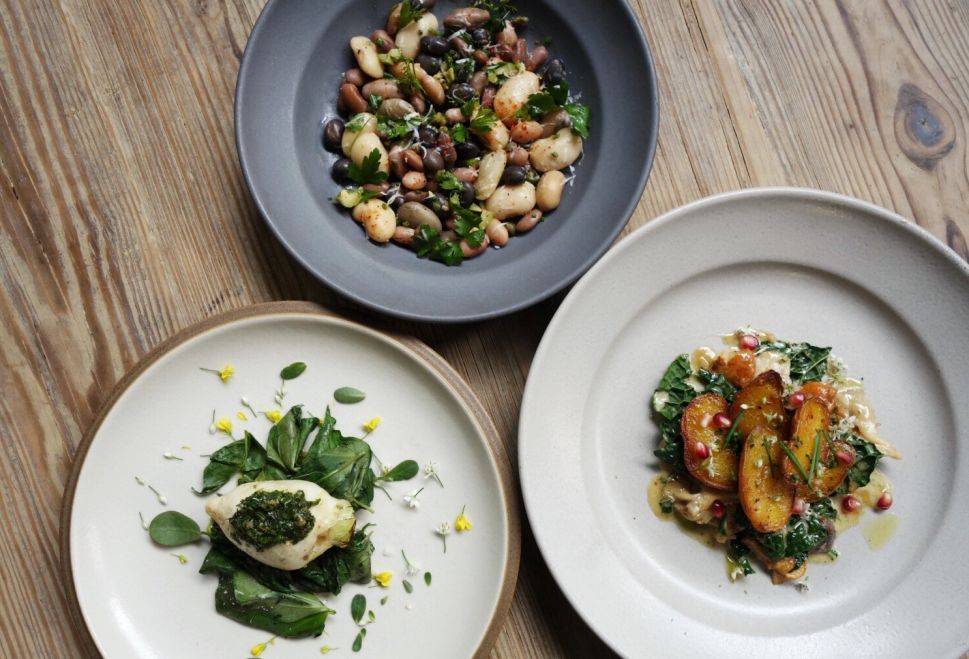 There's plenty of hearty food here, too, like a splendid buttery tomato tart and a plate of soul-warming Rancho Gordo beans served with olives, cheese and brown butter that you'll want to eat atop bread. (While some vegetarian restaurants serve boring, unsatisfying food that leaves you hungry after you've paid the check, Centeno is all about deliciousness and using dairy, grains and plant-based proteins to fill out your meal.) And if you're going to put uni on something, may we suggest the hand-torn pasta with brown butter, cilantro and mint or perhaps the housemade spaghetti with yogurt, nori, mushroom dashi and sesame, a plate of pure multicultural bliss. The shiso chimichurri that comes with the salt-baked turnip is another reminder that Centeno is as good as anyone at merging together flavors from all over the world.
This is the man, of course, who serves Japanese-Italian tasting menus at Orsa & Winston, makes L.A.'s best Tex-Mex queso and flawless happy-hour nachos at Bar Ama, and riffs on classic American food at Ledlow (which now shares an address with P.Y.T.). All of his Downtown restaurants are a short stroll away from each other in the Old Bank District, the neighborhood where Centeno lives and continues to evolve.
P.Y.T. doesn't stand for anything in particular, although we're down with "pass your turnip." Centeno just likes the acronym, and having a name that could mean whatever you want it to suits the chef, who loves change. Centeno's from San Antonio and worked at an Austin vegetarian café while in college before stints in New York at Daniel, Vong and La Côte Basque and in Los Gatos as the opening chef de cuisine for Manresa. That's a lot of fine-dining experience for a dude who makes puffy tacos at Bar Ama, but that's the beauty of Centeno's worldview and L.A.'s dining scene. Nobody has to be just one thing.
Centeno's always mixing things up: The first time I met him, he disappeared for what seemed like half an hour and came back, slightly apologetic but smiling, because he had been tasting new sodas and realized that combining a few of the samples he got resulted in a blend that suited him. More recently, he added his Alla Carta menu at Orsa & Winston, which lets walk-ins enjoy a foie gras torchon, squid ink spaghettini and his version of Japanese breakfast for dinner. It's kind of crazy that Orsa & Winston is next door from Bar Ama, with its daily Super Nachos Hour, and a few hundred feet away from Bäco Mercat, Ledlow and P.Y.T. It's also perfect in the way that only L.A. dining can be in 2016.