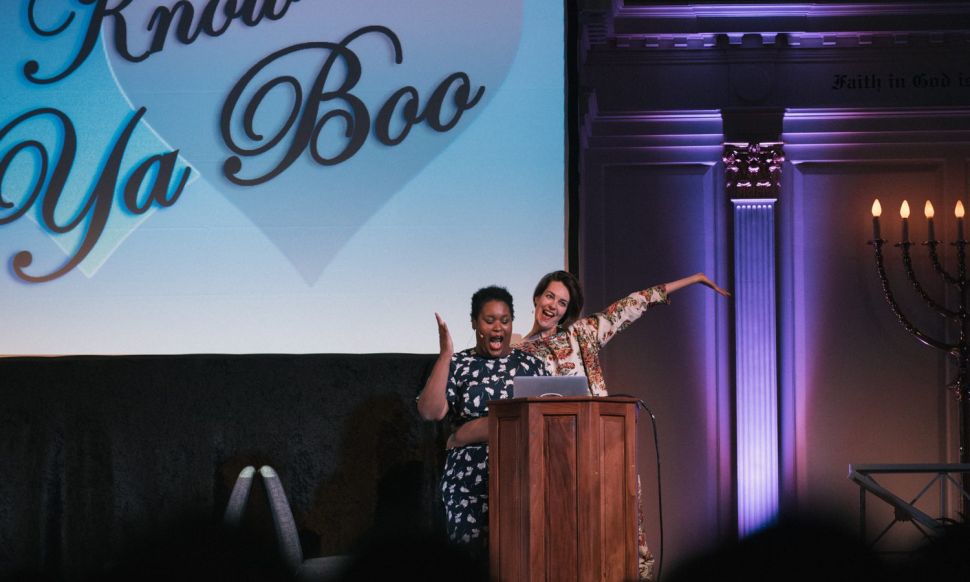 When stand-up comedian Duncan Trussell opens one of his live podcast tapings on the road, he asks the audience to "om" together. Yes, the thing yoga instructors make people intone at the beginning and end of their classes. "It creates the most beautiful sound," he told the Observer in a phone call.
Trussell hosts the Duncan Trussell Family Hour, an interview podcast where he speaks with fellow comics, mystics, writers and everyone in between. For about five years, Trussell has pursued a lot of trippy topics, so opening a show with a mantra from the Upanishads fits his particular style, but it also captures a theme we found talking to a number of podcasters who periodically take their shows on the road: touring cements a podcast's community.
Touring a show is not easy, even for stage veterans like Trussell who—if he wasn't on stage hosting a podcast—would be on stage doing stand-up. Touring helps podcasters diversify their income, but the revenue isn't a significant proportion of a show's overall budget. Instead, it helps keep creators true to what their audiences want from them by letting them see audience reaction in the moment.
Phoebe Judge, the host of Criminal, a Radiotopia show and one of the earliest true crime podcasts, is about to kick off a 13 city tour, starting on October 25 with an already sold-out D.C. show. She wants to answer a question for her listeners. "You have no idea what the person behind the podcast looks like," she told the Observer in a phone call. "What is this voice that I'm hearing saying: 'I'm Phoebe Judge, this is Criminal?'"
'We don't know what road this is gonna go down'
Her live show will present four episodes of the show that haven't aired yet. She'll do the same shows on each date, and she won't be recording the shows for broadcast. She'll tape them one more time in the studio before listeners can get them via earbuds. In fact, the live shows may change the final product.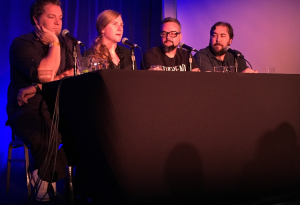 "Once you see what goes over well in a crowd, you remember that," she said.
Live shows are somewhat new for Judge and her team. "It certainly takes different skills than what you might find when you're talking to someone or recording in a studio by yourself," she said. They've done six prior live shows, including a small tour.
Similarly, Call Your Girlfriend, a conversational show between an East Coast and a West Coast professional, only started doing live shows this year, the show's producer, Gina Delvac, told the Observer in a phone call.
"We've been taking a much more iterative approach," she said. "I think a lot of podcasters are like us, and these things start organically (and partnering with your friends) while you see if it catches on." The show plans to be more intentional about touring next year, but it's tricky when each member of the members has other responsibilities. It's a show that started as a hobby, then became a thing but isn't anyone's job, yet.
Meanwhile, one of the biggest podcasts in the world is stepping away from recording shows on stage, according to Brendan McDonald, the producer of WTF with Marc Maron. "We consciously removed live WTF stage shows from our schedule," he wrote in an email. "They became a drain on resources, they were difficult to coordinate and they felt out of tune with the way the show had evolved."
'There's chatter around a tour even if a person never ends up buying a ticket'
Delvac concurred that it's difficult. "We definitely have a renewed level of respect for event programmers, tour bookers," she said. She advises podcasters to offer free tickets to fans for helping manage events.

"Podcasting audiences tend to be incredibly passionate and evangelistic," she said.  
Recording a new show on each stop on his tours requires Trussell to coordinate getting a different guest to each place he visits, which requires a lot of logistical work. He does roughly 10 shows on the road each year, alternating stand-up tours with podcast tours.
Trussell focuses on managing his audience's expectations. "Even though hopefully my podcast is funny, but it isn't all the time," he said. That's why he really avoids stand-up clubs when he does live recordings of his show. He favors theaters and rock clubs. "A theater says: 'We don't know what road this is gonna go down,'" he said.
'Let yourself relax into the reality of the situation'
Judge worries about the expectations issue as well. Her biggest fear? Intermission. "I'm always so happy when no one's left," she told us.
Judge described a live show that diverges from what people simply hear when they download a Criminal episode, in that she will use multimedia projected on screen to help tell her stories. "We don't want someone to come for the whole show and just stare at me talking into a microphone," Judge said. "This year we're going to have very strong visual components on stage."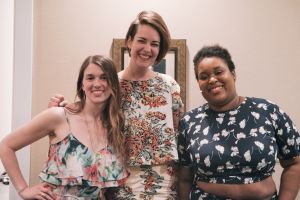 In that way, Criminal is following the lead of shows like This American Life and Radiolab, two of the biggest podcasts in the world, which have gotten pretty theatrical when they've gone on stage.
Trussell counsels that the show itself should be the easy part.
"People don't want to see the Broadway version of your podcast. Don't get in your head too much about it." he told us. "Let yourself relax into the reality of the situation, which is if you have a popular podcast then you already know how to do this."
The big question is: why tour?
McDonald wrote, "We used to do them a lot in the early days of the podcast, mostly as a way to spread the word and then to make some money when we moved them to larger venues."
"There's chatter around a tour even if a person never ends up buying a ticket," Judge said.
Call Your Girlfriend has done shows so far when invited to or as an add-on to other things that they already planned to do. Their third show, so far, has been their best all around, she said. It took place in Washington's Sixth and I Synagogue. "That was just packed to the brim with policy wonk DC women between roughly the ages of 19 and 35," she told us. "The crowd was just electric."
That real life connection came repeatedly. Much is made of the intimacy of podcasting, as we've previously reported. Trussell ends each live taping by opening it up for questions from the audience and he hangs out after.
It would be natural for people to stick with shows longer when they have met the hosts, which should also improve the bottom line for the show, or at least to keep it stable. Touring is not, in itself, a big money maker, though everyone we spoke to said tours make money. The question is, could the teams have made more money staying home and making more episodes?
That's not clear. What is clear, though, is that the money made touring does not make up a critical percentage of each show's income.
'It's pretty exciting to realize that this is an actual form of entertainment'
The revenue from touring isn't consistent, either. "It's taken about as much time and energy to make each show, but there's been differences of multiple thousands of dollars between each show," Delvac said.
Call Your Girlfriend has experimented with three tiered pricing for tickets, for example, with mixed results. Across our interviews, it sounded like fans expect tickets to run somewhere between $15 and $25. 
In terms of selling those tickets, Judge advised relying on the podcast itself to spread the word. The key is actually naming the cities and the venues. She says she can see the uptick in ticket sales right after she does so. She's also used targeted Facebook ads.
Trussell emphasizes making sure the people who buy those tickets know what they are getting. "God forbid someone shows up thinking it's going to be a comedy night," Trussell said. Which is why he even preps the audience as the event starts.
His pre-show patter does not stop with asking the audience to "Om." He then walks them through everything they should expect. He tells them each part of the show, how much time it's going to take, what each part is like and he even points to the mic stand for the Q&A. He wants them to know what's happening at every moment, and he counsels every podcaster to give each live audience the same courtesy.
He was terrified the first time he did a live taping in L.A., years ago, without road tested material he could count on to make it good. "It's pretty exciting to realize that this is an actual form of entertainment," Trussell said, "that people really seem to enjoy."  
Update: a previous version of this story incorrectly stated that Criminal had only done two prior shows. October 19, 2016 11:06 AM.