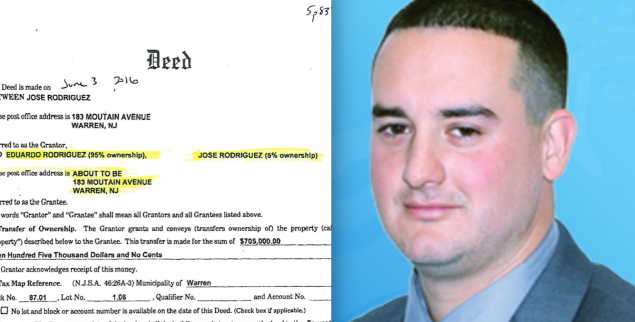 Two brothers serving as city officials in Elizabeth, N.J. have been skirting regulations by signing off on a half-million dollar mortgage in neighboring Warren. Documents obtained by Observer show brothers Jose and Eduardo Rodriguez signing a mortgage in June, affirming that they would take the property up as their primary residence within 60 days and continue to live there for at least a year.
The two serve as a member of the local school board and as director of planning and community development for the city respectively, and are bound by state law to keep an Elizabeth address as their primary residence. Jose Rodriguez has held his seat as an at-large member of the Elizabeth school board since 2013, and is up for reelection this year.
Jose Rodriguez later certified under oath that that he is qualified to vote in the district and therefore fit to serve on the board. His nominating petition for the upcoming school board election, filed in July, reads "Jose M. Rodriguez certifies that his address is 618 Jackson Avenue, Elizabeth, NJ." 
Meanwhile, Eduardo Rodriguez would have needed a waiver from the city to move to another town. Reached by phone and asked whether that waiver had been granted, he declined to comment.
Jose Rodriguez was not available for comment.
The purchase price of the house was $705,000 with a $564,000 mortgage—Jose and Eduardo Rodriguez assumed 5 percent and 95 percent ownership. The mortgage states that "borrower shall occupy, establish, and use the property as borrower's principal residence within 60 days after the execution of this security instrument and shall continue to occupy the property as borrower's principal residence for at least one year."
Jose Rodriguez is also facing an ethics complaint from challenger Maria Lorenz filed with the state School Ethics Commission. She is accusing Rodriguez of accepting a campaign donation from a lawyer later appointed by the board for a professional services contract. Lorenz claims that on December 8, 2015, Rodriguez accepted a $375 donation from Robert Varady of the law firm of LaCorte, Bundy, Varady & Kinsella. Rodriguez recused himself from the vote to appoint Varady in January.
Rodriguez told online outlet TAPinto Elizabeth last week that the appointment "been reviewed in detail by legal counsel appointed by the board, and they totally concur with my position that it is absolutely baseless."