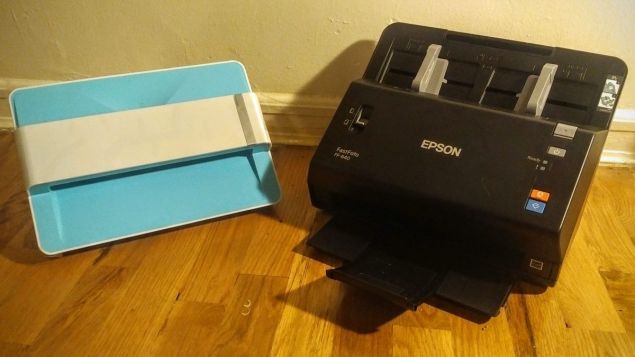 A lot of people have boxes filled with old photo prints, from back in the days when you stopped in drug stores and handed off little canisters of film, worrying about whether the people developing them actually knew what they were doing. Back in the day, we'd take photos and not know whether any would come out okay. Then we dropped off the film, usually about 24 pictures at a time, and paid somewhere between $5 and $10 to develop them. Usually, about half the photos weren't worth keeping, especially for folks usually cheap cameras.
Folks who lived through the pre-digital age have boxes or binders full of old photos. It would be nice to get them scanned so they were shareable in the way that people actually look at photos these days, plus it protects the old analog prints against getting destroyed in some kind of catastrophic loss, like a fire or flood.
There are options out there for people with lots of photos that they would like to scan but who don't have the patience to do it one by one with a flatbed scanner. The Observer checked out the latest consumer premium model and the budget version of high speed photo scanners. Plustek and Epson were kind enough to lend us the two scanners below to check out: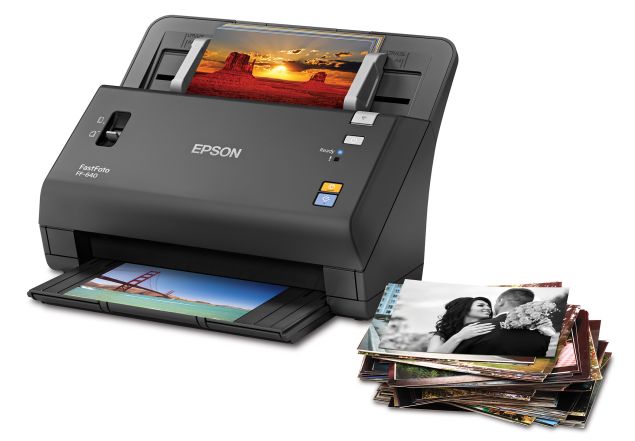 Consumer premium: Epson FastFoto FF-640. $649.99, on Amazon.
Budget: Plustek ePhoto Z300. $199, on Amazon.
TL;DR: If you want to get your photos scanned well and painlessly, then you should get the Epson FastFoto. At $450 more, it's hard to justify spending so much more for a device that you may not use again once you're done with it. Both devices do other kinds of scanning as well, but the average person doesn't need to do that much scanning with more and more documents going digital.
The Epson has four big advantages over the Plustek:
Document feed. Both devices let you set a small stack of photos into the feeder and let the device automatically scan them one by one, in fairly rapid succession, it's just that the Plustek doesn't work very well. Sometimes it would grab multiple photos and turn them into one long mix of multiple shots. I scanned hundreds of old photos with the Epson over the weekend, and it definitely never made one of those bungled strings of multiple photos. As far as I could tell, it also never missed two photos.
Resolution. The Plustek only has one resolution setting, 300 DPI. The Epson has two, 300 and 600. Users should use the 600. Don't be crazy. It's a very slightly slower scan, but just slightly. You won't notice, but you'll be glad you have a good image. Digital storage will only get cheaper.
Double sided scanning. In case you were one of those people who used to write notes and memories on the backs of photos, the Epson can look and see if there is anything there and scan it if there is. I tested this a few times and it works pretty well, though sometimes it will misfire and interpret photo paper printing as something worth saving, but those are easy to quickly spot and delete (and it doesn't hurt anything).
Speed. I put the same stack of 30 photos through the Plustek (because the feeder just doesn't work right) one by one and then set them in a stack in the Epson, and scanned them all. I actually even slowed the Epson down a bit by scanning at 600 DPI rather than the Plustek's 300, but the Epson still won it. The Plustek scanned 30 photos in 2 minutes, five seconds. The Epson did it in one minute, twenty seconds.
Other little touches stand out, too. The Epson has more sophisticated software running it, the company makes it easy to download the drivers (because no one has CD-ROM drives anymore) and it has a nice tray for catching the photos on. It also comes with a special envelope for scanning very delicate or damaged photos. It lets users enclose these photos so they can be safely scanned.
The only thing the Plustek really wins on is looks. The Epson looks like a 90s printer. The Plustek has an updated sense of style.
Aside: if all this seems nutty, you might enjoy this video:
The two companies' software interfaces are about equal. They are both a bit clunky, with a sort of Windows 95 quality, but ultimately fine.
Epson does a good job of making it easy for users to create new folders for groups of photos, based on the where and when they were shot, but it doesn't make adding more photos to a previously created folder intuitive if you don't do it in immediate succession (as photos with disorganized photos will probably need to do).
Also, when you finish a scan, it presents a message that's a bit confusing. This one:
Users with lots of photos to scan might think, "No, I'm not done scanning" and click "Scan Next Batch." That will scan your next set of photos into the same folder you just made for the last set, despite the fact that the photos may be from another time and place. If you want to create a new folder, with new file names, hit "Done Scanning" and start over at the main screen. It's not a big inconvenience, but this could be designed a bit better.
For users that just need to see results, though, here's a few photos I scanned using the Epson and the Plustek. I scanned the Epson photos at 600 DPI, because it shows the added scanner power of the device. All the Epson photos are also shown after the software's automatic color correcting, whose effect I generally liked. I'll also show a couple of those side by side, with and without Epson's "auto enhance," below.
| Photos scanned with the Epson FastFoto FF-640 | Photos scanned with the Plustek ePhoto Z300 |
| --- | --- |
| Guy on the sidelines of an Ultimate game. | Same guy. |
| My parents' dearly departed cat, Peter. | Same cat. |
| A sunset in Maine, maybe. | Same sunset. |
| A bike courier in D.C., in the 90s. | Same courier. |
| An amusement park ride in Southeast Kansas. | Same ride. |
The reason the Plustek ones have that black box on the side is because its software misjudged the photo's edge. It would be easy to fix these with a quick crop, but the Epson never made this mistake, even when I scanned stacks of photos of different sizes in the same run.
Here's some photos shown with and without the Epson's automatic image enhancement:
| Regular Scan | With Epson's auto-enhancement |
| --- | --- |
| Summer camp for do-gooder kids. | Same camp. |
| Wedding decorations in 2006, maybe. | In a tent on a farm. |
| Down the shore, 2005. | Same shore. |
In general, I thought the corrections were good, but not always. The Epson lets you save both versions, automatically.
Here's what the scanning on the back looks like:
| Front | Back |
| --- | --- |
| A not great photo of a guy I knew in college. | Some text I wrote on the back this weekend just to try it out. |
I've been a big hit this weekend on Facebook, resurfacing photos from ancient history. You are sure to be a big hit, too, if you take the time to digitize some of your greatest Kodak moments.
The price difference between the two scanners is steep, but this is something you only want to do once and you want to do it right. In my opinion, it's worth it to pay more for the better scanner. It will make the work much less of a headache, too. Find some friends who also have photos, split up the cost and share the device (once each of you are done, none of you will probably ever touch it again).
That said, the Plustek is ultimately fine. It's just going to be slower and make some mistakes. It would be an acceptable alternative if Plustek had built it the ability to scan at 600 DPI. It doesn't have that, and you don't want to regret having your photos scanned at a garbage resolution.