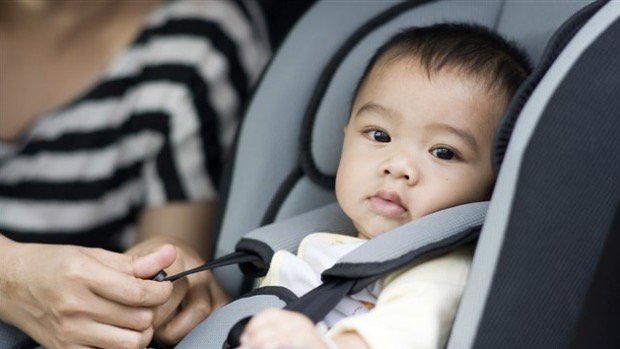 Dr. David Diamond, professor of psychology at the University of South Florida, has studied the phenomenon of children dying in hot cars for over a decade. But his experience with this issue is more than just clinical—he once forgot his grandchild in the car himself.
"My wife was with me, and as I left the car she said 'Have you forgotten something,'" Diamond recalled. "Had I been alone, I would've been another one of these statistics."
The statistics are indeed staggering: almost 700 children have died from being trapped in hot cars since 1998, including 36 this year and four this week alone. But new technologies are aiming to reduce the risk, including one that's launching a crowdfunding campaign next week.
When the sun is out, the temperature inside a car can increase 19 degrees in 1o minutes—that means on an 80 degree day the inside of a closed car can quickly reach 100 degrees.
But the danger doesn't decrease just because the outside temperature is cooler—light can pour through the windows of cars and raise the temperature inside. In fact, heatstroke deaths have been recorded over 11 months of the year in almost every U.S. state.
"Even on a relatively cool day, a a dark colored car parked on black asphalt can become quite hot," Kate Carr, president of the nonprofit children's safety organization Safe Kids Worldwide, told the Observer.
Kids are at greater risk for heatstroke because their bodies heat up three to five times faster than adults. When their body temperature reaches 104 degrees, the internal organs start to shut down. When it reaches 107 degrees, the child can die.
"Infants can't get themselves out of the car seat or out of the car itself," Carr said.
Diamond didn't know any of this when he started his research—he admitted that when he first heard about the problem, he thought "negligent parents" were the cause. But once he began studying the issue, he realized that in most cases there was no criminal intent at all.
"It's a tragedy, but it's not a crime," Diamond said.
The issue of parents forgetting their children actually stems from an internal battle between two different parts of the brain, according to Diamond: prospective memory, which helps people consciously remember facts (i.e. "my child is in the car") and habit memory, which allows people to do things automatically without thinking about them (i.e. drive to work when they get in the car since they know the route by heart).
"The habit memory system suppresses fact-based memory," Diamond said. "Habit-based memory automatically takes us from work to home—it dominates our conscious awareness. The plan is lost because of routine."
"We need help from technology. Our cars remind us that our headlights are on. We should have a child detection system too." – Dr. David Diamond
To prevent tragedy in a hot car, Diamond recommended that parents give teachers and daycare providers their contact information, so that if a child doesn't arrive at school the two parties can communicate.
Safe Kids Worldwide is also trying to increase parents' awareness of this problem: in partnership with the National Highway Traffic Safety Administration (NHTSA) and Automotive Association of America (AAA) it sponsors a number of advocacy initiatives, including educational events, demonstrations and social media campaigns like Heatstroke Prevention Day.
More generally, however, "we need help from technology," Diamond said. "Our cars remind us that our headlights are on. We should have a child detection system too."
Both automakers and lawmakers share Diamond's point of view—earlier this year General Motors unveiled a Rear Seat Reminder feature in its GMC Acadia SUV. The system detects when a motorist puts something or someone in the backseat at the beginning of a trip, and then issues an alert when the driver exits the vehicle.
"The GM system is a good start, and a recognition by a car company that we need to take action because our memory is flawed," Diamond said.
Carr, of Safe Kids Worldwide, is not fully convinced, however.
"If technology can work to prevent any of these deaths, it's a fantastic thing," she said. "But the system isn't foolproof—there is no technology right now that is 100 percent effective. Human error can still factor in."
In light of this, Congress is getting into the driver's seat on this issue: Last month, Congressmen Peter King, Tim Ryan and Jan Schakowsky introduced the Helping Overcome Trauma for Children Alone in Rear Seats Act (HOT CARS Act of 2016), which would require the Department of Transportation to issue a final rule within two years for a reminder system to alert the driver if a child is left unattended in a vehicle.
But this plan still has problems, according to Carr—she pointed out that it takes up to 20 years for a fleet of automobiles to turn over, which means for now the onus is on parents to remember their kids.
"If we came up with a perfect solution that had to be mandated in all cars, it wouldn't take effect for years," Carr said. "Calling for a technology fix is an important thing to do, but we still have to educate people."

Several third-party developers have come forward with their own solutions—the navigation app Waze recently added a "Child Reminder" feature, which reminds users to check their cars before they leave.
Parents have also begun developing fixes of their own—Tampa pharmacist Fadi Shamma and his neighbor, electrical engineer Jim Friedman, have developed the prototype Sense a Life. This device, which is patent pending, wirelessly connects to both a car seat and the vehicle's speaker, and uses optical sensors to determine when the parent is about to exit the car. It then triggers an audio alert with a verbal message notifying the driver to remove the child from the car seat.
If for some reason the driver is distracted and does not react to the verbal alert, the system triggers a secondary notification to a Bluetooth-synced mobile phone through the Sense a Life mobile app. The system can also notify emergency contacts if need be.
The duo is launching an Indiegogo campaign on Monday, with the aim of having the product ready for market by early 2017.
Shamma told the Observer that Sense a Life, which has over 26,000 followers on Facebook, has an advantage over other technologies because it can be built into future cars—in fact, the sponsors of the HOT CARS Act have talked with Sense a Life about using its reminder system if the bill becomes law.
"This is a real product that can permanently end this problem," Shamma told the Observer.