Lest you thought the sweaters just unveiled by Everlane, the masterminds of all things casual, and Opening Ceremony, the loud, trend-creating shop, were a one-shot deal, rest assured, they're not. Everlane has just confirmed that the two styles of three-ply premium cashmere sweaters, which are available now in OC boutiques, are just the beginning of a "long-term" relationship. But this is still notable, as the knitwear collab is Everlane's first venture into the old school world of brick and mortar.
This is also a good time to take a closer look at Everlane's cashmere business, beyond its arrival at Opening Ceremony's cool girl (and guy) shops. The super soft knit is a staple for the direct-to-consumer company, which prides itself on its "radical transparency," which is why they recently dropped prices on its cashmere, in a show of honesty, as industry-wide prices for the material had recently dropped.
"We've expanded our core cashmere collection this year to include new oversized silhouettes and new textures and signature details," the brand says of its extensive selection. The silhouettes range from classic to modern, with new silhouettes in boxy, "square" shapes. At Opening Ceremony, that newness comes in the form of The Premium Heavy Cashmere Crew, in classic hues of camel and dark navy, and The Premium Heavy Cashmere Turtleneck, which is offered in pink and off-white.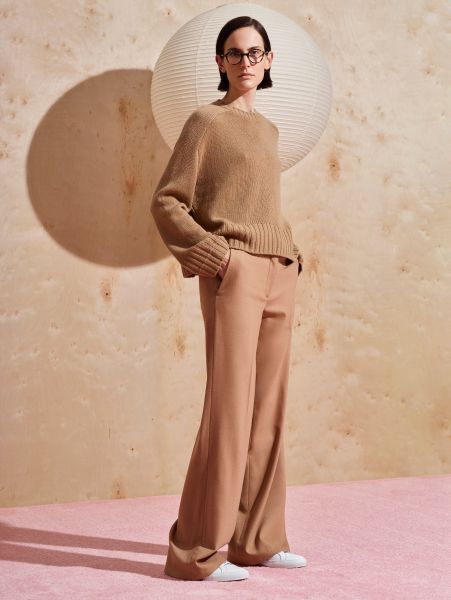 "We wanted to focus on something that really blended both of our aesthetics—fashion and essentials—so we opted for a spin on classic cashmere shapes and colors," an Everlane rep told the Observer. While that #millennialpink turtleneck is an early hit, take a moment to observe the subtly exaggerated sleeves on the boxy, slightly cropped crewneck. That's the kind of detail that brings true elevation to the piece, and we are here for it.
To keep this sweater looking fashion-forward, one would do well to take tips from the expertly styled lookbook, which shows the play on proportion the micro-collection excels in. "We love pairing with a slim pant for a sportier look or trying a more fashion-forward look, like a long, full pant and oversized coat," Everlane suggests.
As for why the material is worth the upgrade (in feel and price), they note, "high-quality cashmere is certainly worth the investment, and we use only Grade A cashmere, which is the longest, thinnest fibers from inner Mongolia." Permission to splurge, granted.